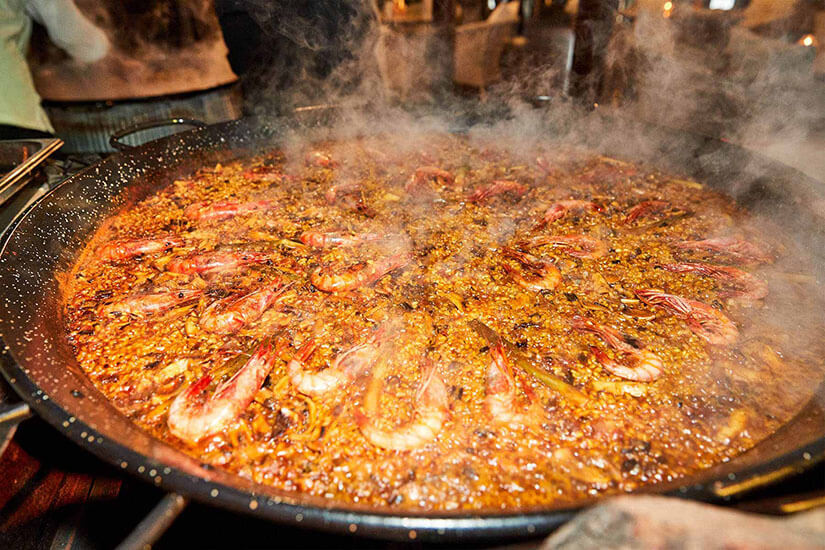 What is it about paella that always manages to bring us together with our loved ones to share some unforgettable moments? It is for this wonderful ability of paella, as well as its delicious flavour, that we hereby declare ourselves unconditional fans of this dish, which is one of the finest ambassadors of Spanish cuisine across the globe. In this article, we will tell you some of the best paella restaurants in Ibiza.
Sa Caleta
Sa Caleta's paellas and rice dishes are a true Ibiza classic. This restaurant is a historic sailor's retreat, offering views across one of the island's most charming coves. Besides serving a huge variety of paellas and rice dishes, such as the bullit de peix and the caldereta de langosta lobster stew, its menu also features fish, seafood and grilled meat dishes.
Sa Caleta
Playa Sa Caleta. Sant Jordi de Ses Salines. Sant Josep de Sa Talaia.
Es Ventall
Lovers of Ibizan cuisine mustn't overlook this restaurant, in which the Bonet Cardona family offers their unique twist on some of the most traditional dishes found in the recipe books of this island. If one thing is to stand out from its menu, it is the broad range of paellas and rice dishes. Our special recommendation: the dry rice dish with sea cucumbers, cuttlefish and Ibizan prawns. Bon profit!
Es Ventall
Carrer de Cervantes, 22. San Antoni de Portmany.
Sa Paella Club
Widely considered as the finest in Ibiza, the paellas served at Sa Paella Club are a great option for those who prefer to enjoy their favourite meal at home with their loved ones. Castellón-born chef Alejandro Velázquez is in charge of this catering company specialising in paellas and rice dishes, with which he aims to bring the taste and authentic experience of genuine Valencian paella to Ibiza.
Cana Sofía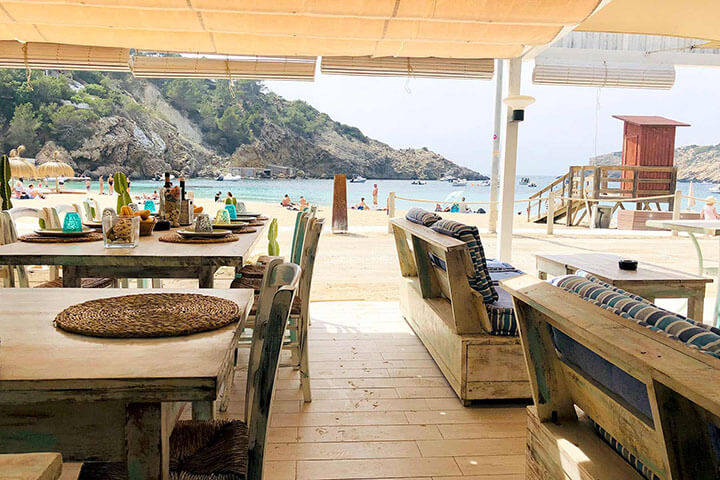 Located in Cala Vadella, this restaurant—serving Ibizan fusion cuisine, with a signature twist—is the favourite of many locals and tourists alike, who are looking for a good paella on the island of Ibiza. Its menu includes a dozen different rice dishes. "Reasoned simplicity" is the slogan that defines the cooking philosophy at Cana Sofía, with dishes based on locally-sourced ingredients such as the magnificent fish of the Pityusic Islands.
Cana Sofía
Cala Vadella. Sant Josep de Sa Talaia.
Chambao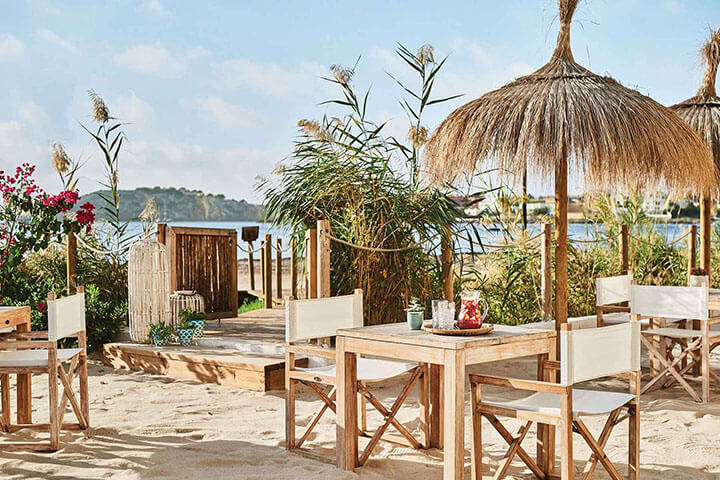 The Chambao restaurant, located in the luxurious Nobu Hotel Ibiza Bay on the Playa de Talamanca beach, is famous for its fresh seafood and the quality of its Mediterranean cuisine. Its chef, Carlos Herrero, is from Valencia—the home of authentic paellas—making Chambao one of your best options for a delicious seafood paella in Ibiza.
Chambao
Nobu Hotel Ibiza Bay. Cami Ses Feixes, 52. Santa Eulària des Riu.
Atzaró Beach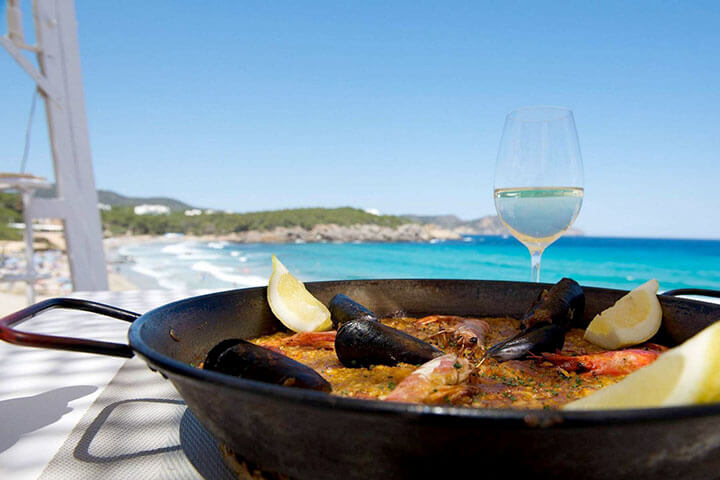 With a relaxed and bohemian atmosphere, the Atzaró Beach restaurant serves exquisite food, tapas and aperitifs, as well as delicious paellas and traditional Ibizan rice dishes, offering views over one of the island's most beautiful bays: Cala Nova. Besides paellas, fish and rice dishes, this restaurant's menu also features healthy and vegetarian options for all tastes.
Atzaró Beach
Playa de Cala Nova. Es Canar. Santa Eulària des Riu.
Tropicana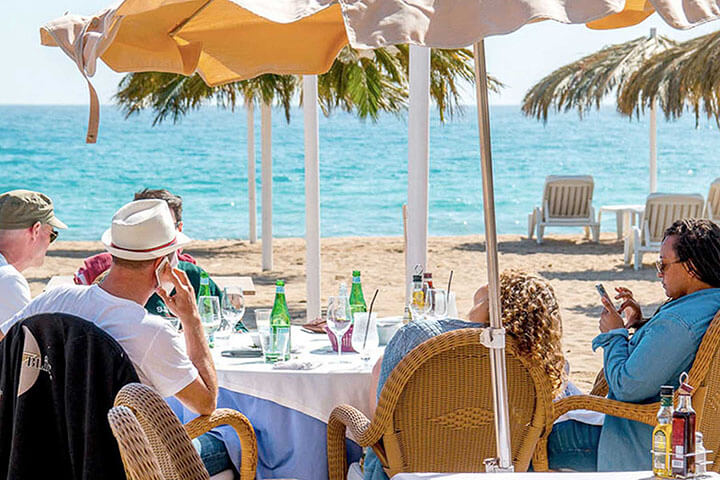 With over 30 years' history, the Tropicana Beach Club in Cala Jondal serves some of the finest traditional dishes found anywhere on the island of Ibiza, including a variety of rice dishes such as the 'mixed' paella, the seafood paella and arroz a banda. The Tropicana Beach Club's leisure offer includes comfortable sunbeds, a 'hippy' market and a massage service, making it much more than a beachfront restaurant. In fact, it is a small slice of paradise on the coast of Ibiza.
Tropicana Beach Club
Playa Cala Jondal, s/n. Sant Josep de Sa Talaia.
Cala Gracioneta
Cala Gracioneta is one of Ibiza's most charming beaches; a hidden jewel lying less than five minutes from San Antonio. This beachfront restaurant, which has appropriated the name of the beach on which it is found, serves some of the finest Mediterranean dishes. Its menu features a huge range of paellas and rice dishes, such as arroz a banda, which is one of the house's specialities. There are two different versions of this classic dish: vegetable or seafood and cuttlefish.
Cala Gracioneta
Cala Gracioneta. San Antoni de Portmany.
El Carmen
Few restaurants are able to offer such magnificent views as those enjoyed from El Carmen. This restaurant is located in Cala d'Hort: one of the island's most magical enclaves, looking out to the islets of Es Vedrà and Es Vedranell. Its various paellas and rice dishes—including the bullit de peix—are the house speciality. As far as starters are concerned, we recommend trying any of its seafood dishes, such as the razor clams, clams, squid or octopus.
Playa Cala d'Hort. Sant Josep de sa Talaia.
Port Balansat
Port de Balansat is located, as its name might suggest, in the Playa del Puerto de Sant Miquel de Balansat. With almost half a century of history under its belt, this family-run restaurant—specialising in paellas, rice dishes, fish and seafood—is an authentic benchmark for gastronomy. Most of its recipes have remained unchanged over all these years. However, as one would imagine, its menu has also incorporated new dishes over time, broadening the culinary offering of the Port Balansat restaurant.
Av. Balanzat, 1. Sant Joan de Labritja.