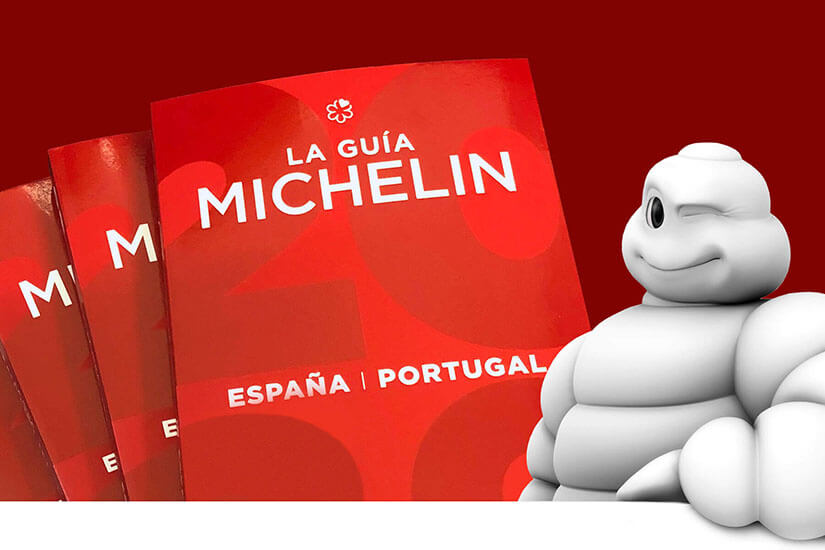 33 New stars, 4 restaurants receive their second star and the 11 Spanish restaurants with three Stars retain them.
Another year has seen the celebration of what is considered the Oscars of the world of gastronomy, the annual ceremony to present the 2022 Spain and Portugal Michelin Guide. This year, the setting chosen to stage this auspicious gastronomic event was the auditorium of Valencia's Ciudad de las Ciencias y las Artes. Host for the event was the popular television actress Ana Milán, a native of Valencia, who brought her own distinctive touch of humour to the proceedings. The audience who thronged the grandstands roared with laughter, although their smiles were concealed beneath their obligatory face masks.
Despite the restrictions imposed by the authorities in response to the pandemic, this year the gala ceremony had something of the air of a reunion — last year, of course, the in-person event had to be cancelled, and was replaced by a virtual presentation. On that occasion, the lack of a live audience and the absence of award recipients inevitably cast a shadow over the proceedings.
Official speeches
It fell to Maria Paz Robina, the Guide's Spain and Portugal president, to break the ice, and in a short but stirring speech, she reminded those present that Spain is a strategic point for the tyre company, with its factories in the country employing over 7,000 people. She also recalled how the Guide began over 100 years ago, from an idea of the Michelin brothers, as a means of promoting travel, something which has been severely curtailed by the Pandemic — leading us all to appreciate the important place it holds in our lives. Lastly, she referred to the support lent by the Guide to the travel sector, one of the industries most badly affected by the Covid crisis, and emphasised how vital sustainability is, both to the Guide itself and to the brand. This year, therefore, Green Stars will once again be presented, as they were for the first time in 2021, to reward restaurants that engage in sustainable and responsible practice.
Appropriately, given the prestigious nature of the event, this address by the Guide's Spain and Portugal director was followed by a series of speeches by several other officials: the Deputy Mayor of Valencia, Sandra Gómez; the head of the Regional Council of Valencia, Toni Gaspar; and the President of the Valencia Autonomous Region, Ximo Puig. Each speaker was full of praise for Valencian produce and gastronomy, and enthused over the great success they are currently enjoying.
A photo of the award winners in the 2021 Guide
Following the obligatory official speeches, the ceremony moved onto strictly gastronomic matters. Ana Milán had come up with a plan to make amends to last year's award winners who had been unable to attend the gala due to the severe restrictions to which we had all been subject in the face of the Pandemic. So she called up all those who had secured entries in last year's Guide, so that they could receive some consolation for their disappointment, and appear, albeit twelve months late, in a group photo accrediting them as Michelin Star award winners, and so that they could enjoy "the well-deserved public applause" that had been denied to them last year.
Changes to the Guide in its 2022 edition
The International Director of Michelin Guides, Gwendall Poullenec, announced two new award categories to be presented from 2022 onwards. These will be added to the award introduced last year — the Green Star, which aims to recognise "sustainable gastronomy". Gwendal Poullenec underlined that, throughout this year, the Michelin inspectors have been impressed by the dedication, creativity and resilience shown by the sector in the face of the tremendous adversity it has suffered, and emphasised the Michelin Guide's commitment across the board. And without further ado, he announced that the Guide's two new awards would recognise, on the one hand, young talent, and on the other, dissemination of knowledge in the field of gastronomy.
Thus, the first Young Chef Award went to 23-year-old Mario Chacinero, head chef of Skina in Marbella, a delightful restaurant which already boasts two Michelin Stars. The Chef Mentor Award went, unsurprisingly, to the revered Basque chef Martín Berasategui, whose kitchens have been a training ground for several generations of chefs during his fifty-odd years in the profession.
New Michelin Green Stars
Next, Ana Milán introduced the section recognising those restaurants practising sustainable cuisine, something the Guide's organisers regard as highly relevant. The award winners in this area were:
Spain Green Stars
Cenador de Amós (Jesús Sánchez, Villaverde de Pontones)
Coque (Mario Sandoval, Madrid)
El Celler de Can Roca (Joan Roca, Gerona)
Finca Alfoliz (Xanty Elías, Aljaraque, Huelva)
Lera (Luis Alberto Lera, Castroverde de Campos - Zamora)
Maca de Castro (Maca de Castro Martín, Port d'Alcudia – Mallorca)
Portugal Green Stars
Esporão (Carlos Teixeira, Regueros de Monsaraz, Portugal)
Il Gallo d´Oro (Benoît Sinthon, Funchal – Madeira)
New entries to the Michelin Guide
This year, the Michelin organisers were keen to recognise the sector which, in the words of the Guide's International Director, has made a monumental effort, and has demonstrated a capacity for hard work, an ability to meet challenges, and unparalleled resilience. Thus there are 33 new entries in the 2022 Guide, 26 of them in Spain (although four of these confirm existing entries for restaurants that have relocated), 6 new entries in Portugal and another in Andorra.
This section of the awards proceeded apace, thanks to the large numbers receiving awards. It is worth pointing out that awards have been widely distributed throughout the area concerned, in a kind of democratisation of haute cuisine, with the Valencia Autonomous Region boasting the highest number of award-winning restaurants (five). The process was enlivened by the presentation of some prizes in quick succession: for example Quique Dacosta went up to receive the award won by Deessa (Madrid, Hotel Mandarín Ritz), on behalf of the winning chef, Ricard Tobella, who was unable to attend the ceremony. Dacosta stepped up, dressed completely in his chef's apparel, including his apron. A moving gesture was made by Juan Carlos Padrón (el Rincón de Juan Carlos) who, on collecting his long-awaited Star, asked to take the microphone, and dedicated his award to the island of La Palma. Cue standing ovation.
List of new restaurants gaining a Michelin Star in 2022
List of restaurants achieving a first Michelin Star

Portugal
A Ver Tavira (Luis Brito, Tavira) Contemporary Portuguese cuisine with a nod to other regions. The chef specialises in dishes with subtle touches, well defined flavours and careful presentation.
Calçada da Galeria 13, Tavira, 8800-306, Portugal
Al Sud (Luis Anjos, Lagos) Magnificently executed cooking focusing primarily on products from the Algarve, particularly his superb fish and seafood dishes.
Cura (Pedro Pena Bastos, Lisbon) In search of the essence of great cuisine: few ingredients and great flavour.
Esporão (Carlos Teixeira, Regueros de Monsaraz) On a wine estate which supplies him with high-quality ingredients, the chef has designed a solid, modern, culinary offer founded on respect for the flavours of the Alentejo region.
Vila Foz (Arnaldo Azevedo, Oporto) In a nineteenth-century mansion, this chef creates contemporary haute cuisine dishes with well-matched flavours, using high-quality ingredients and applying meticulous attention to aesthetic aspects.
Andorra
Ibaya (Jordi Grau, Soldeu – Andorra) Tradition and innovation, the symbiosis of the cuisines of Andorra and La Rioja, are the foundations of Ibaya's cooking, designed by Francis Paniego and executed by Jordi Grau.
Spain
Alejandro Serrano (Alejandro Serrano, Miranda de Ebro) This restaurant impresses with its cuisine based on excellent seafood, which sets it apart.
Atempo (Iñaki Aldrey Teruel, Barcelona)
Auga e Sal (Áxel Smith Taracido – Santiago de Compostela)
Ayalga (Israel Moreno Torres, Ribadesella – Asturias)
Cañabota (Rafael García and Marcos Nieto, Seville) The old quarter of Seville. Specialising in high-quality fish and seafood.
Nintai (Pablo Olivares Díaz, Marbella – Málaga) Japanese-style haute cuisine, based on superb quality ingredients, meticulous techniques and unfailing dedication.
Casona del Judío (Sergio Bastard, Santander) Signature fish and seafood dishes.
El Serbal (Enrique Muñoz Monge, Santander) In its new seafront location, the restaurant offers traditional cooking with a modern twist, which delights with its honesty and its love for local ingredients.
Coto de Quevedo (José Antonio Medina Rubio, Torre de Juan Abad – Ciudad Real) The restaurant offers a reinterpretation of the area's traditional cuisine via casseroles, marinades and game dishes that bear its distinctive hallmark.
Deessa (Ricard Tobella, Madrid) Hotel Mandarín Oriental Ritz: fine, creative cooking, with the techniques of the great Quique Dacosta successfully interpreted by chef Ricard Tobella.
Quimbaya (Edwin Rodríguez, Madrid) With his signature dishes, Edwin Rodríguez takes us on a journey across Colombia to show us the distinctive flavours of the different regions of his native land.
El Rincón de Juan Carlos (Juan Carlos Padrón, Tenerife) The chef pours all his talent into a highly personal menu that effectively showcases the quality of the ingredients through brilliant execution.
NUB (Fernanda Fuentes and Andrés Bernardi, Adeje - Tenerife) The chefs have revalidated the Star obtained in their former location in the city of San Cristóbal de la Laguna, following their move last year to the Grand Hotel Bahía del Duque, in the south of the island. The chefs continue to produce their superb Chilean - Italian fusion cooking which they enhance with local Canary Island ingredients.
Poemas by Hermanos Padrón (Iciar Pérez, Las Palmas de Gran Canaria) This young chef, mentored by the Padrón brothers, offers an innovative and delicate cuisine through her evocative voyage around various countries.
Nublo (Miguel Caño, Haro – La Rioja) The remarkable commitment shown by two young chefs who offer a gastronomic menu which enjoys the distinction of being cooked exclusively over fire and coals.
Fierro (Germán Carrizo and Carito Lourenço, Valencia) In their tiny, charming establishment, the chefs offer a modern menu combining Mediterranean and Argentinian cooking.
Kaido Sushi Bar (Yoshikazu Yanome, Valencia) In his sushi bar, ten privileged guests can enjoy Yanonme's cooking, expertise and finesse with a focus on Mediterranean ingredients.
Lienzo (Maria José Martínez Vicente, Valencia) The chef stamps her personality on her menu using Mediterranean products from land and sea, lending her dishes subtle twists and delicate details.
Arrels (Vicky Sevilla Vázquez, Sagunto - Valencia) In her charming establishment, this young chef focuses on fresh produce and modern Mediterranean cuisine with subtle twists and exquisite presentation.
Atalaya (Enmanuel Carlucci and Alejandra Herrador, Alcossebre – Castellón) These chefs specialise in contemporary Mediterranean cooking with a nod to Asian cuisine with due attention to tradition and to rice dishes.
Peix y Brases (José Manuel López Iglesias, Denia – Alicante) This chef looks to the future with cooking focusing on fresh fish and seafood from Denia's fish market, rice paddy fields and the area's farms.
Garena (Julen Baz, Dima - Vizcaya) In a traditional farmstead, the restaurant produces outstanding, painstaking reinterpretations of the region's traditional recipes, using modern techniques.
La Gaia (Óscar Molina, Ibiza) The restaurant has evolved a very personal style with a bold touch that is nevertheless deeply rooted in the island's traditional flavours, enriched by Eastern and South American influences.
Zaranda (Fernando Pérez Arellano, Palma de Mallorca) The chef has made his own Miró's motto: " to be universal, you must first be local", with a signature cuisine that looks outwards from its Mallorcan roots.
Lera (Luis Alberto Lera Collantes, Castroverde de Campos – Zamora) In this temple to cooking based on game, chef Luis Lera's gastronomic offering brings to the table the flavours of small game meat from the moorlands of Castile.
MENT by Óscar Calleja (Óscar Calleja Orallo, Salamanca) In the Mayan tongue, "Ment" means "to prepare", "to create", "to form". Óscar Calleja pours his talent into the creation of glorious dishes with a nod to traditional local cuisine, as well as to Mexico and the East.
Versátil (Alejandro Hernández Talaván, Zarza de Granadilla – Cáceres) Using Extremadura's finest ingredients, the chef has designed an elegant, contemporary gastronomic menu, taking abundant care over presentation and detail.
Four new two-Star restaurants, and those retaining three Stars
With the new entries to the 2022 Guide now announced, the gala was nearing its conclusion. Four restaurants had achieved their second Star in the Spanish guide, while none had achieved a third Star, although its is worth pointing out, with a degree of pride, that of the 130 restaurants in the world holding that particular distinction, almost 10% are in Spain (11). The event drew to a close with all the award winners stepping up to the stage for a photo of the entire group.
List of restaurants achieving a second Michelin Star
Amelia by Paulo Airaudo (Paulo Airaudo, San Sebastián) Creative and highly personal cooking from Paulo, bringing together South American, European and Asian influences, to an impressively consistent standard.
Iván Cerceño (Iván Cerdeño, Toledo) In a fabulous setting, this chef blends tradition and bold innovation to create a cuisine deeply rooted in local tradition, and exuding refinement, finesse and flavour.
Smoked Room (Massimiliano Delle Vedove, Madrid) For its remarkable tasting menu, in which the chef plays with techniques of barbecuing and smoking, as well as with different ingredients to produce delicious mouthfuls of flavour and fine texture.
Voro (Álvaro Salazar, Mallorca) The young Andalusian chef offers a modern Mediterranean cuisine with a commitment to the local environment, and which is outstanding in terms of its subtlety and presentation.
List of restaurants in Spain retaining three Michelin Stars
Abac (Jordi Cruz, Barcelona)
Akelarre (Pedro Subijana, San Sebastián)
Aponiente (Ángel León, Puerto de Santa María – Cádiz)
Arzak (Elena Arzak, San Sebastián)
Azurmendi (Eneko Atxa, Larrabetxu, Guipúzcoa)
Cenador de Amós (Jesús Sánchez, Villaverde de Pontones – Asturias)
Diverxo (Daviz Muñoz, Madrid)
El Celler de Can Roca (Joan Roca, Gerona)
Martín Berasategui (Martín Berasategui, Lasarte – Guipúzcoa)
Lasarte (Marín Berasategui y Paolo Casagrande, Barcelona)
Quique Dacosta (Quique Dacosta, Denia - Alicante)
Restaurants taken out of the Guide
2020 and 2021 have been calamitous years for the catering industry. Despite the sector's resilience, many restaurants have had to close. Nor has haute cuisine been spared the disastrous economic consequences of the Covid crisis. In fact, ten restaurants have dropped out of the Michelin Guide this year due to closure. Particularly striking has been the closure of all Albert Adrià's restaurants: El Barri (which caused four removals from the Spanish Guide, all of them in Barcelona (Tickets, Enigma, Hoja Santa and Patka). In addition, the Guide itself has decided to drop a further eight restaurants from its 2022 edition, with the disappearance of well-known names such as El Club Allard (Madrid), which only two years ago boasted two Michelin Stars.
List of restaurants dropped from the 2022 Michelin Guide:
Monastrell - Alicante (removed by the Guide)
Orobianco - Calpe (removed by the Guide)
Manuel Alonso Restaurante - Daimús (removed by the Guide)
Es Racó d'Es Teix - Deia (removed by the Guide)
Casamar - Llafranc (removed by the Guide)
El Club Allard - Madrid (removed by the Guide)
Sents - Ontiniente (removed by the Guide)
Alejandro - Roquetas de Mar (removed by the Guide)
Ca L' Arpa - Bañolas (removed due to closure)
Enigma - Barcelona (removed due to closure)
Hoja Santa - Barcelona (removed due to closure)
Pakta - Barcelona (removed due to closure)
Tickets - Barcelona (removed due to closure)
La Salgar - Gijón (removed due to closure)
Acánthum - Huelva (removed due to closure)
Montia - San Lorenzo de El Escorial (removed due to closure)
Kazan - Santa Cruz de Tenerife (removed due to closure)
Sucede - Valencia (removed due to closure)