Sunbed hopping with a mojito in hand… Ibiza is home to some of the world's most famous beach clubs. The selection of beach clubs on the island continues to grow, presenting us with the dilemma of choosing the best one. If we can be sure of one thing, it's that each beach club offers a unique experience. For this reason, our team at Face Food Mag have trawled the Ibiza coastline in search of the island's best beach clubs.
Amante Ibiza
This has become a benchmark for culinary quality on the island of Ibiza. But Amante Ibiza is much, much more than that. Located in the small cove of Sol d'en Serra, Amante Ibiza is an exclusive beach club offering one of the finest views found anywhere on the island, where guests are able to enjoy a series of worldly pleasures. Amante Ibiza offers comfortable sunloungers and Balinese beds—where guests can sunbathe and disconnect in a relaxing atmosphere—and Mediterranean cuisine based on ingredients of the finest quality. During the morning, Amante Beach Club serves healthy breakfasts after their seafront yoga classes. At night time, it turns into one of the island's most romantic restaurants.
Amante Ibiza
Cala Sol d'en Serra. Santa Eulària des Riu.
Tropicana Ibiza
Opened over 30 years ago, the Tropicana Beach Club prides itself as being Ibiza's first beach club. Located in Cala Jondal, the Tropicana Ibiza complex includes a restaurant, beachfront bar, comfortable sunbeds and massage tents and canopies, comprising one of the island's most diverse beach leisure options. The Tropicana is much more peaceful than many of the other beach clubs on the island, making it the perfect spot for a relaxing day on one of San José's most charming beaches. The restaurant's varied menu offers something for everyone, although it is renowned for its locally sourced fish and rice dishes. Don't leave without sampling the delicious cocktails served at its beach bar.
Tropicana Beach Club
Playa Cala Jondal, s/n. Sant Josep de Sa Talaia.
The Beach by Ushuaïa Ibiza
The Ushuaïa Beach Hotel, located on the Playa d'en Bossa, is unquestionably one of the island's most famous hotels. The Beach by Ushuaïa Ibiza, by default, is therefore one of Ibiza's most popular beach clubs. Clubbers come from all over the world to enjoy its comfortable Balinese beds, relaxing sunloungers and carefully prepared international cuisine in a truly exclusive atmosphere, set to the beats of the best modern music. Fresh lobsters and langoustines, salads, rice dishes and burgers… The Beach by Ushuaïa Ibiza is the perfect place to satisfy each of your desires.
The Beach by Ushuaïa Ibiza
Playa d'En Bossa, 10. Sant Jordi se Ses Salines.
Beachouse
A genuine oasis in the middle of one of Ibiza's most buzzing beaches. Lying at the end of the Playa d'en Bossa—surrounded by palm trees, with a roof and parasols made of reeds—Beach House is a charming shack exuding Caribbean vibes. If you're feeling peckish, you can sample its carefully crafted Mediterranean cuisine before relaxing in its comfortable sunbeds. If you're looking to start the day off right, there's nothing better than attending one of their yoga classes followed by a delicious healthy breakfast. Beach House hosts a wide range of events and parties, turning the music up several notches as night falls.
Ctra. de Platja d'en Bossa, 2. Sant Jordi de ses Salines.
Atzaró Beach
A beach club with an authentic Ibiza personality: this is Atzaró Beach, located in the majestic Cala Nova bay. It has a casual restaurant where you can eat from the comfort of your sunbed or with your feet on the sand, as you enjoy a beautiful view over one of the island's most amazing beaches. The Atzaró Beach restaurant serves a selection of healthy dishes and a vast range of Mediterranean specialities with a subtle fusion twist. Visitors will be able to enjoy a more informal and relaxed atmosphere, in complete harmony with its natural surroundings. Atzaró Beach is the perfect spot for sharing the pleasures of summer with your friends and family.
Atzaró Beach
Playa de Cala Nova. Es Canar. Santa Eulària des Riu.
The Beach at Hard Rock Hotel Ibiza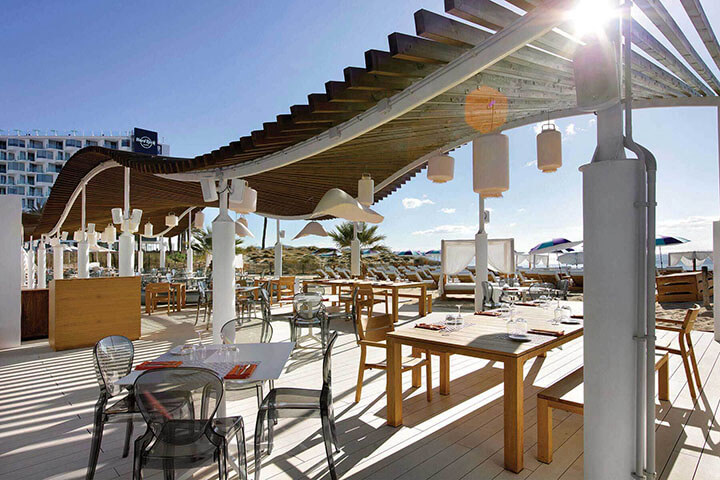 A beach club with hefty amounts of rock and roll. This is the perfect description of The Beach at Hard Rock Hotel Ibiza. Located in one of the most peaceful and well-preserved areas of the Playa d'en Bossa, this beach club offers a relaxed ambience that is slightly rougher around the edges, where visitors can enjoy delicious Ibizan and Mediterranean dishes seasoned with the best live music. Atmosphere is served!
The Beach at Hard Rock Hotel Ibiza
Carretera Playa D'en Bossa, s/n. Sant Jordi De Ses Salines.
Blue Marlin Ibiza
This is one of the most famous beach clubs: not only in Ibiza, but in the whole world. Located in Cala Jondal, Blue Martin has created an experience that is much more than a delicious meal or drink beside the sea. Rather, Blue Marlin is a lifestyle in its own right which reflects the true soul of Ibiza. The volume goes up as the sun goes down, with this beach club hosting some of the island's most glamorous parties.
Blue Marlin Ibiza
Cala Jondal, s/n. Sant Josep de Sa Talaia.
Nassau Beach Club
Found in the most idyllic stretch of the famous Playa d'en Bossa, the Nassau Beach Club is a true flagship on Ibiza's beach entertainment scene. Nassau boasts a seemingly endless selection of culinary options. Its menu brings together the best aspects of Mediterranean and Asian gastronomy. This modern beach club ensures the best atmosphere, whether you're coming to soak up the sun or enjoy the club's nightlife. Sipping on a delicious cocktail as you listen to an electronic music session, or receiving a relaxing massage… Everything is possible at the Nassau Beach Club!
Ctra. de Platja d'en Bossa, s/n. Sant Josep de sa Talaia.
Nikki Beach
With a long list of beach clubs in various international destinations, the Nikki Beach brand reached the shores of Ibiza in 2013. Since then, this Cala Martina-based beach club has become the island's glamour hub. At Nikki Beach, there's always a reason to celebrate by cracking open a bottle of good champagne. Sipping away on a delicious cocktail or treating yourself to one of the exquisite international dishes that feature on the Nikki Beach menu—these are just two of the ways in which guests can enjoy their time on the beach, in the pool or from the comfort of their Balinese beds or sunloungers. If you're looking for a good time, Nikki Beach is the place for you. Throughout the summer, it is home to an endless range of parties featuring international artists, dancers and DJs.
Avinguda de s'Argamassa, 153. Santa Eulària des Riu.