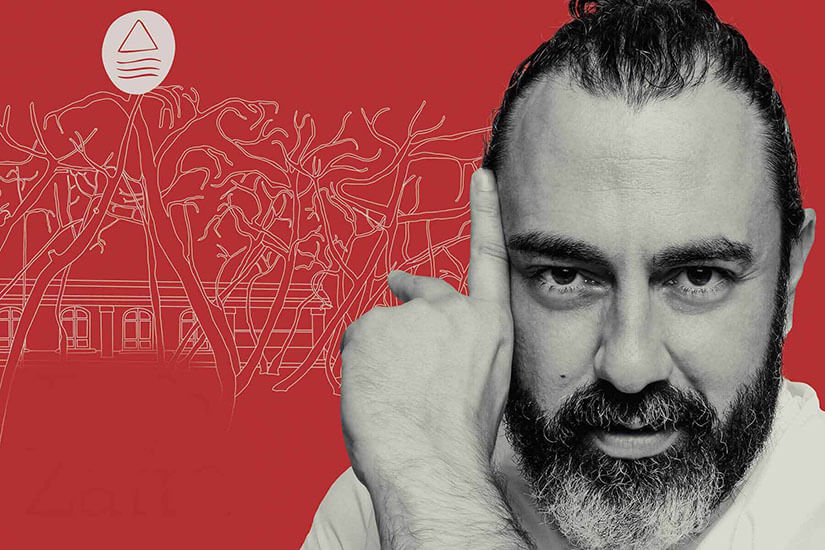 Entertaining at the table, yet serious in the kitchen, Rafa Zafra can never resist a challenge. In his last interview with this magazine, he told us about his new venture in Madrid, where his aim was to replicate his successful Barcelona restaurant, Estimar. We asked him then whether he still had any dreams he wanted to fulfil, and he had little hesitation in replying: "a beach bar". That was barely a year ago, and now we're back to interview the Seville-born chef to hear about Jondal, his new beach bar in Ibiza.
And dreams really do come true... tell us about Jondal
A year ago, you asked me about my dream project, and I said it was to open a beach bar. I haven't forgotten that. Back then, I could never have imagined that it would now be a reality, but it was just one of those questions that make you think... I wanted to be able to create a laid-back atmosphere that just isn't possible in a restaurant, however much you may want to. The idea behind Jondal is to reinvent the beach bar concept, but without reducing the quality of the service. We don't want it to be a beach club. We want to recapture the essence and the good vibe of the beach bar, the informal atmosphere, the home-made food... and to take it to another level, because many beach bars, due to the fact that the season is over so quickly, turn into a battleground. We want to change that — in fact, we want to remain open all year round.
"We want to recapture the essence and the good vibe of the beach bar"
Jondal is being launched in a difficult year, and you're planning to open all year round. That's rather a bold move, isn't it?
Where some people see problems, others see solutions. I believe that this is a year when we can make mistakes and learn from them — and, more than anything, I believe this is a year to sow seeds for the future. There's going to be less pressure, we'll be able to work in a more relaxed way and, to be honest, what we're hoping for from this year is nothing like you'd normally expect from a business. We want to create a different kind of lifestyle, a nice interpretation of summer in Ibiza, and to recreate the essence of the beach bar. We know it won't be easy, but our aim is to stay open until after Twelfth Night.
Why Cala Jondal?
You know how you fall in love with some places the minute you arrive? That is what happened to us in this case. The beach bar lies between a pine forest and a spectacular beach...
"At Jondal, I believe you'll see much more of me as I am, as a customer and as a chef."
What can we expect to see on the menu at Jondal?
We've created a very interesting concept. There's nothing like it on Ibiza. Our plan is to select 10 ingredients that we'll change according to the season. They'll be all the kinds of foods that most of us like to eat at a beach bar: prawns, clams, mussels, squid... We'll serve them in a variety of different ways, so that the customer will experience the genuine luxury of eating what they like, served exactly as they wish. The focus will be on fish and seafood, and will include chargrilled dishes, typical stews like bullit [Ibizan traditional fish stew], fried fish dishes, etc.
How much of Rafa Zafra will there be in Jondal?
To be honest, all of me, I think. If there's one thing I can truly identify with, it is this. At Jondal, you'll see much more of me as I am, as a customer and as a chef.
"At Jondal, I believe you'll see much more of me as I am, as a customer and as a chef."
What inspired the décor of the beach bar?
The ambience at Jondal is 100% pure Ibiza. Jondal gives the impression of having been there for many years, and I think there must be very few new establishments on the island that feel like that.
Your team have always been a mainstay for you. What can you tell us about the team at Jondal?
The team is the key to the success or failure of any venture. This year, we've been able to show a strong commitment to the team for many reasons. For a start, we haven't been able to open our haute cuisine restaurant, and so part of the team has come with us. We've also taken part of the team from Heart Ibiza, which has not been able to open this year because of the current situation. Also, the head chef, Alberto, has worked in two Michelin-starred restaurants and alongside great professionals, such as Carme Ruscalleda.
In a beach bar whose menu is based on Mediterranean ingredients, how do you plan to resolve the supply problems that sometimes occur on the island?
The star of the show at Estimar isn't me: it's my father-in-law, who is our supplier. He selects the very finest Mediterranean ingredients to be found on the Costa Brava. At Jondal, we want the island of Ibiza to be an important focus, and we will work with fish from the island, but there are times when supplies are difficult to obtain, and then we'll rely on my father-in-law.
What dream will you move on to once you've fulfilled this one?
For the moment, this is the only dream I have. I think it's a good year to go on sowing seeds for the future...