David Piccioni "never dreamed of running a restaurant." But after an intense career as a DJ and music producer, he opened Amante Ibiza a decade ago with the idea of "sharing his favourite corner of the island" with anyone who was willing to "enjoy the simple things." If he is proud of something, 10 years later, it is of the family he has created together with the Sol d'en Serra restaurant team. And, those who work with him, say that "in Amante Ibiza, they feel at home".
---
Why did you swap music for hospitality?
I had never thought about opening a restaurant. I had absolutely no experience in catering. But I was completely in love with Sol d'en Serra. I had always dreamed of creating something special here, to give other people the opportunity to discover another side of Ibiza and its magic. My objective when I opened the restaurant was to share this corner of the world.
How has Amante Ibiza evolved?
One thing that has not changed, and never will, is the nature that surrounds the restaurant. The beauty of this bay. I think it is the most important part of this space. In terms of the restaurant, we wanted to improve all aspects, every year: the food, drink, service, atmosphere, decoration… you have to always try to be better. A business that does not move forward, gets left behind. And I think this is also the case with people: we should be continuously developing. That is our greatest ambition.
I had always dreamed of creating something special here, to give other people the opportunity to discover another side of Ibiza and its magic
Do you use the winter season to reinvent yourself?
Yes, I think that if Ibiza did not have its low season, we would all be dead (joking). Winter is when we regenerate, we need that time to create, think about how to improve and plan for the following season. It is as if we plant the seeds during winter, in spring they begin to grow and in summer you pick the harvest and enjoy the flowers.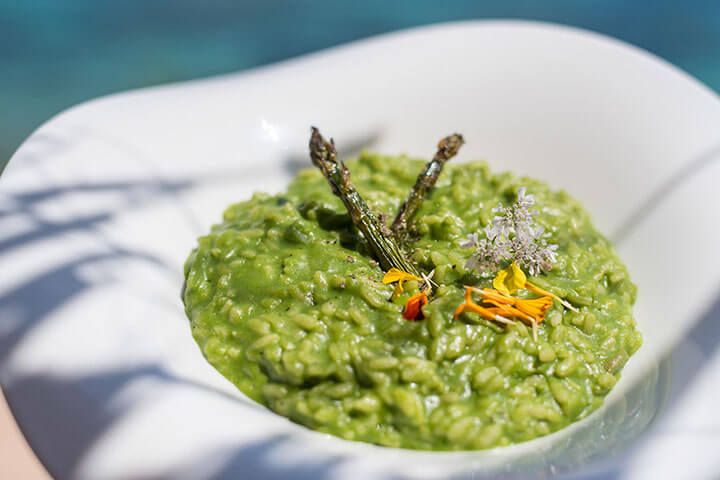 What's new in Amante Ibiza?
This year we completely redecorated the premises, so the restaurant's feel and look is now much more modern. We even changed the team's uniforms. And, of course, we improved the menu. I think this year we have the best culinary offer the Amante Ibiza has ever had.
I think this year we have the best culinary offer the Amante Ibiza has ever had
How can gastronomy compete with such impressive views?
It's not just the beautiful views. It's also nature and the atmosphere of this place, which is very special. I think that food should complement that. Everything in the restaurant—the decoration, the food and the service—complements its location, which is the true essence of this space. Our food is very simple, but of a very high quality and together that makes a winning combination. We try to make things simple and natural. We want people to enjoy the simple things.
Many restaurants in Ibiza complain about how difficult it is to put together a good team. What is the Amante Ibiza team like?
We are very lucky because our team is fantastic. The most important thing for any organisation is its workers. Chef Carlos Fernández joined the team 10 years ago. There are about six people who have worked with us since the beginning, but most of the team are veterans who have been around for many years. We are very proud of our team. We are like a big family. We all know and understand each-other, and I'm pretty sure our customers can feel that union.
How would you describe yourself as boss?
I like to let my team do its work. I am lucky to work with people who know what they're doing. I trust them and let them do what they are really good at in their own way.
What do you remember most fondly from these 10 years of Amante Ibiza?
People always talk about the parties we used to have a few years ago, when we opened or closed the season. For them, those parties are wonderful memories, but not so much for me, because I was organising them (laughs). My best memories are enjoying a good dinner in the restaurant under a full moon, or the outdoor cinema sessions under the stars … they were very special evenings.
What has the hardest part been?
Perhaps the most difficult part is appreciating what we have every day. It is easy to get to work every morning, look out over the sea, at the breathtaking views and all the beauty… and get used to it. I try to look at what I have here as if it were the first time.
Do you have a new challenge in mind?
We are still working on the Aiyanna Ibiza (Amante Ibiza's younger sister) challenge, a second restaurant that we opened two years ago in Cala Nova. It is a restaurant that offers healthy, Mediterranean food… Food is one of its strong points, but the most special part about it is its ambience: Aiyanna Ibiza takes you back to the Ibiza of yesteryear. It is very cool, and very bohemian at the same time. And although the challenge began four years ago, it still continues, because creating a great restaurant in Ibiza takes at least three or four years. We are not currently thinking about anything else because we are focused on what we are doing today.
The decoration, the food and the service all complement Amante Ibiza's location, which is the true essence of this space
What has the evolution of gastronomy on the island been like from an Amante Ibiza perspective?
It has evolved incredibly over the last five years. When we opened Amante Ibiza 10 years ago, I was quite confident because there weren't many good restaurants on the island, if we compared Ibiza with other European cities. The standard now is much higher. I imagine that over the next three or four years the bar will continue to be raised.
This is a challenge for all catering professionals…
I believe that competition is positive because it makes us all better. I am delighted to be able to contribute to improving the quality of Ibiza's catering sector.