MAGAZINE
2021·09·22
El Corsario: a tribute to modern Ibizan cooking with the signature of chef José Miguel Bonet
One of the biggest developments of the season in Ibiza is the opening of El Corsario Restaurant & Terrace: the new restaurant of hotel La Torre del Canónigo. Its menu has been designed by José Miguel Bonet, one of the greatest ambassadors of modern Ibizan cooking, and is inspired by the traditional flavours of the Pityusic Islands fused with the most innovative trends. Bonet will make his debut as food consultant at El Corsario, with Íñigo Rodríguez as kitchen manager. The restaurant has an interior dining room and a wonderful terrace with views of the sea and bay of Ibiza. Visitors can also enjoy El Club, a sophisticated bar space with a daring spirit and an unexpected range of music.
---
Being bored isn't something you're too fond of. You've even started selling artisan bread...
Yes. We sign up for a barrage of things. This year we've started making bread like crazy and have been selling it in two markets: Forada and the Cooperativa Agrícola in San Antonio, which runs a market every Friday. So, we've been very busy. Truth is, we're really happy because it's been warmly welcomed. We have regular clients and have been baking a decent quantity. And, in winter, when we couldn't go out to bars and restaurants, the market became a real social event.
How many projects do you have on the go right now?
At the moment we've got the two markets, which we do as a family: my wife, my mother, my sisters and Matías (the baker at Es Ventall), who also helps us with the bread. As well as the restaurant and the vegetable patch. That's all the family side of things. And in February, I also started working as food consultant at El Corsario, the new restaurant at hotel La Torre de Canónigo, together with Íñigo Rodríguez who is the project's kitchen manager. We've developed the breakfast, room service, pool and dinner menus for El Corsario.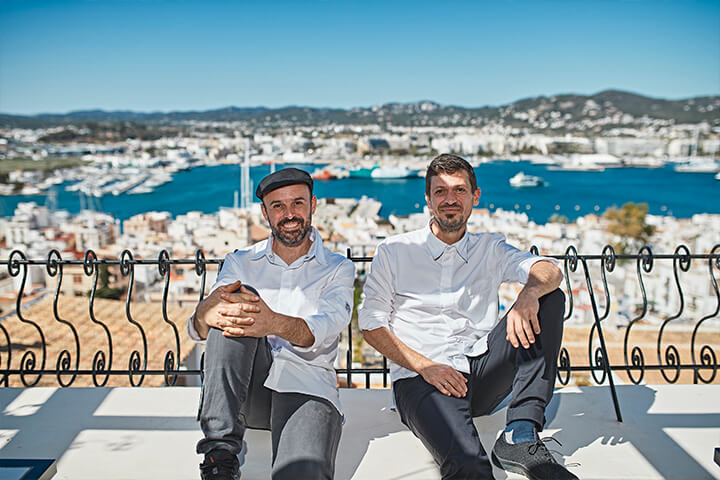 Had you ever thought of being a food consultant before?
It's my first experience as a food consultant. We'd had several offers before, but for one reason or another they didn't happen. Perhaps we weren't bold enough, or weren't totally convinced. This time, everything has gone smoothly. I've found someone I trust, and a company that is committed to us and gives us peace of mind. I wanted to try this experience and now I feel confident and fully convinced. We'll see if other things come up later.
It's great to have your work recognised and that they chose someone from Ibiza, because lots of companies prefer to offer opportunities to people from elsewhere
Tell us about El Corsario: what will we find there?
The menu at El Corsario includes some of the most important dishes from Es Ventall but with a few changes. We only have a dinner service there. The cuisine is modern Ibizan cooking. But unlike Es Ventall, we don't have rice dishes, bullit... At El Corsario there is a big focus on Ibizan produce and we're extremely lucky to be able to work with exclusive products like blue lobster, Galician veal, kobe beef, caviar, Ibizan prawns...
How did this project come about?
The truth is they came to see us at Es Ventall because they liked what we were doing. And that's how it started. It's great to have your work recognised and that they chose someone from Ibiza, because lots of companies prefer to offer opportunities to people from elsewhere.
You always have Ibizan cooking at the forefront and use it as the basis for creating different versions of traditional dishes. Do you ever feel like you're running out of ideas?
On one hand, yes. But, in the end, we find a way to flip the recipes that we had at Es Ventall. We've changed lots of things, we've approached them differently... For example, we make a coca with roasted pepper and smoked sardines that we don't make in the same way that we did at Es Ventall, even though that was where the idea came from; we also have some amazing langoustines that we made with different ingredients at the restaurant... Of course, there are times when you don't know what to cook, but you start thinking and reassessing things and you get 50,000 ideas. Also, when I sit down with Íñigo, we put our heads together and have lots of ideas. We don't want really technical dishes with lots of ingredients. We want the food to be delicious: simple and with good produce. Our idea is to get everything up and running and the restaurant working. And when we want to make life a bit more difficult for ourselves because what we're doing feels like it's all under control, we'll have another think.
At Corsario we don't want really technical dishes with lots of ingredients. We want the food to be delicious: simple and with good produce
What's it like working with Íñigo Rodríguez? Did you know each other before?
We hadn't worked together but we'd known each other for a long time. To be honest, it's great. He's far ahead of me in everything to do with managing the hotel and kitchen because he spent a long time at a group like Pacha, managing a juggernaut. For him, a 23-room hotel is 'easy' to handle. Of course, it also has its challenges: especially everything related to access: parking, suppliers, who won't come at any old time... You have to walk a lot, climb a lot of stairs. But I think that we're going to get on really well. And I think we're pretty similar in the way we think and work. I'm really happy and am convinced that giving Íñigo the position was the right decision.
What challenges do you still have ahead?
In my personal life, being a father. And professionally, staying in the situation we're in now, with the restaurant open and lots of support from our clients. Staying alive, which is plenty. I don't think we can ask for more: work, health, and being able to pay the bills at the end of the month.
What's your attitude towards the 2021 season?
We think that it's going to be short, but that people really want to go out. I think that Ibiza will still be an attractive destination. It might not be a summer like 2018 or 2019, but it'll be a pretty good summer. We want to work, people want to have fun, so let's go for it.