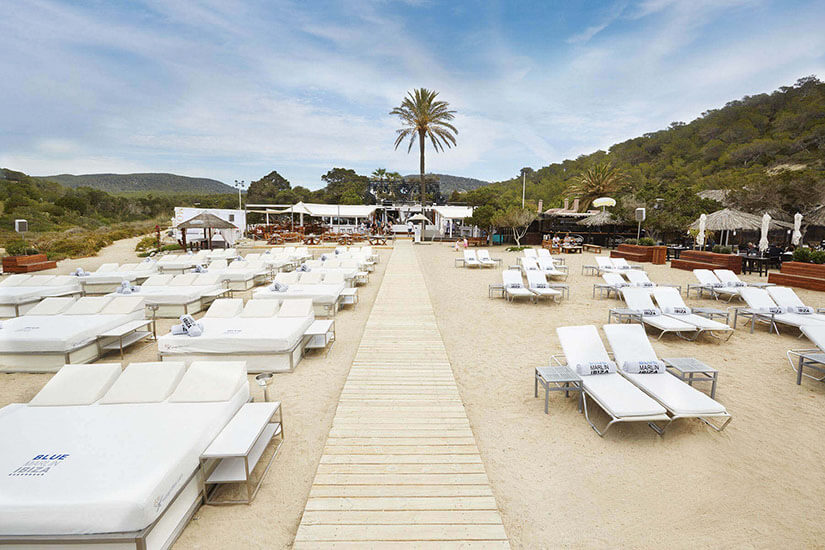 Gastronomy: the wholehearted enjoyment of each and every one of life's pleasures. This is what's on offer from the Blue Marlin Ibiza group, as it invites the most discerning palates to be seduced by four very different gastronomic options, but with one common factor: the quality of the food and views to take your breath away.
---
Blue Marlin Ibiza at Cala Jondal and at Marina Ibiza, the Nikkei Coricancha restaurant and the Yemanjá beach restaurant: four establishments that invite you on a gastronomic tour, stopping off at three of the most exclusive spots on the island. Because, although at the mention of Blue Marlin Ibiza many people would only think of the beach restaurant at Cala Jondal, Blue Marlin Ibiza is so much more than that: it's a gastronomic venture teeming with experiences, but one where fine dining plays an ever-important part.
Blue Marlin Ibiza is a gastronomic venture teeming with experiences, but one where fine dining plays an ever-important part
The group's longest-established restaurant is Yemanjá, whose story began over thirty years ago in idyllic Cala Jondal. Yemanjá's exceptional traditional Spanish and Ibizan cooking, together with its family atmosphere, has earned it an impressive reputation over many years, making it one of the locals' favourite restaurants. Bullit de peix (the traditional Ibizan fish stew), a varied range of paellas, sticky rice with lobster, crawfish stew, and the fresh catch of the day are just a few of the specialities of this beach restaurant, which stays open throughout the year. Add to this the amazing views of the wild bay of Cala Jonda, and a service that aims for excellence by paying close attention to every last detail. Yemanjá allows its guests to savour the true essence of Ibiza.
Not far from Yemanjá, also at picturesque Cala Jondal, is the group's flagship restaurant—the Blue Marlin Ibiza. Its demanding, cosmopolitan, international clientèle visits Blue Marlin Ibiza every summer in order to experience all the gifts the island of Ibiza can offer: its Mediterranean sea, its eclectic, laid-back culture, its music and, of course, its wonderful cuisine. Here, in its 'star establishment', Blue Marlin Ibiza offers a number of culinary and leisure options, designed for different occasions or needs: on its beach area, it is possible to relax on a comfortable bed, looking out to sea while savouring exquisite Mediterranean cuisine. In the restaurant, both in the daytime and in the evening, guests can enjoy the most carefully prepared cuisine, starting with a selection of dishes which showcase the latest international culinary trends, but with a clear Asian influence. The terrace offers a more relaxed option, perfect for enjoying tapas or a bite to eat while soaking up the music, the atmosphere and the remarkable energy generated by Ibiza as the sun sets. An extensive and thoughtful menu of sushi and cocktails rounds off the gastronomic offer at Blue Marlin Ibiza. A lively, cosmopolitan atmosphere coupled with a gastronomic pilgrimage in one of the most beautiful natural settings on the 'White Island'.
We take a leap from Cala Jondal to the heart of Marina Ibiza, one of the most select areas on the island. There we find another member of the Blue Marlin Ibiza family. This lounge-restaurant cum cocktail bar offers a more peaceful atmosphere, and has designed a contemporary cooking option inspired by many elements of traditional Peruvian cooking, delicately blending them with Mediterranean cuisine. Its refined, international cocktail, wine and champagne menu adds the finishing touch to the exclusive experience of Blue Marlin Ibiza Marina: a perfect place to relax and be charmed by the constant, tuneful sound of the circling kittiwakes and the movement of the boats navigating the port.
Coricancha is the latest addition to Blue Marlin Ibiza's gastronomic family here. Located on the Salinas road, this Nikkei restaurant, which opened three years ago, affords a stunning, panoramic view of the salt pools, and it is not at all unusual to catch a glimpse of the flamingoes and other fascinating birds who live there. Corincancha takes guests on a tour of two centuries-old gastronomic cultures: the Japanese and the Peruvian—an exotic combination which has now become a worldwide trend. At Coricancha, the evening gets underway just before sunset. Guests begin arriving at Sunset Terrace to watch the amazing sunsets while sipping exotic, Japanese- and Peruvian-inspired cocktails, prepared using local ingredients. This series of long drinks is accompanied by a selection of the most authentic street-food snacks, an irresistible combination that helps all five senses to savour this particularly special moment of the day. When the sun finally sinks below the salt pools, the guests continue their 'tour' in the restaurant. The highlight of the menu at Corincancha is a host of traditional Peruvian elements, prepared using the most revolutionary techniques. Ceviches, tiraditos (both raw fish dishes) and anticuchos (skewered meats) are just a few of the delicacies on offer. Coricancha presents a fantastic culinary choice, which will delight even the most discerning palates, in an incomparable setting on the 'White Island'.
Blue Marlin Ibiza has introduced an innovative way of enjoying Ibiza and its beaches, while celebrating its traditional cuisine and its unique cultural mix.
Blue Marlin Beach Restaurant, Blue Marlin Ibiza Marina, Yemanjá and Coricancha: four options which, although entirely different from one another, share a common aspiration to provide excellent service and the highest standard of cuisine. All four offer a flawless experience that goes beyond the purely gastronomic, generating around themselves a philosophy of life, based on the art of bringing out the very best in every moment and place. Blue Marlin Ibiza has introduced an innovative way of enjoying Ibiza and its beaches, while celebrating its traditional cuisine and its unique cultural mix, by offering a full range of options to make its guests feel more than at home.