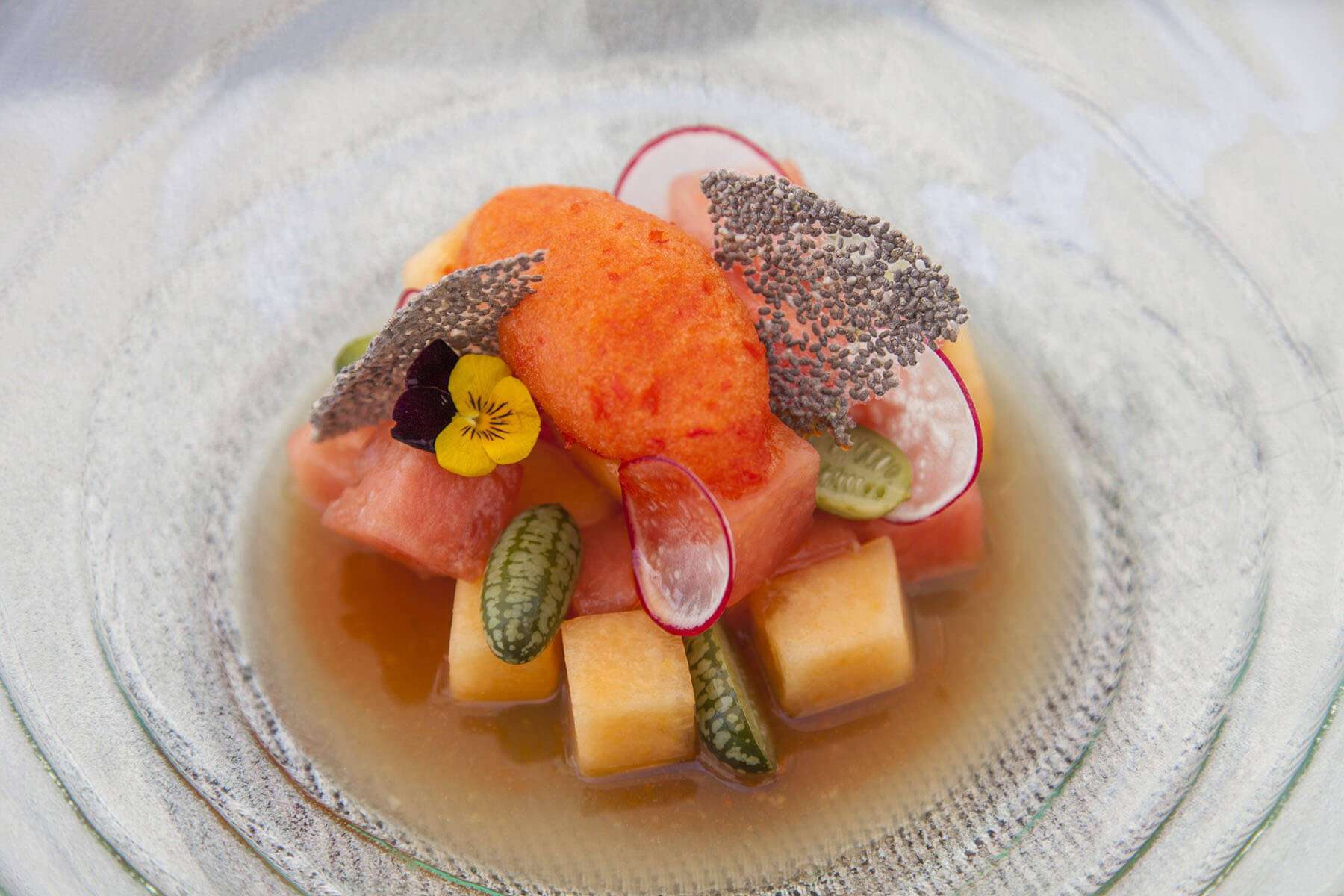 Recipe Details:
Difficulty: Medium
Prep time:00:30min
Serves:4
Type of food:
Ingredients:
For the rocoto pepper sorbet: (1 kg)
Red peppers: 400 g
Rocoto chilli peppers: 65 g
Lemon juice: 500 ml
Syrup: 500 ml
For the nikkei tiger's milk:
Rice vinegar: 50 ml
Sugar: 20 g
Ginger: 3 g
Soy sauce: 5 ml
Grapefruit juice: 50 ml
Lemon juice: 15 ml
Sesame oil: 3 ml
For the ceviche:
Cantaloupe melon: 100 g
Watermelon with seeds removed: 100 g
Cucumber: 50 g
Yellow cherry tomatoes: 50 g
For the crisp:
Chia seeds: 60 g
1 tablespoon of water
Preparation:
Make a syrup with equal quantities of sugar and water, and heat until a thick consistency is obtained. Put aside. Wash the peppers and the chillis and remove the seeds. Cut the peppers into small pieces and place in a food processor or thermomix with the rest of the ingredients until a smooth, even texture is obtained. Place in the freezer. Once the mixture has frozen, churn it. Repeat the step above (this prevents crystals forming and ensures a good texture). Place the mixture back in the freezer. Soak 4 tablespoons of chia seeds in water for a few hours. Spread over a tray covered with paper, and make circles with the hydrated chia. Place in a dehydrator or in the oven at 70ş until the chia is crispy (2 or 3 hours). Reduce the vinegar by half. Allow to cool. Add the rest of the ingredients and put aside. Cut the fruit and vegetables into 2 cm2 cubes, and place them in a medium-sized bowl. Add the tiger's milk and stir well. Serve on a soup dish with a sorbet quenelle, and finish with the chia crisp and flowers.