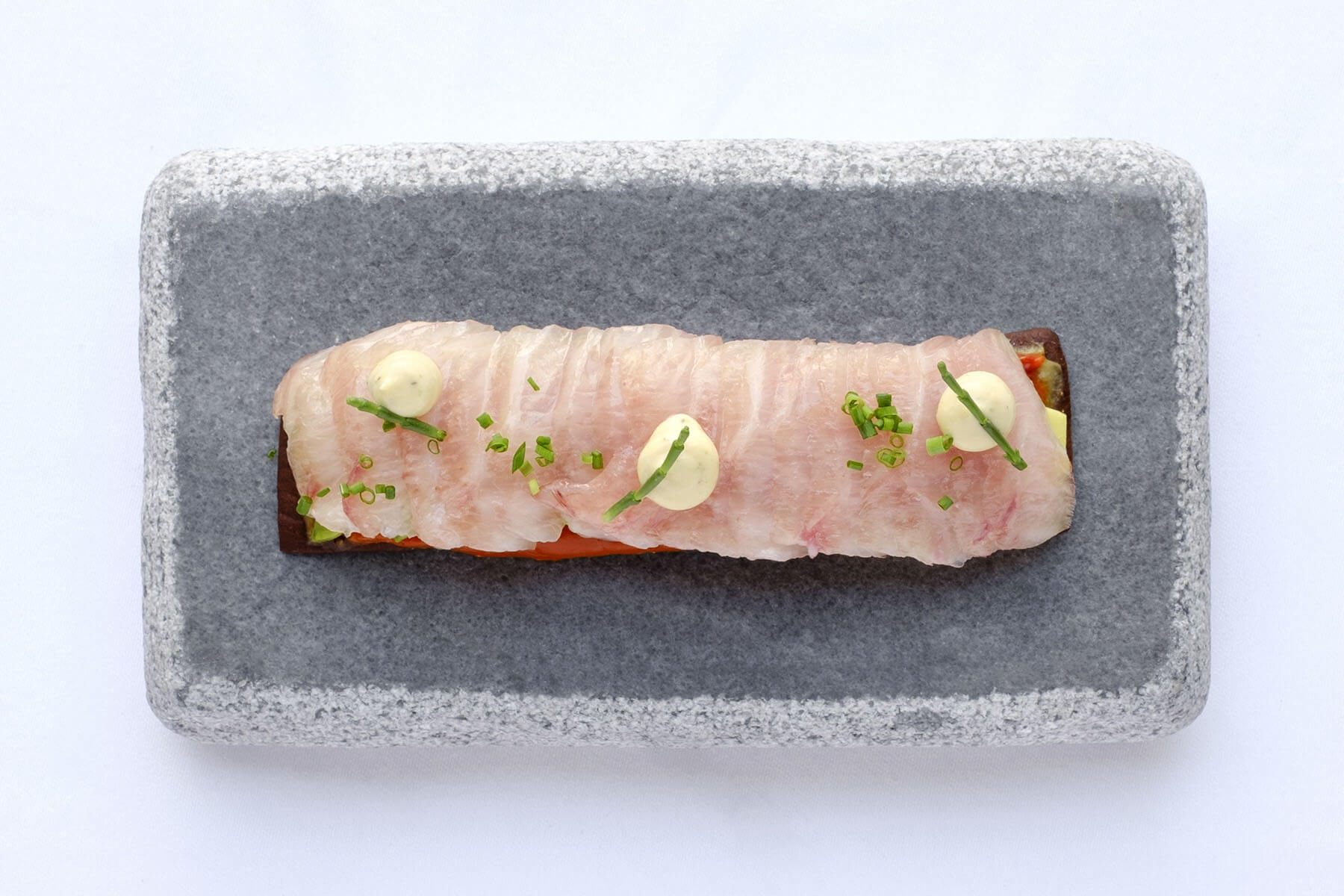 Recipe Details:
Difficulty: Medium
Prep time:01:30hours
Serves:1
Type of food:
Ingredients:
Coca dough:
315 g flour
35 g carob flour
160 g water
50 g lard
15 g fresh yeast
1 pinch salt
Belly of sirvia:
200 g belly of sirvia with the skin removed
Salt
Vegetables:
1 roast pepper
Olive oil
Salt
Pepper
Avocado
Roast aubergine
Chives
Samphire
Fresh flowers
Preparation:
Preparation time: the dough takes approximately 12 hours including resting and fermenting time; the preparation time for the remaining ingredients is 1.5 hours.
Coca dough:
315g flour
35g carob flour
160g water
50g lard
15g fresh yeast
1 pinch salt
Make a dough using 100 g of flour and 100 g of water. Mix it and let it rest for 30 minutes. Add the rest of the ingredients and knead. After the first kneading, let the dough rest and then repeat this procedure at least three times more.
Cover, and allow to rest in the refrigerator for 12 hours. Let the dough reach room temperature; then stretch it, shape it into a square and bake in the oven at 170ş for approximately 15 minutes.
Belly of sirvia:
Cover the fish in salt and cure for 30 minutes. Rinse with water and dry with kitchen paper. Fillet. Brush with olive oil. Sprinkle with chives and freshly ground pepper.
Vegetables:
Roast the aubergine and the pepper. Purée the roast aubergine, adding salt, pepper, and a trickle of olive oil. Set aside. Skin the roast pepper and cut to fit the carob base. Spread the creamed aubergine over the carob dough. Put the prepared avocado on top of the creamed aubergine. Place the roast pepper on top. Finally, crown the prepared dish with the belly of sirvia. Decorate and garnish with herbs and flowers.