Alma, his restaurant in Lisbon's Chiado neighbourhood, received two Michelin stars in 2018, but Henrique Sá Pessoa, who also owns Tapisco, Cais da Pedra, Food Corner and the recent addition of Atelier, has one more star in his pocket: an Estrella Damm star. Sá Pessoa is the new ambassador of the Spanish beer brand in Portugal, which he describes as "having to get the most out of the essence of Mediterranean cuisine". And although, as the chef points out, "Portugal is not a Mediterranean country, in terms of produce, Portuguese food has many similarities with that of the Mediterranean".
What Sá Pessoa likes the most about being a Damm ambassador is the wide range of beers that the Catalan brand offers: "Each one of them adapts to a different moment or a different style of food. Estrella Damm embodies the Mediterranean and Iberian way of life: sun, beach, food… and perfectly represents Iberian cuisine".
A large part of Sá Pessoa's culinary education took place abroad, which was more than evident in his cooking during the first few years of his career. As soon as he knew that cooking was his vocation, he also realised that his training would inevitably involve travelling and discovering new culinary cultures. He studied at the Pennsylvania School of Culinary Arts and at the prestigious Cordon Bleu culinary school. He worked at London's Park Lane Hotel and at the Sheraton on the Park in Sydney, where he lived for two years. When he finally returned to Portugal, he brought all that culinary know-how with him and became more interested in Portuguese gastronomic tradition. In 2009, he opened his first restaurant: Alma, which was originally situated in Santos, before it closed and reopened its doors in the heart of Chiado. Then came Tapisco, Cais da Pedra and Food Corner in the Mercado da Ribeira, and he now presents his most personal project: Atelier, a space that functions as an "R&D laboratory", providing support for Alma and the rest of the chef's projects.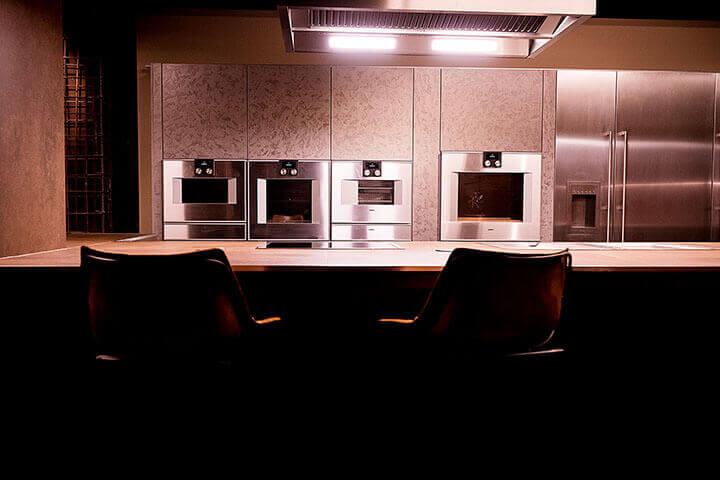 However, it didn't take him long to realise that "R&D doesn't pay the bills," and so he decided to create a very personal gastronomic experience at Atelier. "It's as if I were to invite a group of people to eat at my home: it's a very intimate place. The diners come into the kitchen with me, a conversation and a bond is created, they get to know one another…". Atelier only has capacity for 12 dinner guests and opens its doors a couple of times a month. The rest of the time, the chef and his team dedicate themselves fully to the research and development of new culinary concepts. "We practise, we taste things and we create different dishes. We then design a surprise menu that we call "Twelve", for the twelve diners that sit down at the table," he explains. Atelier is located in Marvila, an area that, as he says himself, is becoming a type of Lisbon Soho. "Atelier's goal is for the food of Alma and the rest of our restaurants to evolve," he says. "It's like being at our home, so the idea is to do what we want and to enjoy the space. It's not a big money-making project for us. We want it to work and for people to pay, but for it to be a much more personal, intimate and totally different experience from what we understand as a restaurant," he says.
Atelier is like being at our home, so the idea is to do what we want and to enjoy the space. We want to offer a more intimate and different experience from what we understand as a restaurant
Nevertheless, he acknowledges that he is sometimes afraid to talk about R&D, "because people think about El Bulli, and they inevitably think about laboratory cooking. I worry that they'll think that we'll be there cooking with a load of machines," he adds. For Sá Pessoa, "R&D means passing the time frying a potato so that it has a different texture. It doesn't have to be too conceptual. To make anything perfectly you need to practise, and that's what we try to do at Atelier. We carry out lots of tests in order to create dishes that provide our customers with a completely new experience".
He defines his cooking as "contemporary Portuguese", because, although it is inspired by his culinary roots, he brings a personal touch to each dish. "My methods are more and more influenced by traditional Portuguese cooking with my own modern touch," says the chef. That is why he increasingly dispenses with imported ingredients, in order to give national produce greater prominence, such as red carbinero prawns, one of his favourite ingredients.
To make anything perfectly you need to practise, and that's what we try to do at Atelier
Sá Pessoa's immediate future is replete with new professional challenges, the first of which is practically underway: to open a restaurant outside of Portugal. "To help market our cuisine, produce and wine, it is necessary to open restaurants beyond our borders, which is what happened to French and Italian food," he says. "The way we are represented outside of Portugal, in terms of cooking, is still quite poor. We have some ambassadors, such as Nuno Mendes and Leandro Carreira in London, but there is some way to go and I think that is the way forward". Sá Pessoa recently opened his new restaurant Chiado in Macau, China—a project that gives him the opportunity to exhibit the most representative dishes and produce of Portuguese cuisine, such as codfish, while adapting his food to the customs and gastronomic culture of the country.
"I think the greatest challenge facing Portuguese food right now is to expand abroad," says the chef. "We have to make the most of the growth in tourism and see it as a great opportunity. I love offering my international customers a personal experience of what for me is Portuguese cuisine. I think we need a lot more culinary examples of Portuguese food, not just fine dining establishments, but also traditional restaurants and food stands that reflect our gastronomic roots," he concludes.