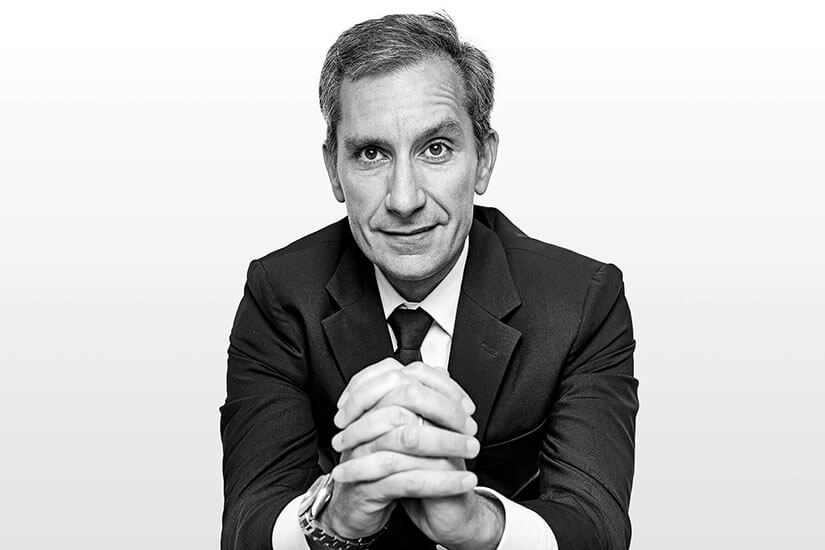 20 years at the helm of Multifood Group have made Rui Sanches into one of the key figures of Portuguese cuisine, both within and beyond the country. Warm, sincere, committed and, above all, persevering, Sanches firmly believes that the key to the industry lies in business owners coming together. He claims that fatherhood has been the best experience of his life and the arrival of his first born instilled him with the energy to continue working on the most innovative gastronomic projects.
Vitaminas was the first venture of Rui Sanches, and probably one of the most risky projects of his career. "When I started out, on 4 March 1998, my goal was to launch the first healthy eating concept in Portugal. It was really tough, because we struggled to change the way people thought about healthy food at the time. In those days, people thought it was about eating more food, not about consuming healthy food. They were difficult years, working really hard in the summer in order to be able to pay the salaries in winter," says Sanches. However, the work, the effort and, above all, the perseverance helped Vitaminas find its niche in the Portuguese food market. And according to Sanches, it is precisely that, the perseverance, which has helped him go so far: "Perseverance and family have been crucial for developing the Multifood project," he admits.
For the business owner, "the key to success lies in perseverance, in developing innovative products, in constantly studying the market and, of course, in forming great teams. We are committed to training across all departments and I think it is one of the most crucial building blocks of any project. The better your team is trained, the more tools you have to work successfully". What is especially noticeable is how proud Sanches is of his team, a large family made up of 2,000 employees. "Without them none of this would have been possible. Now we're in a time of plenty, but to get here we've had to work really hard," he says. The quality of each and every one of his restaurant projects is another of the factors that has added to his success, and another reason why he feels especially satisfied with his work. Quality, in the broadest sense, is the principle that governs the work of Multifood Group: quality of produce, quality of service and quality of ambience for all its restaurants.
The early days of Vitaminas were tough, because we struggled to change the way people thought about healthy food at the time
Multifood Group, the company of which Sanches is the founder and CEO, is one of the biggest restaurant groups in Portugal. With more than 140 restaurants, the group boasts 21 brands in its portfolio, 19 of which are its own concepts. Multifood is a strong, dynamic group with a distinct innovative character and a desire for leadership geared towards ensuring the highest quality and service standards. All of that is only possible "thanks to the great dedication of our collaborators, strict compliance with health and safety regulations and an organisational system that involves everyone—from kitchen teams to office departments". Proof of this is seen in the recognition that it has received over recent years through various international awards.
Training is one of the most crucial building blocks of any project
Many of its most emblematic restaurants are located on main avenues in the most important cities in the country or in prime shopping centres. Over recent years, the group has chosen some of the most important streets in Lisbon to open more establishments, as part of a clear commitment to reclaiming heritage. New Multifood restaurants are a strong boost to the restaurant scene of Lisbon, a city that is increasingly more dynamic and open to new gastronomic concepts. Thanks to this, Lisbon and Porto are becoming more and more prominent in the international food scene.
With such high standards, Multifood Group reflects the DNA of its expansion project: to anticipate trends and to offer the market innovative food and restaurants, with top-quality produce and special attention paid to home-grown ingredients and customer service. However, in an increasingly competitive market, the quality of its ingredients is not enough to make a restaurant stand out. As it continues to grow, Multifood's newest spaces seek to take customers that little bit further. Designed with the utmost attention to the smallest details, Sanches' new restaurants aim to take the customer's experience to new heights. The key to this is providing diners with enriching experiences that are authentic and emotionally gratifying. Based on this new premise, Multifood has turned a new page in contemporary Portuguese cuisine.
Multifood has turned a new page in contemporary Portuguese cuisine
Sanches is currently vice-president of the committee of the Association of Hotels and Restaurants of Portugal (AHRESP). His know-how, in addition to his experience and awareness, has geared the group's strategy towards fully custom-designed projects. With its extensive range of varied restaurants aimed at very different sections of the population, the common denominator of all the group's brands is a fixation on achieving the highest standards in all regards, which has catapulted its restaurants to the highest levels of excellence.