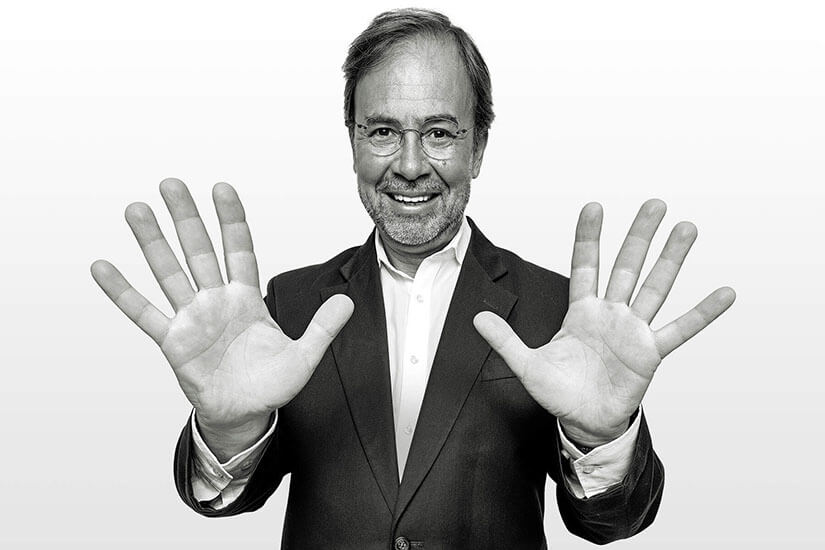 He managed to desperately escape from the war. But he had lost everything. Paulo Salvador (Angola, 1965) emigrated to Portugal with his family in September 1975. And that experience of 'starting over from scratch' at such a young age, gave him a unique perspective on life. "In our family, Angola has always been present, and even though we often spoke about our country, we did everything possible to adapt quickly to the country that welcomed us and to which we will always be grateful," he says. His 35 years' experience working as a journalist makes Paulo Salvador one of the most important gastronomic promoters in the country. Throughout his television career he has edited, coordinated and presented numerous programmes, including the culinary magazine 'Mesa Nacional'. He is also the architect of the Wine Summit 'MUST-Fermenting Ideas', the international wine event whose first edition was held in June 2017, and which brings together in Cascais experts from all areas of the wine industry.
---
Interview with Paulo Salvador
How did your career in journalism begin?
As a child I was always interested in communication, and while studying at university I worked on the student newspaper and collaborated with the campus radio. I started working in television in 1983-84. It was always the means of communication that I was most attracted to.
How does your love for gastronomy develop?
I began to become interested in gastronomy at a later stage. I always enjoyed eating, but that's not gastronomy, that's gluttony. Meals, and appreciating and talking about food are different things. That all started 7 or 8 years ago, when I decided to do an in-depth report on the Vila Joya gourmet festival, which was held in Algarve, and—despite having already run for two or three years—was relatively unheard of. The festival attracted some of the best chefs in the world and dedicated one night to Portuguese gastronomy. At that time, there was still no haute cuisine as we now know it in Portugal. That story, which lasted 30 minutes, changed things a lot. I think I helped in making the public aware of the concept of haute cuisine in Portugal, or to democratise knowledge of that term, because until then, only the elite had heard about it.
Was that when you decided to focus your career on gastronomy?
After 10 days at the festival, inside the kitchen, interacting with the chefs and living with them, I gained a very interesting perspective of the kitchen. I later made another report about fish. It focused on discovering whether it was true that the best fish in the world is Portuguese. We interviewed chefs in New York who bought exclusively Portuguese fish, and Ferrán Adrià assured us that the best fish in the world is Portuguese. From Russia to Los Angeles, we found Portuguese fish in the best restaurants in the world, and the Portuguese had no idea that this was the case… All this sparked my curiosity about the world of gastronomy. So, I began to include briefs about gastronomy in my news. Two parallel careers began to develop: my career as a general or political journalist, and my career as a culinary journalist. And later came the 'Mesa Nacional' programme which aimed to introduce special restaurants and their owners: those people who have an exciting story to tell about their journey. I remember one of the programmes with special affection: it was about a restaurant located in a village that had a total population of one inhabitant (who was the owner of the restaurant). He had an amazing story. People from all over the country, and also from Spain, would visit the town only to eat at his restaurant.
I think I helped in making the public aware of the concept of haute cuisine in Portugal, or to democratise knowledge of that term
What do you think about Portugal's current culinary state?
We are going through a fantastic gastronomic period in Portugal, because we have an incredible offer. I believe that Portugal's current gastronomy has helped to guarantee the quality of the products. That's why we demand more quality today than we did 10 or 15 years ago.
And what can you tell us about the future?
I believe that the future will accelerate a type of natural selection. I don't think fine dining will continue to grow for much longer. If, for some reason, tourism in Portugal begins to decline, fine dining will be greatly affected. And then, only the best will survive. But I think we have to thank fine dining for having supported small producers, because they are restaurants that look for quality products and are happy to pay a higher price for that quality.
Current gastronomy has helped to guarantee the quality of the products
How would you define Portuguese cuisine?
I think it's the most complex algorithm there is for such a small territorial space in terms of diversity. In other words, Portugal is an extraordinary example of diversity per square metre. I'm not saying it's better or worse, but we have an incredible gastronomic diversity for our 92,000 square kilometres.
Who do you think is the best ambassador for Portuguese cuisine?
It is without a doubt José Avillez.
And if you had to choose a single product, which one would it be?
Cod.
What gastronomic challenges does Portugal face now?
Sustainability, perseverance (maintaining what has cost much—in terms of time and resources—to achieve) and tolerance for difference. I think that last point will be significant for gastronomy in Portugal. We have to fight against the dictatorship of taste. I don't want to be told that the only good restaurants are Michelin-starred restaurants. Diversity is the future.