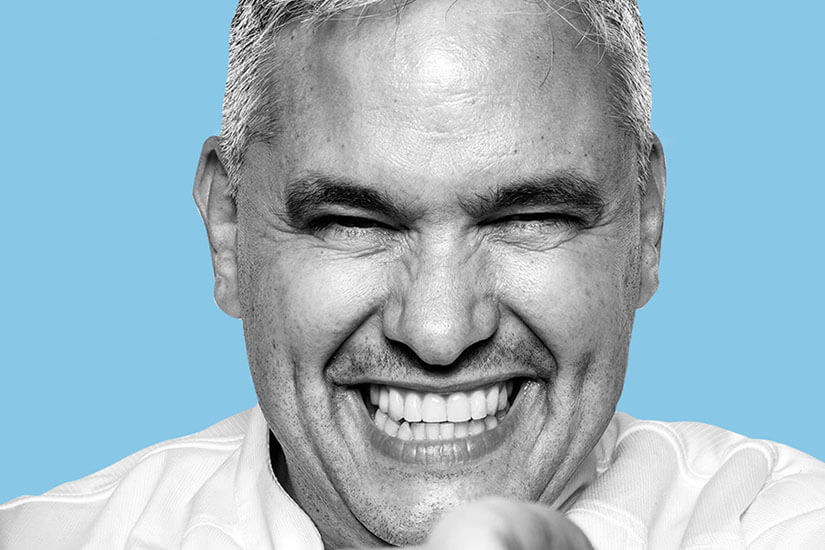 Nandu Jubany fulfilled his dream of participating in the Dakar Rally, motocross class last year. Fast, restless, hyperactive, alive, sincere… Gasoline and cooking run through his veins in equal parts, and he feels totally complete in both areas. After mastering Catalonia, Andorra and Singapore with several restaurants and catering services, the chef was chosen to run the Can Carlitos stoves, a job that allows him to take a breath and enjoy Formentera: an island he says he is utterly in love with.
---
What are you like, inside and outside the kitchen?
I'm just as transparent inside as I am outside. The problem with that is it means I have almost no private life. My life is combining work with leisure. My love for motorcycles and bikes is significant, and I now share it with my children, who also do motocross. And if I'm not motocrossing or cycling, I'm working.
What are Nandu's concerns?
My main concern is having a peaceful sleep each night. And that work runs smoothly, that people like it and, above all, that their expectations of us are fulfilled…
My main concern is having a peaceful sleep each night
How did the Can Carlitos project emerge and why did you choose Formentera?
Because I'm in love with the island. I have been coming here for 15 summers, "because of Abellán" (Carles Abellán). The first time I visited was because he had rented a house in Formentera, but "he wasn't able to make it." So, he rented it to me, I came with my family and in the end, he ended up coming anyway. From that year onwards, we have arranged each holiday here together. Can Carlitos has been an excuse to visit the island more. It is a hobby.
Can Carlitos has been an excuse to visit the island more. It is a hobby
Many think that "you don't go to Ibiza and Formentera to work"…
We work a lot here, but you can breathe deeply when you're here. When I come for a day or a day and a half, I always have time for a quick dip or something to eat. For me, it's a change of context. I love coming to Formentera.
What can you tell me about Formentera's gastronomic culture and of the change the island is experiencing?
"Francisquiño" (Francesco Manzoli, the owner of Can Carlos) contacted me and suggested we open a tapas bar or a bar with a twist on Spanish cuisine on the island. Until recently, the culinary offer in Formentera was pasta, pizza, bullit de peix, rice and steamed mussels. I love that food, but there was not much diversity. There are many new restaurants opening and there is a more varied gastronomic offering.
You have one of the best catering companies in the country. Have you ever thought about bringing it to the island?
We have catering that goes beyond the concept of catering. It is a very big project. It has been growing and we have diversified our services a lot. We consult in Andorra, Galicia, Singapore… And then we have the wedding side of operations, which is where we started. Can Carlitos is more of a hobby. Every year we do two weddings in Formentera and two in Ibiza. The problem with weddings is that they are always on Saturdays and we are full in Barcelona on Saturdays. Coming to Formentera is not cost-efficient.
Is it difficult to get a good team together in Formentera?
I have had almost no turnover in three years, and that makes me happy. We try to take good care of our people at Can Carlitos so they do not leave. Andorra is more complicated. We start practically from scratch every year there, and that's crazy.
Is eating well expensive?
For me, eating well is cheap. Because, in the end, if you eat well, they take good care of you and you drink well, so the price you pay is cheap. What is expensive is eating and drinking badly. It's all about value for money. At the end of the day, all this is very subjective and whether it is expensive or cheap depends on the quality of the products, the quantity and quality of the team preparing it…
What surprises you when you visit a restaurant?
Everything surprises me. I think that in this world, the more you know, the more you realise you know nothing. And sometimes, the most insignificant things are the ones that surprise you the most. For example, I am surprised when I visit a humble place with really good food. I am surprised every day because everything we do, in general, is very difficult. And I know how difficult it is to convey your idea, for the team to absorb it and carry it out. There are many people in hospitality, but few who work with passion and can meet customers' expectations.
In this world, the more you know, the more you realise you know nothing
How can access to local products on Formentera be improved?
There is a high purchasing power on this island. Its products are very expensive because demand is higher than supply. The soil is very good, and the produce is spectacular, so production should be encouraged. Nobody wants to work the land in Formentera. There are not enough people here who can live off farming, so there are a few farmers who can sell their products at a very high price.
What is one ingredient that is never missing in your kitchen?
Olive oil, which I use in all dishes. And I personally love eggs. Almost all menus use eggs. In Can Carlitos we make an open omelette with sobrasada (Balearic Island sausage spread), tomato and Ibérico ham or with vegetables that is delicious. And of course, we also have the classic huevos rotos (fried and slightly scrambled eggs).
What are your next challenges?
For now, my challenge is not to start anything else and calm down a bit. Because I would like to spend time with my children. I have three children and I haven't been able to enjoy my oldest. After spending a bit of time with them, I realised that it is OK to take a little break. I am 48 and I realised that we spend our lives putting things on hold. And there will come a time when it will be too late to do them.