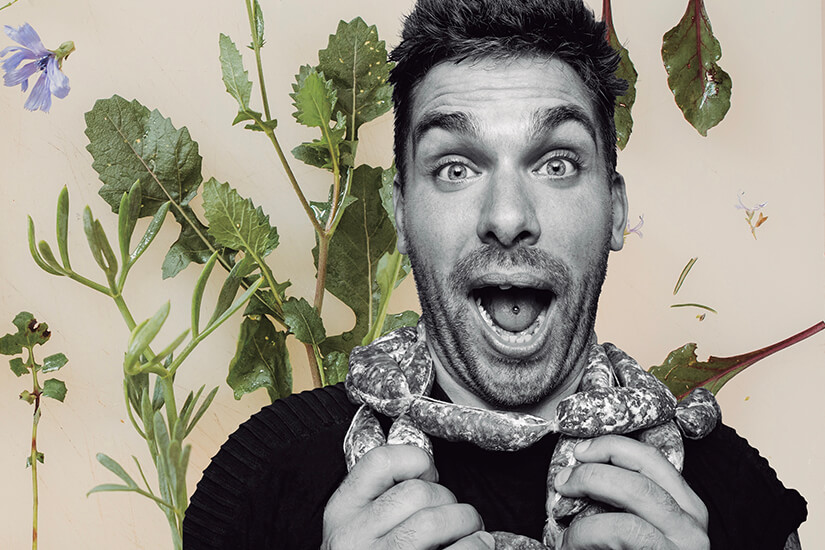 Fresh from the market to your plate — that is how we could sum up the cooking of the acclaimed chef, Matheus Porticchio.
Born in Perugia, he began his professional career in the prestigious kitchen of La Taverna, one of the Italian city's best-known restaurants. Later, he travelled to continue his training in Melbourne, followed by Malta, then England (at the 3-Michelin-starred restaurant The Fat Duck), before arriving in Ibiza.
Following this long journey, punctuated by frequent returns to his native city, Porticchio eventually decided to settle in Ibiza. That was four years ago, after he had spent a season here and fallen for the charms of the Pitiusas Islands.
His guiding principle is to anticipate his customers' changing tastes, with the result that gaps in his diary are non-existent. His untiring study of new techniques and his insatiable appetite for training have combined to win this chef the highest praise from families who visit Ibiza, as he turns their stay on la isla bonita into the perfect holiday.
Given his Italian nationality, it comes as no surprise that Matheus Porticchio is a past master in that country's cuisine and, of course, in the preparation of pasta dishes. However, he doesn't like to be pigeonholed, as his frequent stints in restaurants over much of the world have enabled him to acquire an in-depth knowledge of cuisines as diverse as that of South East Asia and the traditional cooking of Central America. Yet another of his areas of expertise is cooking over an open fire.