Over 60 years ago, Ibiza welcomed the arrival of the first hippies. Young people from all over the world. Some took refuge in Ibiza because they refused to fight in the Vietnam War. Others escaped capitalism, or the Franco dictatorship. Ibiza was a dream come true for all of them. A hidden corner of the world where peace reigned. And that cosmopolitan breeding ground sprouted the legendary Mercadillo de Las Dalias market. A space that brings together the island's authentic spirit.
With an extensive career in the hospitality sector, the brothers Chema and Sena Pallero head 'Jamin', the company responsible for managing the culinary and entertainment events in Las Dalias. Creative and entrepreneurial, both pursue business excellence based on dialogue, respect and motivation. Chema, who is a journalist, is more actively involved in the communication and production side, while his brother, a trained psychologist, is more focused on the daily management of the company. Their constant search for perfection led them to commit to modernising Las Dalias. Sena explains that this was necessary because "Ibiza had evolved towards a more bohemian, hippie chic style, and Las Dalias wanted to be part of that change." Furthermore, he states that both his company and the family that owns Las Dalias "still work to promote the original concept of the market," which continues to be one of the most well-known events on the island today.
Ibiza has evolved towards a more bohemian, hippie chic style, and Las Dalias wanted to be part of that change
Today, this unique space is more alive than ever, and is celebrating its 65th anniversary by presenting its renovated culinary spaces. The ambitious interior design project was created and executed by 'Índigo', an architectural studio that, as Sena Pallero explains, "has managed to capture and preserve Las Dalias' personality" and its vocation to continue being a large part of the history of Ibiza.
Las Dalias© Las Dalias
The Frenchman Jeremie Normand was commissioned to design the culinary choice on offer in this multicultural space which comprises seven different options. And for the purpose of preserving tradition, the executive chef of Las Dalias premised himself on "the history and the roots of the island's iconic hippie market." Thus, Normand and his team worked off the idea that "the products from the island and traditional recipes, with 100% homemade cooking, would be the main focus".
The gastronomic offer of Las Dalias would focus on products from the island and traditional recipes, with 100% homemade cooking
One of the spaces that has changed the most is the legendary 'bar de carretera' [road bar], now known as the 'Las Dalias café', a place that artists from all over the world have visited. Open all year round from eight in the morning, its chef Samuel Fuensalida offers a concept called 'Sudasia', where a Mediterranean product is fused with South American and Asian culinary roots. In 'Las Dalias Café' the diner will find a variety of daily menus that will seduce the most seasoned palates.
Other gastronomic spaces in Las Dalias have also evolved in a similar manner: a renovated version of its garden is presented, as well as its 'Sky Bar', a place to enjoy the world's street cuisine. 'El Restaurante' offers bohemian diners an experience that the chef César Gastardelli has dubbed 'Worldterranean', because of the fusion of Mediterranean cuisine with those of cultures that are very present in Las Dalias (India, Thailand, Morocco, etc.).
In this same garden we can find the juice bar—serving cocktails, natural smoothies and craft beers—undoubtedly a favourite spot for those passionate about a 'healthy flow'. In the Las Dalias oasis, 'La Jaima', seduces lovers of all that is exotic with its concept of Moroccan street cuisine and ancestral recipes of the East, such as kebab, falafel, tabbouleh or hummus. And to sweeten the experience, why not have a tea accompanied with delicious Arab pastries?
Las Dalias© Las Dalias
The 'Soul Bar' invites you to listen to the best music while sipping on a delicious cocktail, natural fruit juice or a craft beer. And those who are helpless to the charms of a good homemade pizza, will be seduced by 'Pizza Amor y Fantasía' and its wide variety of lip-smacking sandwiches, pizzas and handmade pies. The retro food truck is another highlight; a vivid homage to the globetrotting spirit of the market, it serves a much more rogue cuisine, with snacks from around the world. What else could you ask for? Oh, yes: beach. There is also a little piece of Las Dalias in Es Figueral, where you can find the beach bar 'Life is better at the beach', run by head chef Hervin Marrugo. Here, the tasty paellas and other Mediterranean specialities are paired with spectacular sea views.
Las Dalias is a true container of artistic experiences, which can be savoured through a variety of activities such as crafts, gastronomy, painting and music. And that is why it also has a jam-packed events calendar. Every Saturday, Las Dalias holds its popular hippie market. And during the summer months, from June to September, there is the night market every Monday and Tuesday which, as a novelty this year, will also be held on Sundays in July and August. Las Dalias hosts one of the most famous festivals on the island—'Namasté'—a continuous stream of live music and a 'Pachamama' (healing music) zone. And during the summer, on two Thursdays of every month, the market hosts live performances by highly acclaimed artists from a variety of musical styles, because, as Chema Pallero puts it, "nowhere on the island is there more fusion than in Las Dalias".
To celebrate its 65th anniversary, Las Dalias has collaborated with Boa Mistura, a renowned group of urban artists specialised in creating works of art that contain messages loaded with positivism. In April, this artistic formation carried out a colourful painting of Las Dalias' exterior façade which included the words 'Love' and 'Life'. With this work, Las Dalias wishes to "spread the message of union and hope, paying tribute to the essence of the island".
Las Dalias is a container of artistic experiences, which can be savoured through different activities such as crafts, gastronomy, painting and music
Las Dalias evolves, but this space continues to be one of the most special corners of Ibiza. "It's quite an experience. It is very difficult to explain what you can experience here because each person lives it in a different way, but everyone feels the magic of the place. Las Dalias has a lot to offer and we want people to feel its vibrations with us," concludes Sena Pallero.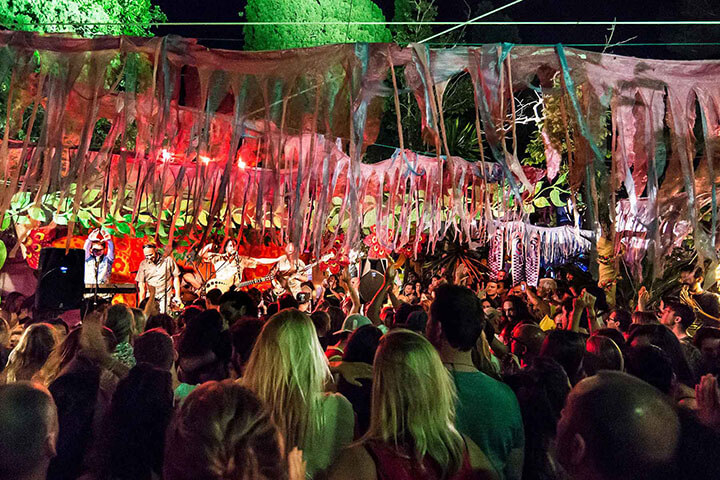 Nightlife in Las Dalias© Las Dalias