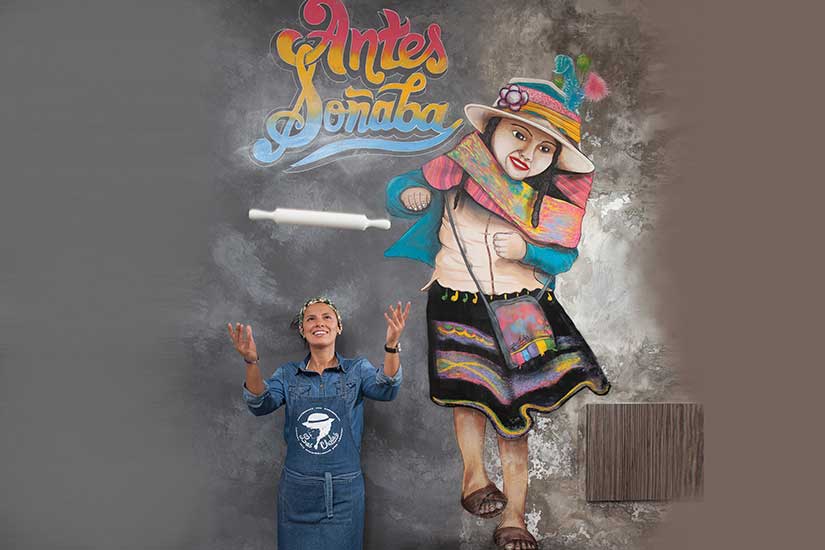 The word "cholo" or "chola" is a very common colloquialism in many Spanish-speaking countries in South America, used to refer to people of indigenous origin or indigenous features. In Bolivia and Peru the word comes to represent strength and resilience in the face of adversity, given the intrinsic tough nature of living in the Andean mountain range.
When Valeria Olivari decided to single-handedly open a business she chose to name it Las Cholas, in honour of the incredibly strong, tenacious women who inhabit the Andes region. It also had a second interpretation, however: "Here I am; I'm like them, like any determined woman and it doesn't matter how the word has been misused for years or the bad connotations they have tried to add to it, because what it stands for is strength, resilience, personal growth... I am tough, determined, hard-working and stubborn, and I am going to achieve my goal despite all the obstacles I find along the way", she says.
That is because nothing can stop this Peruvian women. After traversing a large part of the world she finished up in Portugal, because it was where she wanted to be. At the age of 17 she discovered her love of cooking and decided there and then that it would be her life project. She worked in the kitchens of several restaurants, travelled, discovered foreign cuisines and eventually ended up on the Iberian Peninsula, where after three months in Madrid she decided to settle once and for all in Portugal, a place she fell in love with at first sight when visiting for a gastronomic event. On that trip she was captivated by the weather, the people, the gastronomy and the Atlantic, which is ever present in the country.
Thanks to her capacity for sacrifice and resilience and despite a lack of funding, various crises and the pandemic, after years working in good restaurants the courageous chef single-handedly managed to establish herself and was finally able to fulfil one of her dreams: to open her own kitchen-workshop, where, thanks to her alfajores and empanadas, she has become a gastronomic ambassador for Andean cooking in Portugal. Her overwhelming success has even led her to sell her products in stores of the likes of El Corte Inglés. Long live Las Cholas!