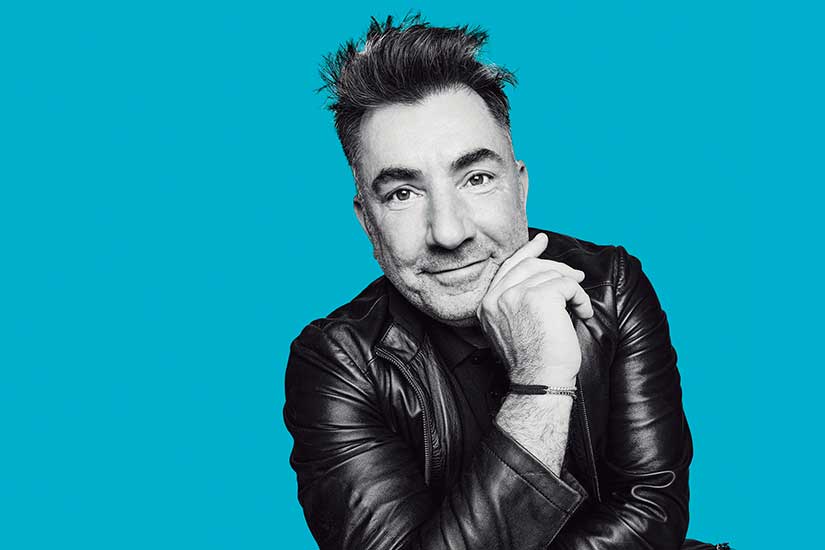 The hospitality industry is in Juan Antonio's blood. Born in Ibiza into a family of restaurateurs, he has followed in the footsteps of his father, uncle and older brother, but developing a personal style and approach. Juan Antonio started working at a very young age and his passion for running restaurants dates back to 1995 in renowned Restaurante El Divino, leading him to continue his training between Germany, England and Barcelona and back to Ibiza in 2000 with Grupo Pacha. For 18 years, he held the positions of Director of Pacha Restaurant as well as Director of F&B at Lío, helping to create and promote the brands of the two iconic Ibiza venues. Juanan has produced wines with guarantee of origin from La Rioja, Spain and founded delicatessen and wine shops. His vast experience brought him to MAF in 2018 and since then, as Operations Director his overall target is to ensure customers receive an impeccable service and a unique experience.
---
Juanan, how do you see Ibiza from a gastronomic point of view?
Hospitality in Ibiza is immersed in a process of change and every year great chefs and big international brands arrive. Everything is moving fast and the competition makes us all strive to improve every day. I'm extremely lucky to count on a very professional and enthusiastic team and thanks to their hard work and enormous effort, they manage to make whatever we do a success.
What will we find at the gastronomic outlets at W Ibiza?
Just like the hotel itself, these are very vibrant and cosmopolitan spaces. Each outlet conveys a part of the authentic Ibiza and we always have the bay as a backdrop. Enter W Lounge, an open-plan and eclectic space where you can have a light bite with a great cocktail. The Wet Deck has a stunning pool surrounded by palm trees and direct access to the beach where you'll find an all-day-long menu. Glow is the rooftop bar with an infinity pool and spectacular views of Santa Eulalia and the bay. Chiringuito Blue, is the beach restaurant and offers a gastronomic journey around the Mediterranean. Ve Café is also a perfect daytime chillout offering a menu of healthy vegetarian and vegan dishes to fuel both body and mind. The Bridge is a runway shaped bar overlooking the Lounge, perfect for pre-dinner cocktails before entering La Llama, a sophisticated evening restaurant. All of them mix bohemian heritage with design, trendy style, great music and amazing views.
What would you highlight about each one of them?
The concept for each one is unique. W Lounge provides a moment of relaxation and refreshing drinks at any time. The iconic Wet Deck offers privacy in the heart of the hotel. Glow is a quiet space during the day and you can go up there at sunset for excellent sushi. Ve Café invites you to unwind and enjoy a healthy break. Chiringuito Blue is a beachside, open space, with beautiful views of the sea offering a journey of flavours around the Mediterranean. It has become a must-visit on the island thanks to everyone's great effort. The highlight of La Llama is its atmosphere and savouring the exquisite tortellini with caviar while you watch the action in the kitchen. Or when the chef comes over to your table to prepare the Arabic tacos. It's a totally different experience and it also has an exclusive club.
We see interior design is a fundamental part of each one of them, how were they conceived?
Marriott has more than 50 W Hotels worldwide and they are all driven by design. Each of their hotels reflect the DNA of the destination through their interior design. At W Ibiza, the essence of the island is expressed in every corner. The Lounge, Wet Deck and Glow are all very bright and colourful spaces with a 'flower power' inspiration, reminding us of the sunsets, the countryside and the markets. At Chiringuito Blue, for instance, we wanted the comfort of a living room on the beach. Our sofas run the full width of the restaurant and provide that sense of relaxation under the hessian which gently moves with the sea breeze. Here we were looking for laid-back vibes and long lunches. Ve Café is an accessible, dynamic and uplifting space. Here we created an arena style terrace with aquamarine tiles and vibrant cushions together with a light-filled indoor dining area. At La Llama we were seeking sophistication, an enveloping atmosphere and an elevated night-time experience. The placing of the open kitchen, the DJ booth, the velvet seating and glistening panelling create a very atmospheric space. We always make sure the sea view is an important part of all our spaces.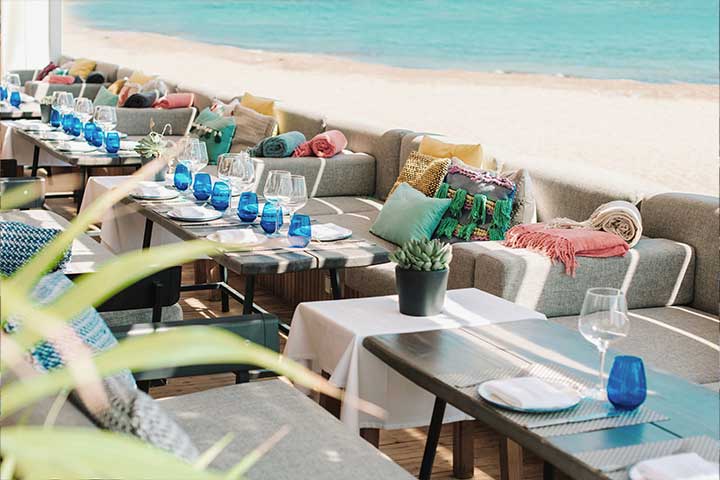 La Llama Restaurant is committed to excellence, can you tell us about the concept and what diners will find?
La Llama is a dining experience. Here you find yourself flowing from one place to another. It begins at The Bridge where you get a sense of what's to come through the sophistication, surprising flavours and great vibes. You then enter La Llama, which you can't actually see until you are inside. The ambience and the atmosphere are very special here, there's an inviting energy and references to flames, smoke and everything that fire represents. We have the open kitchen and mixing decks as main elements around which the diners sit. You can even ask to be seated at the chef's table. We wanted the action from the chefs to take centre stage. Dishes at La Llama are skilfully prepared with the highest quality produce. Vibrant, aromatic and evocative, with Mediterranean and Middle Eastern influences. We have extraordinary dishes for vegans, vegetarians and meat-lovers alike. We work with excellent local produce and try to exploit the quality of the island's great products. Round off the meal with an indulgent dessert and the icing on the cake: Below. I can't tell you about that, you'll have to see it for yourself.
How would you describe the operations of the gastronomic world at W Ibiza?
In one word: exciting. To manage operations here is both vibrant and complex. Thanks to the great team that we have the operations run smoothly, and it is them that everything flows. Operations depend on many people who are in front and behind the scenes and the customer.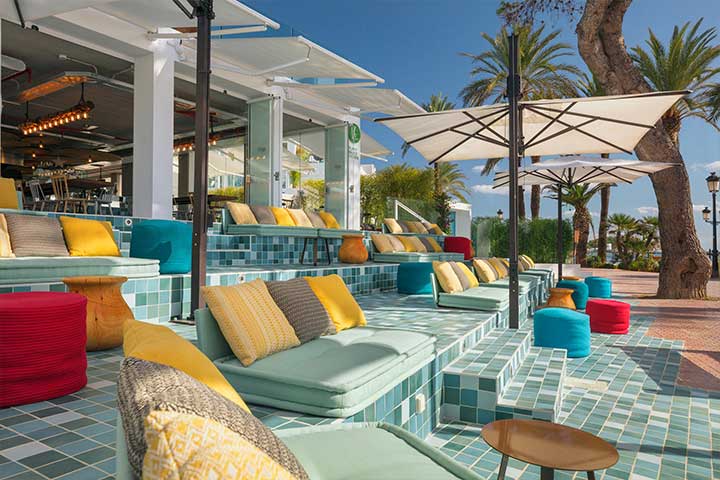 What does it mean to be the reference in Santa Eulalia's gastronomic offer?
Thank you Jesús for your kind words, however we do not consider ourselves a reference in Santa Eulalia. We are just one more option with which Santa Eulalia grows, generates and diversifies its offering. We are here to add and be a part of the success that the town already has. The reference is Santa Eulalia itself. Hopefully some day we will manage to be a reference just like others are and have been for many years. From our side, we want to give back which is why sustainability is a core value of all our outlets. We put an emphasis on organic produce from the island which apart from helping the community and the planet, it's the best quality. We also try to reduce our waste and use biodegradable alternatives. On the other hand, we collaborate closely with local environmental organisations to protect Ibiza and to show our gratitude to the island.