Jncquoi World is on Avenida Liberdade, one of the most iconic streets in Lisbon, and offers truly unprecedented dining experiences. Two restaurants where you can pay tribute to life's pleasures: pure hedonism. At Jncquoi Avenida and Jncquoi Asia, craftmanship and technology, the physical and the digital, design, fashion and street style all work together to create unique and wonderful atmospheres where you'll be inspired by a desire to conquer the world.
Jncquoi Avenida: sophisticated, luxurious and totally Portuguese
With almost 100-year of history, the old and new blend together with style at Jncquoi Avenida, located on the first floor of the Teatro Tivoli. As part of the iconic Tivoli building, Jncquoi retains certain architectural features, such as high ceilings and exceptionally elegant decoration, but also has a touch of the modern: the perfect combination for a dazzling atmosphere. Its menu has a particular emphasis on Portuguese cuisine, combined with international dishes that are always prepared with a surprising twist. The open kitchen is the stage where dishes are given their final touch, offering diners the chance to admire the whole kitchen team working together in harmony. And if that weren't enough, its wine list features over 500 labels, offering customers one of the finest wine experiences in Portugal.
Delibar Jncquoi: an unpretentious venue to relax
The Delibar is on the mezzanine level of the Teatro Tivoli building and is set around an elegant bar, with a wine shop and gourmet store that offers a carefully selected range of the best Portuguese and international delicatessen. An air-conditioned room on the same floor with a wine-tasting table has a premium selection of spectacular wines from around the world. Perfect for day or night, the casual nature of the bar means you can enjoy light or full meals and relaxing times with excellent music curated by DJs, a large and varied drinks menu, and surprising cocktails. This unique space also stands out for having three corners: publisher Assouline, where you can buy the best books on art, architecture, design, photography, fashion, and travel, genuine cultural gems; another of its own patisserie and finally, a corner of the renowned Diptyque brand of scented candles, perfumes and home fragrances.
Jncquoi Asia: a fusion of food and culture
Maritime expeditions to India by Portuguese sailors led to a fusion of cultures, and Portuguese influence on countries including India, Thailand, China, and Japan. Taking these discoveries by the Portuguese and the fusion with Asian food as a starting point, Jncquoi Asia brings a variety of authentic Eastern flavors to Lisbon. Using these countries as an inspiration, Jncquoi Asia offers diners four types of cuisine: Indian, Thai, Chinese and Japanese, in a vibrant and cosmopolitan atmosphere. With an outstanding location at 144 Avenida da Liberdade, this second venue by Jncquoi is divided into four different spaces: Bar Ganda, Restaurant, Terrace and a Fashion Clinic Store. The decoration was visioned by Lázaro Rosa Violán, the famous architect behind Jncquoi Avenida, and the interior design is sophisticated, casual, and rather eclectic.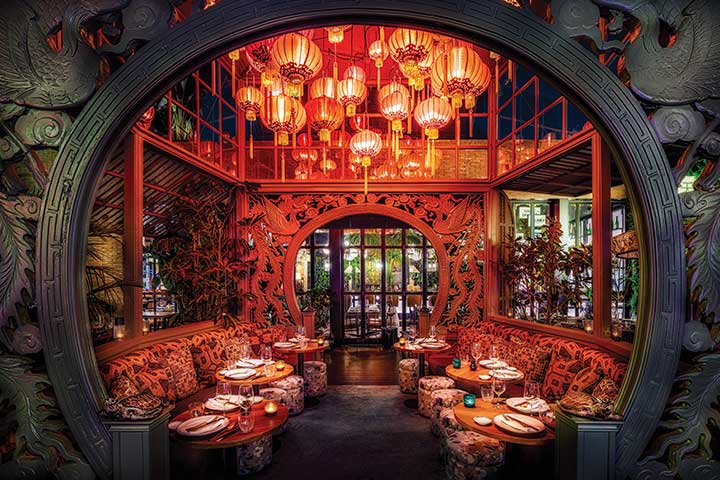 Chef António Bóia in charge of the kitchen
António Bóia is behind the unmistakable flavors at Jncquoi. He is considered by many the "Master Chef". For his creativity, the quality of his courses, and his remarkable skill at organizing his teams.
Born and raised in Bragança, he moved to France when he was 13 and took his first steps in the food world as a kitchen assistant and waiter. His passion for cooking slowly grew, and in 1987 he enrolled at the famous Le Cordon Bleu cookery school. On returning to Portugal in 1992, Bóia worked in the kitchens at Alcantara Café and Hotel da Lapa, and later at the luxury hotel Penha Longa. His love of cooking can be seen in every area of his career. An obsession with always obtaining the finest products, discovering their origins, and preparing them as it deserves have become his trademark.
Bóia's track record speaks for itself, and his CV includes major projects such as Rock in Rio, Volvo Ocean Race, and The Ritz Four Seasons. In 2016, he accepted an invitation by Miguel Guedes de Sousa to join Grupo Amorim Luxury and manage the new Jncquoi concept – Food Meets Fashion Meets Hospitality. He was made executive chef of Jncquoi Avenida, Jncquoi Asia, and Jncquoi Club and leads a team of over 100 workers under the motto "every day is bigger, and better".