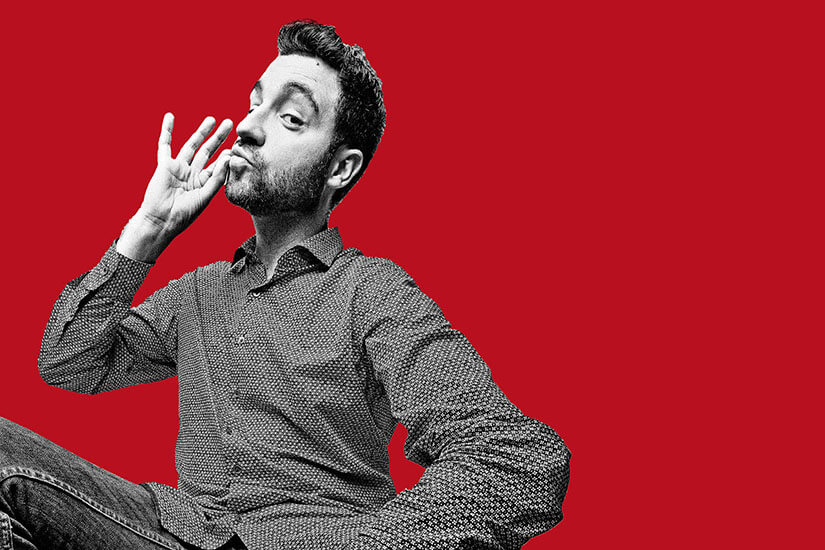 Bedrinks was launched in 2015 and since 2017, the company—best known on the island as a distributor of refreshments, beers, and other products for the catering sector—has worked hard to develop a detailed and varied catalogue of wines. Their purpose, according to Toni Gila (the company's sales director), is to provide consultation services to hoteliers and help spread wine culture in Ibiza.
---
What links you to the world of wine?
I started as a hotelier in Barcelona, with several of my own businesses. I was a client and purchased wine for my companies, and as I was very interested in the world of wine, when I joined Bedrinks I specialised in that area to subsequently manage our specialist team. Both the team and I learn continuously, thanks to the wineries and all the international training available. Wine is a product that is alive and constantly evolving. And that's why we have to be constantly training, so we transmit all that knowledge to our end customer.
How did Bedrinks get started in the wine sector?
We had only 10 wineries when Bedrinks was launched in November 2015, and through to the end of 2016. But at the start of 2017, we began to search for more wineries, both national and international, and also some designations of origin that are not as well-known, either in or outside Spain. Between 2017 and 2018 we built a large wine portfolio, moving from 10 wineries to 80: 40 national and 40 international. And we work with approximately between 5 and 15 products from each winery.
Bedrinks© ffmag
Is there a wine culture on the island?
It has been increasing in recent years. Hoteliers are growing more interested in learning about the world of wine. Remember that Ibiza has many international visitors and in a certain way this forces the hotelier to soak up new trends. Ibiza has traditionally drunk white wines from Penedès and Galicia or red wines from Rioja and Ribera del Duero, but you can now find other smaller designations of origin on any wine list. The hoteliers are striving to offer more attractive products. Many restaurants in Ibiza are hiring staff with specialised wine knowledge and training so they can suggest wines and pairings to the diner. And that helps foster a wine culture on the island, for both local and international customers.
Restaurants in Ibiza are hiring staff with specialised wine knowledge and training. And that helps foster a wine culture on the island
What is your opinion regarding the scarce production of wines in Ibiza?
Our portfolio includes an Ibiza winery called Can Rich. The Ibizan weather makes viticulture a bit more complicated, but valuable wines are being produced and valuable projects are being carried out on the island. I think that the Ibizan wine culture should be supported more, and we should be more aware that we are capable of producing wine—all the civilizations that have populated the island have produced wine at some point.
What are the most requested wines in Ibiza at present?
We are mostly asked for national whites from designations such as Rueda or Rías Baixas ('Do Ferreiro' or 'Granbazán') or whites from Penedès. Reds from Ribera del Duero and Rioja, tempranillo or garnacha grapes (from wineries such as 'Baigorri', 'Viña Salceda' or 'Pujanza'). Within the Rioja Alavesa, but outside its D.O., Artadi is worth highlighting—a prestigious winery whose wine, 'El Pisón', was given 99 Parker points. From Ribera del Duero, wines such as 'Viña Sastre' or 'Cillar de Silos' stand out. Very close to Ribera del Duero we suggest wineries such as 'Abadía Retuerta'. Rosé wines from Navarra are also quite popular. We work with wines from Pago, such as 'Pago de Arinzano'. With much love, this winery created a pale rosé wine exclusively for Bedrinks called 'A de Arinzano'. It is a gastronomic wine which we commercialise to certain customers. Furthermore, unlike other areas of the mainland, Ibiza has a very international taste when it comes to wine. There is much demand for international wine: rosés from Provence (France), chardonnays from Chablis or Burgundy, sauvignon blancs from Loire or New Zealand, etc. In general, the consumption of red wines is lower in Ibiza. The most popular are very delicate Burgundy wines, the typical large châteaus from Bordeaux, or Tuscan and Piedmont wines (Italy). Sparkling wines are also in great demand: cava, champagne, etc.
Javier and Toni© ffmag
You could say that sparkling wines are your speciality…
We have a wide range of sparkling wines. For example, we have the entire price range for D.O. Cava. We represent Juvé & Camps, a very well-known and top-quality winery. We also have exclusive distribution rights to Leopard, a winery that used to belong to D.O. Cava, but that is now called Corpinnat. We also have a very interesting English sparkling wine: Nyetimber. The United Kingdom is starting to make high quality wines. And in the Champagne section, we have exclusive distribution rights for the Moët Hennessy group, which is the largest in terms of champagne sales, with brands such as Moët & Chandon, Veuve Clicquot, Ruinart, Dom Pérignon, etc., in addition to other wines and spirits. We also distribute other Champagne brands, such as Louis Roederer, Cristal and certain brands from small vintners, such as Legras.
Ibizan wine culture should be supported more, and we should be more aware that we are capable of producing wine
What is more popular in Ibiza, cava or champagne?
We sell a lot of all kinds of sparkling wines. Champagne is consumed more often in beach clubs and parties. And there is also a large consumption of high-end cavas and more gastronomic champagnes at culinary events in gourmet restaurants. I think it's pretty balanced.
What recommendation would you give a hotelier who would like to build a good wine list?
Consult a specialist. And that rather than focusing on having a comprehensive wine list, understand your business and your customers well, so you can respond to their needs.
What future plans do you have for Bedrinks in terms of wine distribution?
We will essentially continue training the team. But we also want to develop new ways to provide consultations for our clients, plan events and create concepts that involve not only the hotelier, but also the end customer. And regarding our range of products, we will continue to look out for those wineries that complement our catalogue.
Bedrinks store© ffmag