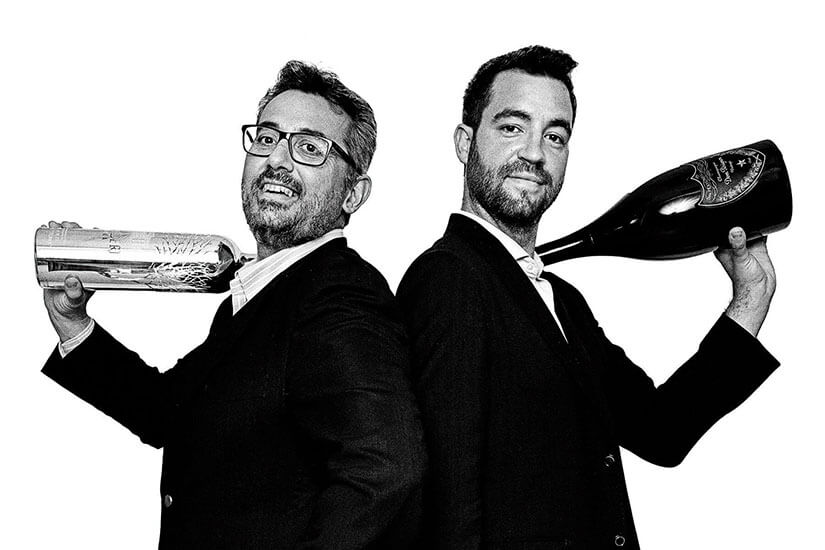 Although Bedrinks' history is recent (2016), it originally emerged in 1969 with the company Zumos Naturales. For two of the most visible people in the company, Javier Marín (general manager) and Toni Gila (sales manager and product specialist) Bedrinks follows a distribution model adapted to the new demands of the island's hospitality industry. Its young dynamic team, its ambition to offer its clients the best commercial advice and its never-ending search for innovation and successful products from other countries, have turned Bedrinks into a leading company of the island's Horeca (hotel, restaurant and café) trade channel.
---
What infrastructure and staff do Bedrinks have?
Javier: Bedrinks' infrastructure is typical of a beverage supplier; however we work on a very large scale. We are dealing with a volume of stock of over three million goods which means that we need to have large facilities, with divisions according to the type of product. Soft drinks, beer, wine and spirits are all treated differently. As for staff, during the summer campaign we had around 150 employees.
What has your professional career been like?
Javier: My vocational training has always been related to the beverage industry and mass consumption. I started in branding with Chupa Chups, where I worked for three years, and then I joined Pepsico, where I stayed for ten years and carried out different roles in the commercial and trade marketing area. Later on, with partners, I developed a personal project—Cerveza Isleña—, and then I moved on to create Bedrinks.
Toni: I started working in the nightclub industry in Barcelona. I owned various establishments and started up an events management business. From then on, my journey in the world of beverages began and this was the link that brought me to Ibiza in the summer of 2014. I started working with Zumos Naturales, and when Bedrinks was born I joined the team.
There has been a great connection between us in taking the project forwards, which is key
Talk to us about your relationship and its importance for Bedrinks…
Javier: The Toni Gila and Javier Marín partnership was slowly cooked, like a good stew. We started in the sales team developing certain types of tasks and we share the same market vision as to the management of product categories, how long-lasting relationships are established and how to improve trust with brands, clients, the team… We have come together in many of these aspects and for me it is always a pleasure to work with him.
Toni: We have slowly evolved within the company, we have contributed new ideas to build the brand and there has been a great connection between us in taking the project forwards, which is key.
Wine tasting at Bedrinks© ffmag
Speaking of projects. What are Bedrinks' challenges for the coming years?
Javier: Bedrinks has many challenges. The main one is to become a reference in the beverage distribution sector in Ibiza and Formentera, although we only just started in Formentera and we know that it is a long-term project. We want to create long-lasting relationships with our clients, and we want them to get from us the advice they really need for their business, and if we cannot help them, we find someone who can.
Toni: We want to become not only a distributor, but also a company that offers advice and solutions for the Horeca industry. To be a kind of "travel buddy". Contribute to the training and professionalism of staff in the beverage sector, and become their partners, helping them improve the service they offer and the quality of their products.
What are you most proud of?
Javier: I would say, of my children, but in this context… Although Bedrinks is like a son. I feel very proud of it, but this is not only my merit, because many people are a part of it. I am so pleased to see how such a small team has grown. It was not easy and the odds didn't look good. We have managed to make brands see us as a business that listens to their needs and proposals. We have some great clients, and many of them tell us that they have found openness with us, and we like that.
We have some great clients, and many of them tell us that they have found openness with us
We know you are proud of all the brands you represent, but if you were to highlight any of them, which ones would they be?
Javier: For me, coming from the other side, working with Coca-Cola has been a pleasure. Getting to know them from the inside, as well as their vision and market approach is proving very rewarding. Working with Heineken we have also learned a lot. The Champaign portfolio has been one of the most interesting for me, due to their philosophy, how they understand the product and the value they give it on the market. It is not just a simple bottle of sparkling wine, it is a jewel and the commercial discourse must be coherent. There are also wineries such as Arínzano, Abadía Retuerta and Artadi, amongst others, that have a philosophy, team, experience and product that call my attention very much.
Name a challenge for this season.
Javier: Meet our clients expectations in all areas; both in the commercial and service sector, because with the changes that are taking place in the Horeca industry of the island, it is not an easy task.
What do you think of the arrival of renowned chefs in Ibiza?
Javier: Without a doubt, it is great news, which complements and enhances the current gastronomic offer, which already has a very high standard. At the moment we have an unbeatable culinary, leisure and natural environment offering.
In our team we have a professional bartender, to help and empower bar staff in their own language
Have you noticed a big growth in the cocktail business?
Toni: Yes. A few years ago, cocktails weren't as popular in Ibiza as they are in other parts of the mainland. In the last five years, there has been a greater interest in the making of top-quality cocktails. There are people that are highly qualified and there is a great interest in this profession. In our team we have a professional bartender, to help and empower bar staff in their own language.
Bedrinks products© ffmag