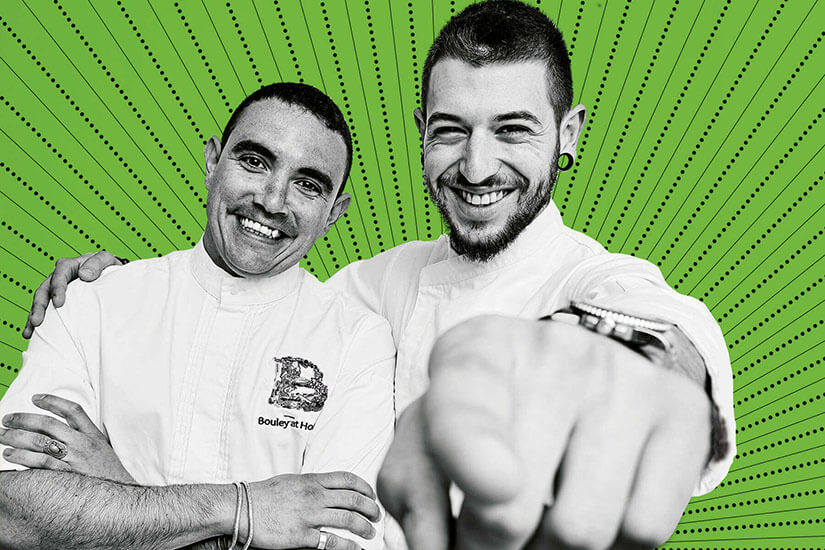 Hendrix Vega and Joan Costa are two friends united by one passion: cooking. They represent the new generation of chefs on the island, but, while Hendrix is all about fusion cuisine and discovering new products, Joan strives to preserve the island's gastronomic roots and traditions. But despite how contradictory that may seem, both share the same way of understanding the present and the future of Formentera's gastronomy.
Hendrix Vega was born in Formentera 28 years ago. His father is from Madrid and his mother is from New York, so fusion runs through his veins. He completed his culinary training in Formentera two years ago and was awarded a scholarship that allowed him to work at a prestigious restaurant in Italy. From there he moved on to Can Dani, where he finished his internship and concluded that he had found his true passion. "When I started studying, my mind was completely obsessed with the kitchen," he says. From Can Dani he moved on to Sa Vinya, where he initially worked as sous chef but soon took over the restaurant as chef. In Sa Vinya, he has spent the last three seasons developing a menu that fuses flavours from around the world in tapa format: gyozas, ceviches, baos… And he makes the most of the off-seasons to build on his gastronomic experience by working in renowned Michelin-star restaurants in different countries. He says that one of his strengths as a chef is creativity, and his greatest motivation is discovering new products and continuing to evolve: "I am interested in all that is different," he explains.
Scallops
Joan Costa is also from Formentera by birth, although, unlike Hendrix, his family is also from the island. "I grew up in the tourism sector because my family has been working in it all my life," he says. He started working as a bartender when he was only 15, but he immediately knew that what really captivated his attention was what happened inside the kitchen. That is why he decided to study at the Hoffman School in Barcelona and, during the summer seasons, he would return home and do internships in hotels and restaurants. From Formentera, he travelled to Cádiz to work at Angel León's Aponiente restaurant, where he was soon promoted to Chef de Partie. And that was the same year the restaurant won its third Michelin star. After a few months resting back home in Formentera, he threw himself back into it in Alkimia, Barcelona, "seduced by the chef's traditional cuisine style: methodical and with a focus on the product." And indeed, that is the basis of the 23-year-old Joan Costa's cuisine, the product. "Why hide high-quality products? But if you do want to dress it up, make sure it's to improve it," he explains. After that, he returned to Formentera and joined the Sol restaurant, which his family has been running for three decades. Joan is the fourth generation. He started as a chef last year, and he is excited about this season and his new role as General Manager.
The island's gastronomic roots are being recovered
Both are optimistic about the island's gastronomic future. "The quality of Formentera's restaurants—and their kitchen and front-of-house professionals—is increasing every year. We have fantastic produce, our fish is first-class. And farming for produce is being encouraged, which had been neglected," adds Hendrix. Joan believes that "the island's gastronomic roots are being gradually recovered. That is significant, because it is Formentera's identity and personality. Why would we ignore those roots and only cook Italian, American or any other food? We have to foster our local fishermen and farmers: they are the essence of Formentera, because, really, looking after our land and territory is what our culture is," he explains.
However, both chefs agree that it is not easy for the young people on the island to opt for a career in hospitality. "If a young person decides to study hospitality, they have to leave the island. The only course available to study cooking in Formentera was started fewer than four years ago. On an island whose main economic driver is tourism, it is unacceptable that there is not much hospitality training available. And this results in our current situation: a huge lack of professionals on the island," says Joan. "It isn't easy because there aren't many young people on the island," adds Hendrix. "There aren't many job opportunities here in general. Fortunately, we now have this cooking course, which is one of the few things you can study in Formentera. I think the island is always on the point of something big," he states, with certain deference.
On an island whose main economic driver is tourism, it is unacceptable that there is not much hospitality training available
Both agree that seasonality is the sector's main issue. "It's a double-edged sword," says Joan. "In summer everything is very beautiful and the island is teeming with people, but in winter we feel a little abandoned," he says. Hendrix says suppliers can't keep up with restaurant demand during the summer season. We always have issues with suppliers. We can't risk putting certain produce on the menu, we are forced to be very flexible," he says.
The future is ours, at least for now
"The future is ours, at least for now," Hendrix says hopefully. And, despite their youth, the two chefs have great aspirations in the world of cooking. "I know that I want to run my own restaurant or my own kitchen in the future, although for now I want to continue learning," says Hendrix. "I want to travel to Japan to work and then I might go back to the States or, why not? I could try my luck with Diego Guerrero, his restaurants offer exactly the type of cuisine I like," he adds. Joan is tempted by the idea of setting up his own restaurant in the future. "I would like to undertake a project that is 100% mine," he confesses.
Joan Costa and Hendrix Vega