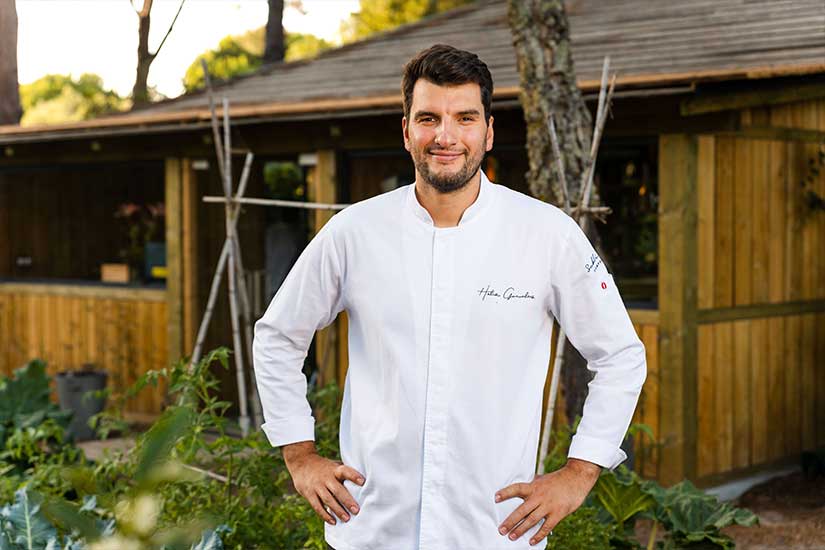 Chef Hélio Gonçalvez is young, passionate, a great friend, a wine-lover and a firm defender of Portuguese food; as a guardian of Portugal's culinary tradition, he hopes to pass his knowledge down as an inheritance to the next generation. The young chef more than proved his worth during his time in Singapore, where he won a Michelin star in one of the most challenging and hard-fought places in the world.
His success didn't go unnoticed and when he returned to Portugal, the Sublime hotel group offered him the chance to take charge of their food as executive chef. Gonçalves manages four dining spaces at the impressive resort owned by the company in Muda, Alentejo, and he has recently taken on a fifth following the opening of the hotel Sublime Lisboa. Davvero, the Lisbon hotel's restaurant, and its two head chefs, Isaac Kumi and Mauro Abignente, offer vero Italian food made with genuine Italian produce, making it a benchmark for Italo-Mediterranean food in the Portuguese capital.
How do you feel as executive chef of the four projects of Sublime Hotels? That's five restaurants.
I feel truly honoured to take on this commitment to the group (Sublime) and to try to offer our visitors the highest quality food. I'm also really happy about the wonderful people on the team.
Tell us about each project and what inspires you...
At the Foodcircle project I can express myself as a chef. I've designed a menu that adapts to what the kitchen garden naturally provides, as well as fish and seafood of the day. The menu is constantly changing, there is no limit to the creativity, and the twelve diners surround me around the bar. The food is paired with a selection of Portuguese wines, and we explain the history of the products while we cook.
Semporta is a casual dining concept in the main building, next to reception. The project has options that fit different types of service, such as a light lunch, lobby bar or dinner. We've designed a menu based on local and regional produce and dishes are essentially inspired by the traditional Portuguese recipe book, with some international cooking influences.
Tasca da Comporta is a Portuguese cooking concept with friendly service and has a wide range of dishes and snacks from the Alentejo.
Sublime Comporta Beach Club is a beach restaurant where the menu features Mediterranean-inspired food, especially grilled fish and seafood. The star dishes are the oysters, lobster and turbot.
Davvero stands out for its Italian food and here I have two hugely talented chefs by my side, Isaac and Maura, who make it a unique project in Lisbon. The great strength of the concept is making genuine Italian dishes from produce that comes from different regions of Italy.
Foodcircle is the group's signature restaurant, what do you expect from this project?
In the short term, the main objective is to strengthen the product that we represent and aim for a place and recognition on the world stage.
What do you look for in your kitchen teams?
Transparency and sharing are key values in our team.
You're a great friend, love reading about food and a big wine fan, what's it like inside the Hélio kitchen?
First and foremost, I'm a chef who likes cooking, trying, and sharing my values during service with my team. I see cooking as part of a process of remembering, just like the dishes we serve.
As a defender of Portuguese cooking and, having worked outside of Portugal, how do you see the future of Portuguese food?
Portuguese food is winning more and more space on the international scene and I think it's the duty of all Portuguese chefs to care for the living heritage of our recipes and to explain what they're like and how they were created.