On Mijgorn's charming beach, the Gecko Hotel & Beach Club offers a trip back to the past to relive the jet-set summer glamour of the 1950s. Successfully blending into its idyllic setting, Gecko is an oasis of peace, where the natural surroundings and the elegance of Formentera combine to recreate a dreamlike ambience. You can enjoy the very best Mediterranean cuisine in the beach club, relax on the Balinese beds, unwind with a yoga class or go paddle surfing — among other things. We have to admit: we've surrendered to the summer pleasures on offer at the Gecko Hotel & Beach Club.
Whether you're a guest staying in one of its 30 exclusive rooms (13 of which have a private swimming pool), or you're a resident of the island, or you're a tourist staying elsewhere, Gecko offers an incomparable opportunity to enjoy to the utmost the quintessential Formentera. Gecko offers day passes so that non-guests can use its facilities and take advantage of services such as yoga classes, kayak or paddle board hire — and, of course, to sample delicious Mediterranean cooking in the beachfront restaurant. With this in mind, Gecko offers different categories of day passes: from the most basic (allowing use of the swimming pool, a lounger with a towel and water, plus parking), to the most comprehensive: options include access to yoga classes, special gastronomic menus or a Balinese bed and a bottle of champagne for two.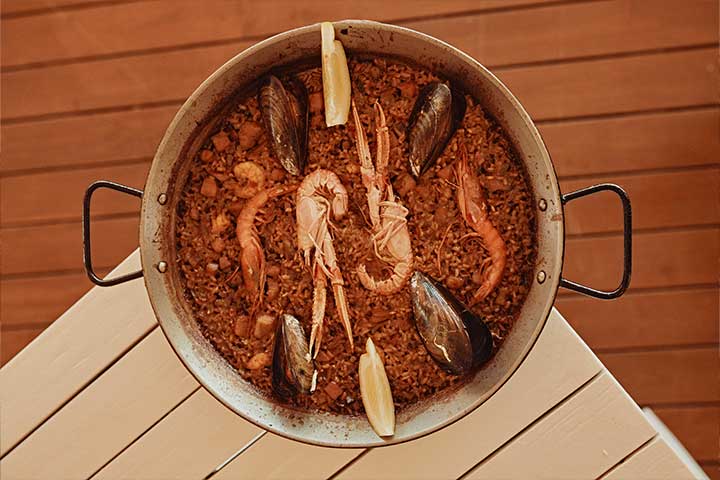 100% Mediterranean flavour
In Gecko's restaurant, chef Juan Craywinckel has created an authentic Mediterranean menu, with subtle touches of international cuisine and fusion, based on local ingredients of the highest quality. Mouthwatering fish from local waters and traditional rice dishes are the highlights of Gecko's menu. The restaurant, open mornings and evenings, becomes an idyllic haven, where guests can allow themselves to be lulled by the island's relaxed atmosphere, and to enjoy its Mediterranean essence to the full. "At Gecko, we have found the perfect recipe for a restaurant specialising in quality Mediterranean cuisine. We maintain the very highest standards, but we evolve year by year," says Marco Schiralli, Gecko Hotel & Beach Club's Italian general manager. In addition, Gecko is careful to ensure that its cooking appeals to both tourists and to residents of Formentera — who are regular and enthusiastic visitors to the beach club and to the restaurant.
At Gecko, we have found the perfect recipe for a restaurant specialising in quality Mediterranean cuisine
Wood-fired barbecues on the beach front
Among Gecko's most iconic offerings are its summer evening barbecues. These are quite an event: every Tuesday and Thursday from June to September, Gecko offers a typical Southern Mediterranean experience whereby you can enjoy Formentera's finest fish and seafood cooked in the open air, right on the beach front. Choosing your fish and then having it cooked expertly over a wood fire, while enjoying live music and Formentera's unique atmosphere is a truly special experience.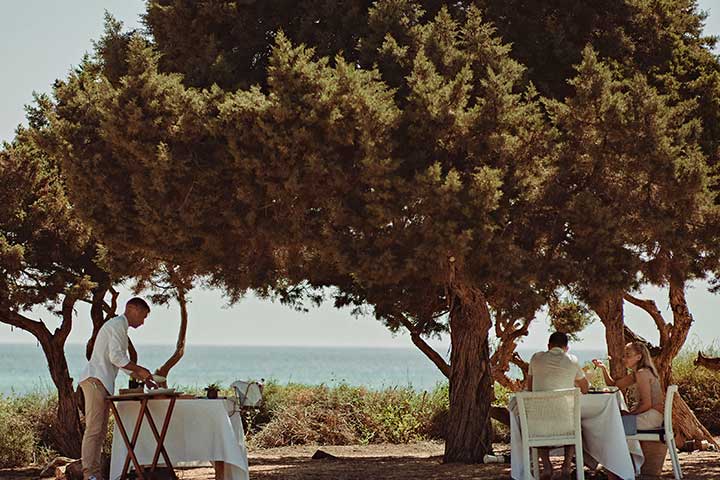 Health and wellness writ large
Enjoying yoga along with sea views, or relaxing massages and health and beauty rituals, connecting with nature, feeling the sense of peace that only a destination like Formentera can offer... At Gecko, the word 'wellness' achieves its true meaning. With its yoga and wellness programmes, Gecko is a veritable temple to body and soul, a place where you can enjoy a healthy lifestyle. With yoga classes every morning, this special haven also offers occasional retreats. Gecko provides a superb natural setting for lovers of the healthy Mediterranean lifestyle.
And is if that were not enough, "this year, we have created a special area of the beach club, with a grass lawn and loungers, specifically designed so that guests can enjoy the silence, which is broken only by the sounds of the waves and the seabirds on Migjorn beach", as Marco Schiralli explains. The general manager is at pains to emphasise however that, "Of course, this iconic beach club also has a livelier area, with music and a DJ".
We have created a special area of the beach club, specifically designed so that guests can enjoy the silence
Exclusive events on the beach front
Are you looking for somewhere really special to hold the event of your dreams? A wedding, a birthday, or some other celebration... Gecko Hotel & Beach Club is one of Formentera's most exclusive spots for weddings and all kinds of events. Its superb seafront location, its modern elegant infrastructure, its pleasant gardens, its open-air spaces, and especially the exceptional quality of its cuisine, all combine to make it one of the island's most sought-after venues for all kinds of special events. And, of course, its events team takes care of every last detail to guarantee that each celebration surpasses expectations.
Gastronomy, wellness, relaxation, sports, music, nature, sophistication... Gecko Hotel & Beach Club is a paean to the vibrant and authentic spirit of the island of Formentera. When will you succumb to its charms?