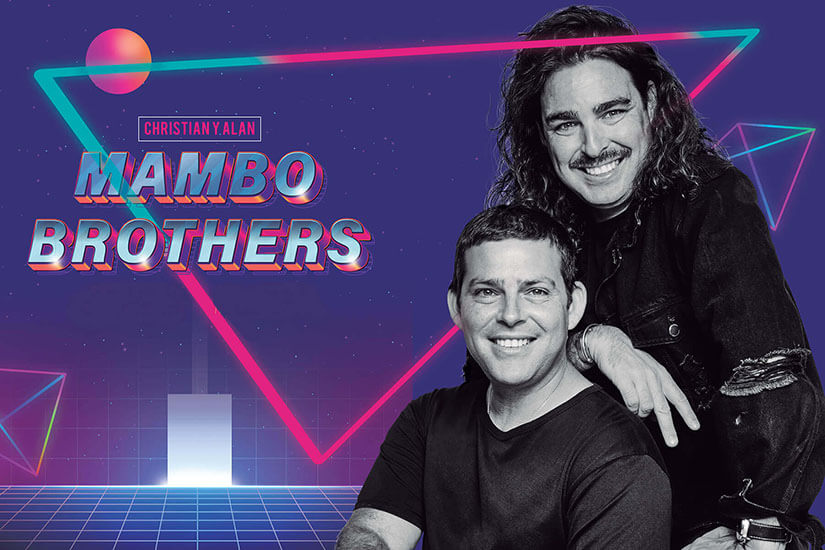 Atelier de Henrique Sá Pessoa © Silvia MartínezBrothers Christian and Alan Anandon, better known as the Mambo Brothers, were born and raised in Ibiza. DJs 'by chance' and hotel business owners out of passion, Christian and Alan have continued the legacy of their father by developing the companies of Mambo Group, with standard bearers such as the Chiringuito Cala Gracioneta, Hostal La Torre, La Cava and the hotel Casa Maca, among others. They speak as if they were one person, complement each other perfectly and have set themselves a challenge: to give the island back its authenticity.
How have you got to where you are today?
The DJing thing was really an accident. Six years ago we set up a DJ agency for Mambo, and when customers asked for DJs, it was the Mambo Brothers they wanted, but we weren't really DJs, just the owners of Mambo. But since they asked us so much, one day, when talking to the person who is now our manager, we said 'and why not?' So we jumped straight into it and because of it we've had the opportunity to travel all over the world: Australia, Uruguay, Miami, Europe... We've learnt a lot. Promoters always take us to amazing places, especially when they know where we're from. And as we've always been the kind of people who like to learn new things, we bring a lot of what we see and learn back to Ibiza.
You bring a lot back to Ibiza and also explore the island's roots…
We see really incredible things when we're away: the wine, the decoration… All this learning has helped us shake up the entire Mambo Group: Cala Gracioneta, La Torre, Casa Maca... And it's all because we like to eat well, we love good wine and, especially, cava. We love creating romantic places: made using wood, with little candles, food cooking on a grill and excellent local produce. We believe more and more in the zero kilometre concept, which is why we've created our own vegetable gardens and have our own chickens, which lay the most delicious eggs. And we plan to keep on acquiring land so that we can plant even more of our own food. We love developing local Ibizan produce and showing it to the world.
It's like going back to the authentic Ibiza, right?
Yes, and it's wonderful. In the Santa Inés area you can see more farmers than you did ten years ago. The land is starting to be cultivated again, because people want local produce. Ibiza really needed to grow its own crops again. It's true to our spirit. When the hippies first came to Ibiza they couldn't believe how fertile the land was. Sadly, this was lost for some time, but now, luckily, and also thanks to the many great chefs who come to Ibiza, we're starting to get it back. As Ibizans and as people with great appetites, we're delighted with everything that is happening on the island. Ibiza has a spirit that must be preserved. The authenticity of Ibiza's beach bars is magical. The island's atmosphere is what made the world fall in love with it in the 70s.
'Ibiza really needed to grow its own crops again'
On the topic of authenticity, how did the Casa Maca project come about?
Firstly, you've got to be very lucky to find such a place, and it all happened by chance. We found out at a party in London that the hotel was up for sale. We didn't know it, we'd never heard anyone speak about it, and it had been going for eight years. When we went to see it, we liked it so much. It had so much potential that we didn't know where to start, but we got it. Little by little, we were living a dream. Our father believed in us and helped us with the funding. Luckily, we've been able to do everything we wanted to do with Casa Maca. We've brought back a little bit of all the crazy things that we've fallen in love with all over the world. We're not interior designers, but it all makes sense. The vegetable garden, the cacti… There's a little bit of Morocco, Greece, South America, Tulum… We pieced it all together until Casa Maca came about. We wanted to take authenticity to the next level. By bringing it all together we tried to create a true Ibizan atmosphere, whatever the cost.
What's your vision of Casa Maca in the coming years?
We have many ideas that still need fine-tuning. We're in contact with the Island Council, because we want to keep on doing our bit to support the zero kilometre concept. We are convinced that Ibiza has the best of the Mediterranean spirit and we've got to get this back. Last year, for instance, we were in Capri and we were really surprised by its authenticity. We found it so beautiful… and we think Ibiza has always had that. Ibiza has got so much style, it's got amazing fish and vegetables and that's what we want to strengthen. Because we love eating, we love Ibiza and we love the people who love Ibiza.
'At Casa Maca we wanted to take authenticity to the next level'
Do you have any new projects in the pipeline?
Casa Maca itself still has a long way to go, because we have a clear vision of how we want it to be. However, as it's a family project, we're aware that we have to take it step by step. When we can, we're going to give the rooms a small makeover. In terms of future projects, we would love to keep having 'accidents' like Casa Maca, finding amazing places and developing more ideas in the same vein in order to show the world the authentic Ibiza. The traditional sailing boats, the juniper trees... Ibiza is so beautiful and so magical that our projects are just based on showing this to the world.
'Ibiza is so beautiful and so magical that our projects are just based on showing this to the world'
How do you see 2020?
We're optimistic. Not in terms of business, of course. But we do believe that the island will find its place again. Sometimes the masses can get confused about what Ibiza is and this year is a chance for Ibiza to be Ibiza again and for people to get to know everything the island has to offer (other than partying). Because even people like us, who were born in Ibiza, we still find ourselves discovering incredibly authentic places. And this summer, since we're not going to travel, we're going to dedicate it to enjoying the island.