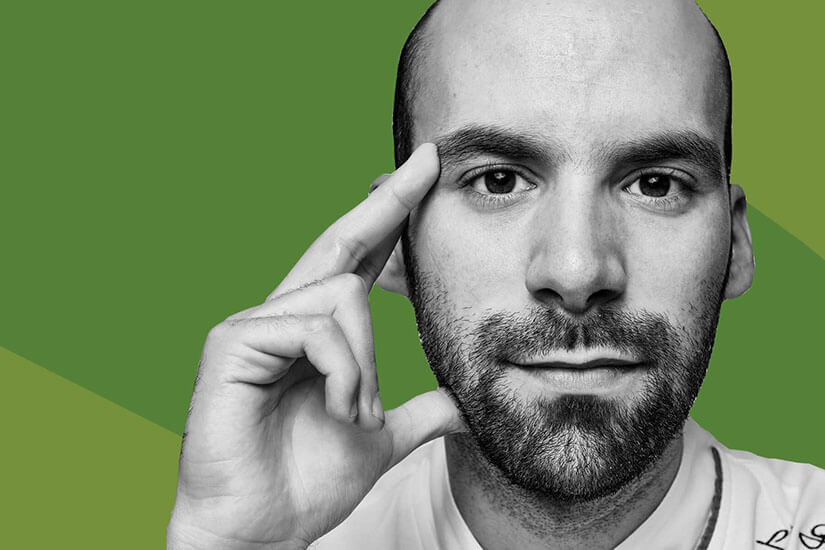 There is a new wave of chefs who combine originality with a deep respect for products, and who blend traditional cooking techniques with new approaches, and Luís Gaspar is part of that wave. With truly surprising dishes, the chef conveys a strong identity and a more contemporary vision in the kitchen. He was the winner of the Chef Cozinheiro do Ano contest in 2017, opened the Sala de Corte in his new address at Cais do Sodré in 2018 and recently presented a new concept called Big Fish Poke.
---
Graduated from the Professional School of Leiria, where he was born, Luís Gaspar worked in the most reputed restaurants. In 2015 he takes the leadership of Sala de Corte and, two years later, he is elected "Chef Cozinheiro do Ano 2017" (chef of the year) and "Best Promising Chef of Portugal".
Organised, professional and methodical, that's how we see him and those are the characteristics he wishes to have in the identity of his team. The passion for cooking already emerged in childhood. He spent many moments cooking with his mother, and nowadays he admits: in the first phase of my career my reference is my mother, even because it was through those moments that I felt I was born to be a cook".
Luckily, his journey was faster than he expected. The fact that he went to work for the Multifood group (which now has a new identity: Plateform), made opportunities come up very early and allowed his strong growth in the last six years. He took his first job at Pestana Palace Hotel & National Monument, in Lisbon, where he faced the existing high level of competitiveness.
I was born to be a cook
He joined Plateform in 2013, to work with Henrique Sá Pessoa at Cais da Pedra. In 2015, Rui Sanches, owner of the group, challenged him to open a steakhouse of aged meat at a street on the back of Mercado da Ribeira. A challenge he accepted without having to think twice, even because the chef always liked working with meat and having a restaurant of the kind was a dream come true. The Big Fish Poke appeared in his life almost the same way as Sala de Corte did. Another innovative project, this being a restaurant with dishes of Hawaiian origin and a bar with an Asian inspired drinks list.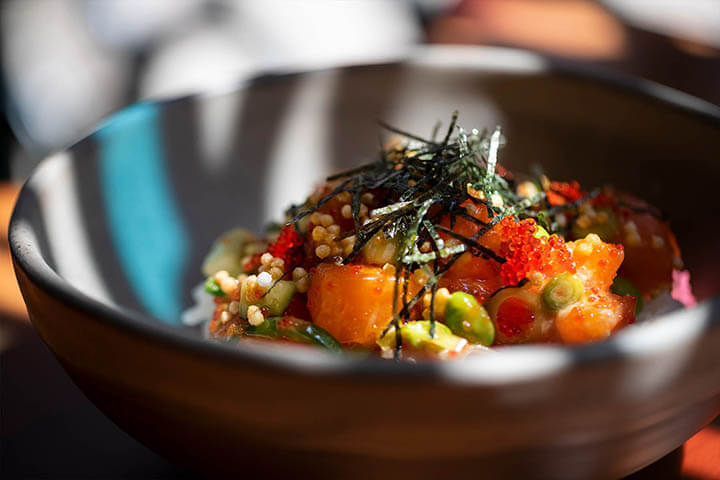 In the kitchen, what gives him more pleasure is to see the level of satisfaction of the customers. He has several references of managers and chefs in this field, but the one that stands out the most is Rui Sanches (founder and CEO of the Plateform group) for the professional he is, for being a visionary, for the way he leads the projects and the teams and for the way he thinks about gastronomy. In turn, a chef he can relate to for the way of behaving and cooking is João Rodrigues, besides Henrique Sá Pessoa. Always with a competitive mindset, since 2010 Luís Gaspar has been part of the Culinary Olympic Team which, every four years, participates in Germany in that which is considered the culinary Olympiad, the International Exhibition of Culinary Art. Luís Gaspar was selected to represent Portugal since he participates in the National Culinary Competition Team, being a member of the Associação de Cozinheiros Profissionais de Portugal (ACPP – Professional Chefs Association from Portugal). The chef has already represented the country in six international competitions, like team cooking world championships and olympiads, winning gold, silver and bronze medals.
From Luís Gaspar's perspective, gastronomy has taken major steps forward in Portugal in recent years, due to the culture and to the way Portuguese people see restaurants: true social moments, "people go out to dinner more often, it's a form of interaction, they go out more and this occupation gained another importance, and our knowledge, with new techniques, resulted from that", he stresses. We may then consider that, in the last decade, being a chef is the most emblematic, charismatic and popular job.
I think we will be growingly moving towards the evolution of the product, of regional gastronomy and of what was done by our ancestors
Winning the award of chef of the year 2017 was the true stepping stone of his career, as it helped enhance his image and his work. But there are other goals. The race for the Michelin Star is one of them, and Luís Gaspar is determined to get to the top. Wishing to assert himself further in the national scene as a chef, Luís discloses he will have a project in which he can define his identity as a cook, and that project will be launched within a few years.
As a cook I learned how to manage my own career for the future
For this evolution to take place, Luís will be focusing more on the technique. From his point of view, the way to go relates to the culture of the "conceptual restaurant", which is the idea that there should be restaurants focusing on specific products, more thematic, also within the culture of product sustainability and seasonality. "We growingly see that in the kitchen, it's fundamental that we optimise the products", he states. And there are very specific examples and simple tips regarding this: the peels of vegetables, which most people throw away at home, are used at restaurants, very well sanitised, to make stocks that intensify the end result of the dishes. Or other simple cases: with asparagus peels they make juice for the bar; with pea peels, also used in the bar, and pineapple skin to make an infusion. In short, there are several solutions to fight against waste and optimise with originality the food products used in the restaurant.