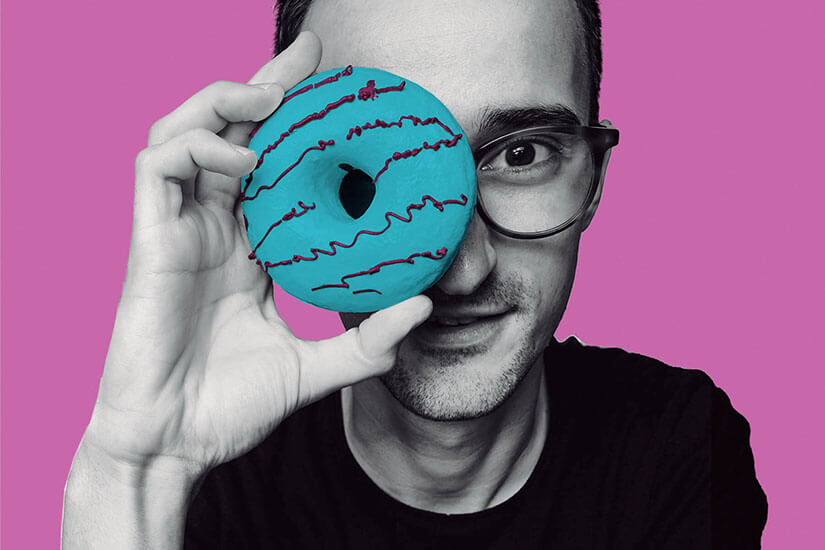 The history of prestigious and award-winning restaurants has led Carlos Fernandes to work nowadays in a space of excellence, the VISTA restaurant, located at Hotel Bela Vista, with a privileged landscape facing the sea of Praia da Rocha.
Described with a very peculiar personality, the young chef combines perfectionism and originality with the best Portuguese pastry, a recipe that has earned him the sweet taste of success.
What if the shape of a building could be represented in a sweet dessert? It may seem strange, but creativity has no limits, and pastry chef Carlos Fernandes' doesn't either.
The story begins when he decided to study hospitality. With a mother cook, the chef recalls that initially he couldn't even break an egg, living up to the saying "shoemaker's children are the worse shod". As a person attracted to new challenges, he decided to learn how to cook within the following three years, by taking a course of Cooking and Pastry at the Lisbon School of Hospitality and Tourism. From there on, the opportunities were clear: either he went to college to deepen his gastronomic knowledge or venture himself immediately as a cook or pastry chef. He ventured without fear. He started his journey in 2007, working at Le Méridien Park Atlantic Lisboa.
I have a very particular personality and I think it is very similar to pastry, I'm rigid in some aspects and extremely flexible and creative in other, but once you master quantities and methods you can do whatever you want
At 17 he got his first job at the Lapa Palace Hotel, in Lisbon, and it was essential to absorb all the know-how he needed. A year and a half later he thought it was time to grow up and catch new flights. And he flew to Spain, looking for an internship in a reputable space with three Michelin Stars, working with Martín Berasategui, in San Sebastían. After 4 months, he says it was "an incredible lesson in logistics and even in terms of personality, namely in dealing with people and being more organised". In fact, Carlos Fernandes only accepts projects that make him grow, and this was another one.
That same year, he took an internship with one of the best pastry chefs in Spain, in Pastelarías Torreblanca, owned by Paco Torreblanca, which made him grow a lot technically and was a key component to leverage his career.
Already in 2012, Carlos moved to Tenerife, where he spent a year and a half as pastry chef at the MB Restaurant with one Michelin Star, where he became head pastry chef and, around that same time, the restaurant received the second Michelin Star. In 2015 he returnes to Portugal and embraces the cuisine of Chef Alexandre Silva's Loco restaurant, which he says was another long learning moment.
But it is well known that in this sector "not everything is a bed of roses" and so, at a time of great stress, he decided to take a year just for himself, just to travel and address health problems. A year that he describes as complicated but inevitable for his equilibrium. He flew to Mexico, Thailand, Australia, Dubai, and with that experience he was able to enrich his body and mind. "This is my job, this is what I like to do, this is what I have invested in for the last 14 years and have dedicated a lot to, I just think that at this phase of my life I had to do something different" Carlos Fernandes realizes.
I've wanted to be a Pastry chef half of my life
The Bela Vista restaurant has allowed him to leave Lisbon and have more rest, and that's where he currently has his creative space. As head pastry chef of the Hotel, Carlos Fernandes admits that he had to adapt to the different concepts that differentiate the desserts of the restaurant, bar and pool. In this space, the initial idea was to take what was there and upgrade it, even because there "nothing is added or removed from the recipe without being well studied first", he highlights, adding that the idea is to change and improve pastry.
When asked about his inspiration, the young chef admits to being demanding, very much influenced by stimuli, be they colours, textures or sounds: "I may be walking down the street and see a shape I like in a building, and I will use that shape to see how I can apply it in a dessert", he explains.
Regarding the flavours, the type of customer of Vista is specific, it is a customer who wants to be in his comfort zone and the restaurant's goal is to make him/her feel at home, which requires pastry to be adapted to more consensual and somewhat more comfortable flavours, that leave them in a very homely place.
Regarding the confectionery sector in Portugal, he says that much remains to be done.
In Portugal we don't value pastry, we have incredible traditional products, have many different little stars, and sometimes we don't let them shine
To nurture creativity, one must see other worlds. One of the richest trips Carlos remembers was the trip to Mexico, three weeks with a culture of flavours. He was in central Mexico, on a ranch called Luna Escondida, invited by the owners, where he had the opportunity to visit an organic garden and taste a set of new ingredients. "I tried so many new things in that market that it marked me forever". The same happened in Thailand, traditional Thai cuisine is very rich and so the chef argues that it is essential to know other cultures, flavours and products.
When Carlos Fernandes doesn't have a hand in the dough or in desserts, he has a special preference for painting and everything that is linked to arts, design and sculpture. He has a work made by a potter that represents traditional cakes made in pottery. In the background, two worlds that define him have been transformed into objects of art. Regarding painting, he mostly likes to paint portraits because "the eyes are the mirrors of the soul, and we can get a lot from people just by looking at the face, reading them", he adds. Finally, he says that diving is another activity that attracts him because it calms and slows the mind.
Greater knowledge about Portuguese Pastry
Continuing to develop the creative work he has been performing is the chef's main focus. Changing the way of working in the restaurant, improving the offer, with traditional desserts but always with the highest quality. On a personal level, the ultimate goal is to help the profession grow. Speaking of this reality, Carlos Fernandes states that some professional colleagues are still undervalued, "there are many pastry chefs but they are closed in worlds that people don't know about", he says, having within the ambition of wanting to tell people about them. Knowing that there are hotels without pastry chefs, from the chef's point of view, training has to take another step, "in the future, I want to dignify other pastry chefs who aren't known yet and who have immense value, I want to dignify the sector", he concludes.