Casa Pacha, the first hotel from the legendary Group with the famous red cherry logo, opened its doors on the spectacular Migjorn beach in 2021. Like an oasis where you can indulge in the pleasures of life, their beach bar has a 100% Mediterranean menu, designed to give diners a taste of the island's finest fish and seafood. Its laidback atmosphere harks back to the beach bars of 30 years ago: a no-frills restaurant right on the sea shore, where the food takes centre stage. Casa Pacha pays tribute to the sea through classic local dishes, reinterpreted with lots of love and care by chef Carlos Herrero and his team.
---
Who is Carlos Herrero inside and outside of the kitchen?
I'm 37 years old and I'm from Valencia. I started working in kitchens when I was 16 years old; my first job was washing dishes. I lived in Denia for a long time and therefore have cooked a lot of Mediterranean food: rice dishes, prawns, etc. That's my type of food. Gastronomy is my life. Away from the kitchen, my hobbies are good wine, gastronomic trips, sport… And, above all, I like to spend time with my daughter. I dedicate all my free time to her.
Where does your passion for food come from?
My passion for food came about by coincidence. I started out washing dishes in England, because I wasn't a very good student and had to work. Then I worked with Santi Santamaría (Can Fabes) for a year and a half and that's where I discovered gastronomy. I think he's one of the best chefs in the world. From there, I went on to work with other great chefs, such as Ferrán Adrià and Quique Dacosta. After about 10 to 12 years, I decided to go into the hotel industry so I could keep on developing. I worked at Palladium with Paco Roncero and then spent three seasons at Nobu until they called me about the Casa Pacha project in Formentera.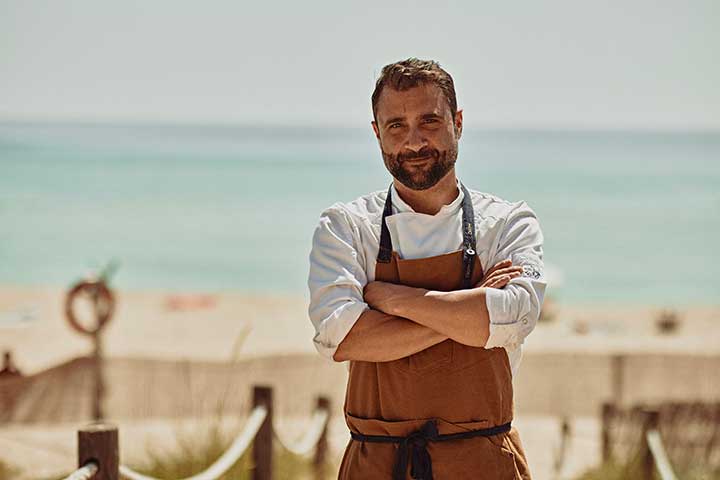 You come from the world of haute cuisine but what you're doing right now is going back to simpler origins. How do you apply that background to this new project?
In the end, managing a restaurant is the same. It's all about finding the best produce, the best suppliers, paying close attention to cooking techniques... The difference is that here we apply it to more traditional food, but the care we put into it is the same. We also seek the highest quality, whether that's in the service, the small details, in a gastronomic restaurant or in a dish of eggs and lobster. At the end of the day it's about applying quality standards whatever the type of gastronomy. Casa Pacha is a restaurant serving traditional rural food brought into the twenty-first century. The service, the techniques and the attention are all in line with this century.
How would you define the experience that Casa Pacha offers?
As a whole, Casa Pacha means enjoying life, friends, the sun, the sea, good wine, good food, the friendly staff… Here customers relax and lose all notion of time. That's what paradise is all about.
Here customers relax and lose all notion of time. That's what paradise is all about
What was it like creating Casa Pacha's gastronomic concept from scratch?
It was quite easy, because we're guided by our location. We knew what people would want, because we know what kind of thing we want to eat in this kind of place. When you're on the beach in Formentera on a summer's day, you want your food to match the setting. Fresh dishes that aren't too heavy or too greasy, local produce, dishes made for sharing, etc.
What type of ingredients reign supreme in Casa Pacha's menu?
Above all, local seafood: lobster, langoustines, fish such as sea bass, turbot, sea bream, john dory, etc. We have local suppliers and also have a vegetable garden where we plant a lot of things for the restaurant and we try to use produce from the local area as much as possible. Because there are certain products that have to be local, such as the lobster. We only sell lobster from Formentera. And that's important. I think we should support local produce and this island, which gives us so much.
If I were to eat at Casa Pacha, what dishes would you recommend?
Without a doubt, you have to try the langoustines from Formentera with eggs and chips.
What kind of wine options do you have at Casa Pacha?
We place a lot of emphasis on wine. Our sommelier and front-of-house manager, Zaida Muñoz, is marvellous. Our wine list is extensive, with around 150 to 200 labels. We've got everything from well known wines that we know customers want, to wines from Formentera and others which are more in line with the restaurant concept: natural wines, biodynamic wines, organic wines, etc.
What's the difference between Casa Pacha and other beach bars or restaurants in Formentera?
Without a doubt, our pursuit of excellence when it comes to produce and our lovely team. The team is very close-knit, it's amazing: the waiting staff, the kitchen staff... There's a good vibe that comes across. We're all friends and we're really close.
The team is very close-knit... there's a good vibe that comes across
What's it like working with Pau Barba?
Pau has been a friend of mine for many years and he's a great professional. It's amazing to be able to work with him. But I'd like to highlight the work of the whole team: the chefs, the waiters, the assistants, the kitchen porters. They're the ones who really make the whole thing work, they're the ones who greet customers with a smile on their face every day. Because although we supervisors are important, the people at the forefront are the really important ones.
What do you think about the dining options currently available on the island of Formentera?
The standard of food in Formentera is really making a lot of progress. A lot of people are coming from elsewhere with well established projects, making standards rise. It also helps that we have great customers in Formentera. People come to enjoy themselves, to eat well… We've got a lot of competition, but that's a good thing.