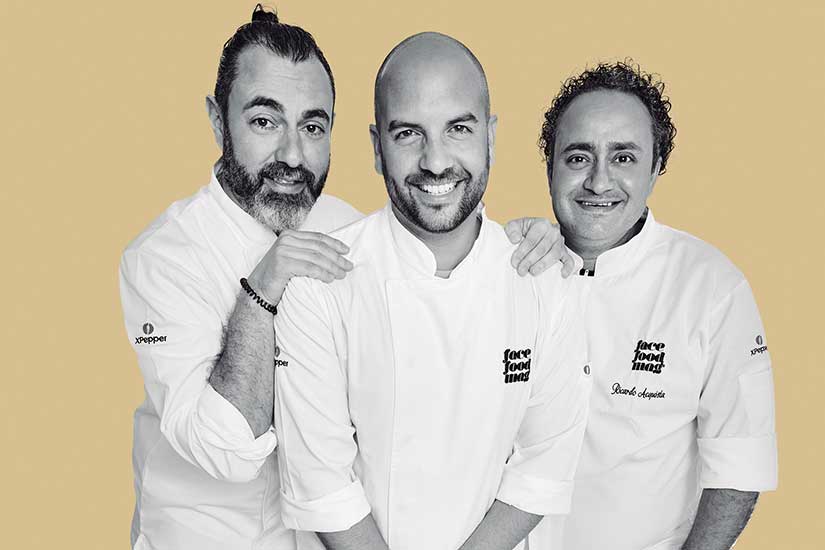 When he talks about Casa Jondal, Rafa Zafra, the alma mater of this iconic beach bar which opened in 2020, does so with a broad grin on his face. It cannot be said often enough. For him, Casa Jondal is a dream come true. Along with Ricard Acquista, Zafra planned to create a beach bar with the authentic flavour of "back in the day". But what they have achieved together goes far beyond that initial idea. Casa Jondal has become a true mecca for lovers of fish and seafood in Ibiza. Every summer it draws people on a quest to enjoy the simplest pleasures — people who, of course, can tell the difference between food that is good and food that is not so good. Because (lest we forget) at Casa Jondal, the true stars of the show are the fish and seafood of the finest quality.
Awarded a Repsol Guide Sun in 2021, Jondal has succeeded in setting itself apart from the typically Ibizan concepts of a beach club or a beach restaurant to restore to the island a part of its true essence. Simplicity raised to its highest potential: fresh fish and seafood from the Mediterranean and the silence, (interrupted only by the waves breaking on the shore, and the birds that fly overhead) are the most popular offerings at Jondal.
As we have already mentioned, people come here in search of the best flavours from the sea. The stars of Jondal's menu are the finest fish and seafood, grilled, cooked in the Josper, or fried. Because here it is the customer who has the final say on how they want to enjoy their favourite foods. To decide on the best cooking method for each type of fish or seafood, let yourself be guided by the expert dining room team, who will find the best way of bringing out the real flavour of each item. Because Jondal's philosophy decrees that top quality products demand minimal intervention by the chef — whose aim should be to show the utmost respect for their individual character and purity. Thus, the kitchen at Jondal operates according to the rule: "Do not hide the original flavour of each product". And in this, both Rafa Zafra and Ricardo Acquista are true experts — as demonstrated by their previous success with their restaurant Estimar in Barcelona and Madrid, using the same idea. Those restaurants too have won awards: two Suns for the Barcelona venture and one Sun for Madrid.
In order to adhere to this "simple" philosophy of serving their customers only the best from the sea, Casa Jondal is supplied by the Cofradía de Pescadores de Rosas [Rosas Fisherman's Guild], previously a supplier to the legendary Bulli. All the fish and seafood is selected by Pedro Gotanegra, another of the project's lynchpins, although, of course, the beach bar also works with the best fishermen on the island of Ibiza. Langoustines, caviar, king crabs, lobster, red shrimps, and surprisingly large wild fish which are prepared whole. These are just some of the jewels to be seen on the tables at Jondal. Nor must we forget the impressive butterflied pickled anchovies — the very same that helped to make the name of Estimar. There are also options for lovers of good quality meat: they can enjoy delights such as wagyu or free-range chicken. And, as every good meal needs a good dessert, why not leave room for a sweet treat? An ensaimada [traditional pastry] filled with ice cream, or Jondal's legendary cheesecake?
Casa Jondal is supplied by the Cofradía de Pescadores de Rosas [Rosas Fisherman's Guild], previously a supplier to the legendary Bulli
Loungers by the sea, a select menu of snacks and a wide range of cocktails complete the Jondal experience, and make any day at the beach a special occasion. Moving on to the wine cellar, Goran, the sommelier, has personally curated a series of labels that pair perfectly with the restaurant's gastronomic offerings and, of course, with the Mediterranean climate. Sparkling wines, white wines, rosés... Summer is the time for something cool and fresh, and at Jondal, lovers of good wines will be impressed by the products from small wineries.
Silence! People are eating!
Yes, we're in Ibiza. And no, there's no music in this beach bar. It may seem rather strange in this setting, but this is one of the features that sets Casa Jondal apart. No DJs, no music, no partying. Well actually there is partying, because every meal turns into a heartfelt celebration. This is how Jondal is making a name for itself as an oasis of peace and tranquility — a gastronomic oasis in Ibiza. And this is why, unlike other beach bars, it is only open during the daytime. Although it may all appear somewhat complicated, this concept, which goes against the prevailing trends on the island, has proved a success and is ever growing in popularity. Since it opened in 2020, Casa Jondal has gone from strength to strength. So much so that now, it's almost impossible to eat there without booking in advance.