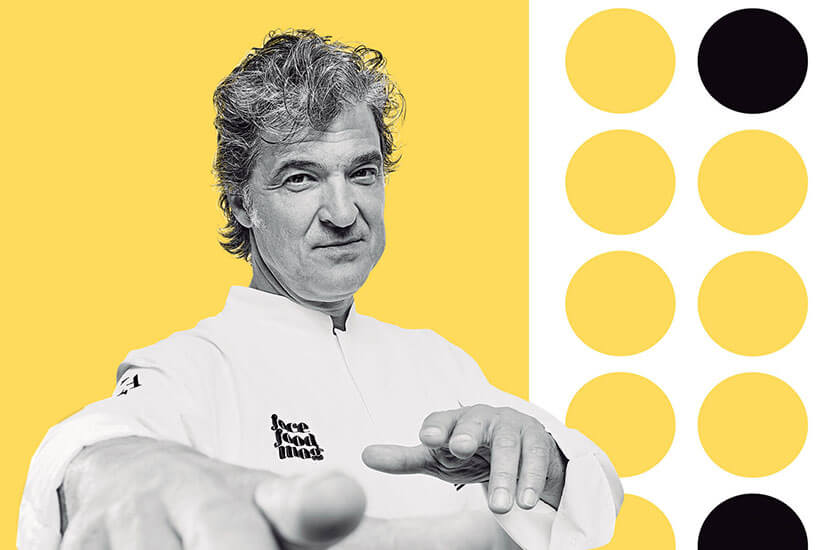 He defines himself as a man who's happiest when propping up a bar, and it's the most traditional bars and tapas that are his main source of inspiration. So much so, that his potato salad has become one of his most iconic dishes. Over the course of his 18-year career, Carles Abellán has created an incredible number of 19 gastronomic brands. He admits that he doesn't mind drawing a line under some of them, as according to him "it's necessary to close the door on the past in order to enjoy what's to come." Abellán has long since found his 'refuge' on the island of Formentera.
---
Today, would you say you're more of a businessman or a chef?
I'd say I'm half and half. Although these days I cook a lot less than I did before, for now, my job relies on my chefs cooking, and my restaurants operating smoothly. I cook in a different kind of way. I'm not personally assembling each dish, that's what my team are for. My responsibility is to manage things and make sure the cogs of the team turn. I'm a chef-businessman.
What is the key to the success of the Carles Abellán Brands?
For me, success is keeping my brands alive. I want them to continue operating well, and I want people to keep coming back. Awards and recognition (like the Michelin guide, etc.) are really helpful, but the recognition I really value is that of the customers.
How do you achieve excellence?
We can only do three things: cook well, deliver exceptional service and keep the prices as reasonable as possible. The rest of it is marketing, social networking, communication… That's all important too, but without the basics in place it's pointless.
How would you define your cooking?
My cooking has always been tapas-focused. I'm a bar kind of guy. Tapas are in my DNA.
Patatas bravas (Spicy potatoes)© Grupo Carles Abellán
You've managed to turn the most traditional tapas, like potato salad, into your signature dish. Don't you think that's much more difficult than creating something new?
It's really tough. This year we won the prize for Spain's best potato salad. When people told me to enter the competition, I wasn't convinced. Everyone thinks that the best potato salad on Earth is the one their mum or grandma makes. The one they've been eating at home their whole life. Competing with that isn't easy. When we won first prize, I was amazed by the impact it had on our marketing and communications. The sale of potato salad in our restaurants increased tenfold.
What's the secret to being awarded a Michelin star?
There's not much I can say about getting a Michelin star. They don't give it to you for what you're going to do, but for what you've already done. Then, you've just got to keep it up. In fact, now we've got the second Michelin star under our belts I'd say the first one was more of a surprise, as at Comerç 24 around that time (2007) we really focused our energies on the bar. We were always playing rock music, there was a show kitchen… It never occurred to us that we'd get a Michelin star for a place like that. It didn't look like a restaurant, even though it was one. I think that star represented a subtle shift in the Michelin guide's philosophy.
I think the Michelin star we were awarded in 2007 at Comerç 24 represented a subtle shift in the guide's philosophy
But your life must have changed quite a lot when you got the first star…
All these experiences help you to grow. Business strategies transform as you change and grow and take an interest in other things. I think life is a series of phases. I like burning bridges behind me and then building new ones. The world is a big place, and there's an awful lot to do.
Which of your restaurants has meant most to you personally?
Comerç 24, because that was where it all started. It was the first step on this crazy ladder. I opened the Comerç without any expectations, with no idea I'd be running Barcelona's most popular restaurant within 15 days, or that within just a few years it would be world famous. That's when you get hooked and start dreaming about owning the best restaurant in the world. Actually achieving that is another story. But I think that the recognition I got with Comerç 24 was because of the timing, the place, the people… But mostly the timing, which was perfect. Turning up at the right moment, or just marginally before, was the key.
Formentera-style fried spiny lobster with chips and fried egg© Grupo Carles Abellán
What would you say to a young person who wants to dedicate their life to cooking?
Don't even think about starting a restaurant. (He laughs).
Do you think that chefs today have it easier than those of your generation?
It's the same. Although I suppose they have more access to information these days, which does make things easier. I remember when I was looking for locations for my restaurants, trekking from estate agent to estate agent. Now, you just look online, and it's much quicker and easier. Information is power, and I think they've got it easier in that sense.
In addition to your hectic business life, you collaborate with the media, take part in conferences, and go to all kinds of soirees. How do you do it?
To tell you the truth, I've been in Formentera for a week, reflecting on everything I've just been explaining to you. Thinking about where I'm going from here. I've got my son, who's following in my footsteps and is now taking the reins. I've got my incredible team. Thanks to them, when I'm not around, it's not a problem at all.
You're particularly fond of the island of Formentera…
Yes. I've had a house on the island for just a few years, but I've been coming to Formentera for over 15 years now. It's my refuge, my Zen retreat, my space to relax… People have tried to persuade me to open restaurants here lots of times but, luckily, I never have.
People have tried to persuade me to open restaurants on Formentera lots of times but, luckily, I never have
What restaurants do you like going to on Formentera?
I really like Can Carlos, Es Molí de Sal, Can Carlitos, Sa Platgeta… I like lots of places. Some of them because of the food, some of them because the atmosphere makes you feel at ease, and I also like some restaurants just because I really identify with the island. I don't even need to eat well. On Formentera, I'm happy with the simplest of salads.
Tapas 24© Carles Abellán