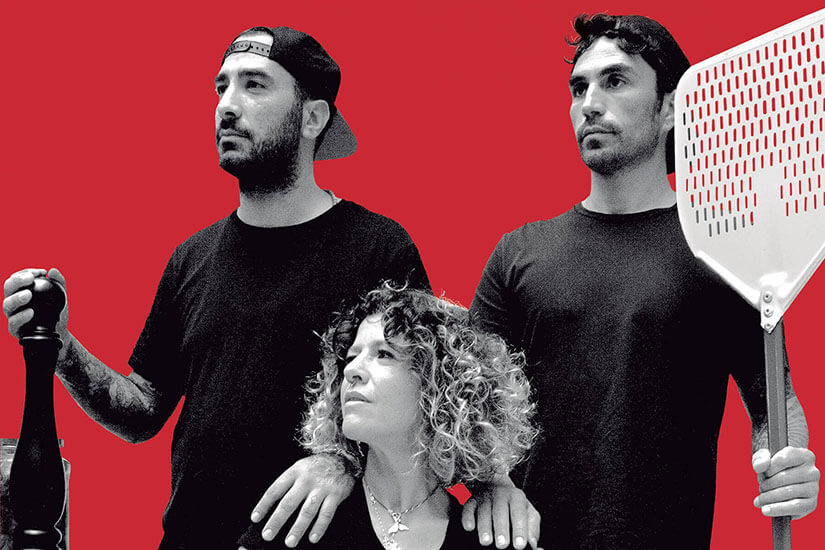 Barcelona-based group Can Pizza is due to open a new branch in Ibiza in July 2020. The company has a fresh, modern and urban image and its founders promise to put "real Italian pizza" on the table in a restaurant where respect for the product, simplicity of the food, and the design and image of the space all work together to create an outstanding foodie experience.
Can Pizza is a new, fresh, youthful, modern and, above all, urban concept. It's pizza taken to the next level, or rather, back to its origins. It's respect for a traditional Italian recipe, for the pizza dough, cooking times and ingredients. Can Pizza clearly knows what it's doing, as proven by its huge success and the rapid expansion of an urban cooking model that is committed to being honest about the product. Since it opened its first restaurant in Prat de Llobregat in 2014 the company's founders have continuously opened new branches across Barcelona province. Now they've set their sights on our island and Can Pizza Ibiza opens this season.
Can Pizza was created when four heavyweights of Barcelona cooking joined forces: Isaac Aliaga, brothers Max and Stefano Colombo, and Lolo Lorenzo as pizzeria manager. With over 20 years' experience, Isaac Aliaga has put his name to emblematic restaurants such as the "El Maravillas" chiringuito, La Zorra, and El Santo in Sitges, and La Capsa, La Santa and Cal Santi in Prat de Llobregat. In turn, Venetian twins Max and Stefano Colombo are probably the most famous Italians in the Barcelona restaurant sector and over the past decade have made history in the city with their restaurants Xemei, Frankie Gallo, Cha Cha Cha, and bars Can Cisa and Bar Brutal, to mention just a few.
But at Can Pizza the food isn't all that matters. In fact, the team is highly aware that a foodie experience goes far beyond just what you eat and also includes the "where". That's why the space, image, and look are the results of assiduous work by Lo Siento, one of Barcelona's most prestigious design studios. The designers have succeeded in giving the brand's restaurants an urban, youthful, and modern vibe while also making them warm and welcoming, ground-breaking, colourful, fun, and relaxed. Red can be spotted everywhere and is definitely the brand's trademark colour. Warm wood contrasts with cold steel to generate the urban, almost neighbourhood atmosphere envisaged by the group's founders.
And while it's true that its image has been deftly handled, there's no doubt that Can Pizza's greatest triumph is its menu, which is just as youthful, urban, and casual as the rest of the restaurant. Here Lolo Lorenzo is in charge as the group's pizzeria manager. On the menu you'll find classic pizzas, pizza for purists and also heathens (like the Hawaiian), red pizzas (without mozzarella), white pizzas (without tomato) and signature pizzas that have been given fun and original names like the John Sparrowgo, the Al Capone, the Italian Job, and the Jerry Tomato. As well as using top quality ingredients, all the pizzas have one thing in common: a spectacular base that crunches like no other. It's not for nothing that Can Pizza has perfected the pizza dough fermentation process by making it last up to 72 hours! And it clearly makes a difference. Although pizza is the star of the menu, you'll also find a series of starter dishes such as salads, carpaccios and also porchetta, a traditional Italian dish of deboned aromatised roasted pork; it's so important to Italy's national cuisine that it's been declared a "Traditional Agrofood Product". There's no doubt about it: Can Pizza is the pizza place created by "people who know their stuff".