After conquering Catalonia, last year Can Pizza landed in Sant Jordi to give pizza purists a place where they can pay tribute to this wonder of Italian cuisine. Slowly-fermented dough that uses different types of cereals, hand-kneaded bases and recipes with something for everyone are just some of the reasons Can Pizza has won over Ibiza's most discerning pizza fans.
Few dishes have withstood so many different versions and recipes as pizza. It's one of the most popular foods in the world, if not the number one, is eaten on the five continents and yet, despite having a relatively simple recipe, it isn't always easy to find a good pizza. Fortunately, this is no longer a problem in Ibiza.
"Respect the pizza", Can Pizza's motto, is a clear statement of intent. And the restaurant has become a kind of museum where pilgrims flock to pay tribute to this dish, bite by bite. With its 'slow pizza' philosophy, Can Pizza has become a great success on the island with a model consisting of traditional Italian cooking with a modern twist and an attractive, daring and casual concept. Each creation at Can Pizza is unique because it's made from dough that uses five different flours, is matured for over 72 hours before being hand-kneaded by 'pizzaiolos', is topped with quality ingredients from small suppliers and is cooked in powerful rotating ovens. And the result? Incredible pizzas that are wonderfully firm in the centre with extra crunchy edges.
Each creation at Can Pizza is unique because it's made from dough that uses five different flours and is matured for over 72 hours
By following this rigorous process, Can Pizza achieves recipes that elevate pizza – and other Italian recipes – to the category of haute cuisine. The menu has a variety of classic, vegetarian, red (mozzarella-free), white (tomato-free) and signature pizzas with original names like Jack Sparrowgo, Al Capone, Italian Job and Jerry Tomato. The latter won the award for Spain's Best Freestyle Pizza at Madrid Fusión 2021. If you're visiting Can Pizza for the first time, make sure you try it and experience its base of tomato, burrata and red and yellow cherry tomatoes. What makes it unique? The textures of the tomatoes, which are dried, macerated and a confit. The pizza is finished with spring onion and pickled onion, making it remarkably light, fresh and truly addictive.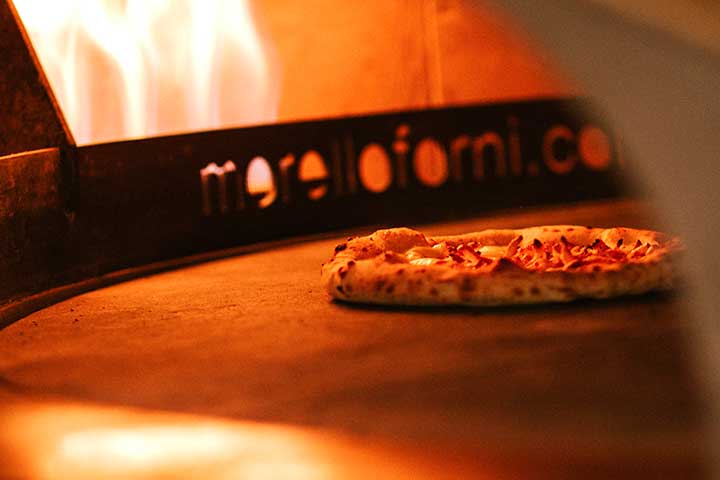 And although pizza is definitely the star feature, Can Pizza in Sant Jordi has a large menu that goes beyond pizza dough with a series of starters and other dishes. Choose from a selection of salads and carpaccios, porchetta (a typical Italian dish of deboned aromatic roast pork) and other hot dishes such as lasagne or fried calamari. The menu is rounded off with delicious desserts – the tiramisu is a particular highlight, so make sure you leave some room to enjoy it at the end!
A temple to worship pizza
Can Pizza was created by four friends in catering who believed that pizza deserved to be seen as something more than just fast food. So they decided to build a temple where this dish could be worshipped. Isaac Aliaga, brothers Max and Stefano Colombo and Lorenzo Vuotorni "Lolo" used their finest recipes to win over the province of Barcelona with restaurants in El Prat, Universidad, Molins de Rei, Sagrada Familia, Poblenou, Vilanova and Badalona, as well as the legendary Calle Serrano in Madrid and Ibiza.
Can Pizza takes great care over every detail of its products, team and restaurants. It pays particular attention to its locations, always looking for large spaces that were previously used for another type of business, refurbishing them in an industrial, urban, modern and daring style and transforming them into sanctuaries where they can pay tribute to pizza.
Every space perfectly matches the essence and character of Can Pizza. The owners work hand in hand with renowned artists, such as Ramón de los Heros, to design each restaurant, while studio Lo Siento integrates the brand into the space, creating magnificent restaurants with their own sense of character.
Since its arrival, the island has welcomed Can Pizza in Sant Jordi with open arms and customers can enjoy its wonderful pizzas on a large, cosy terrace. A meal at Can Pizza has become an ideal treat at any time of day, and to make things even easier, the brand also has home delivery and takeaway services. So, how about enjoying your favourite pizza by the sea?
From Monday to Sunday, Can Pizza Ibiza will make summer nights an outstanding culinary experience as customers discover wonderful Italian dishes of the highest quality, made with patience and meticulous care.