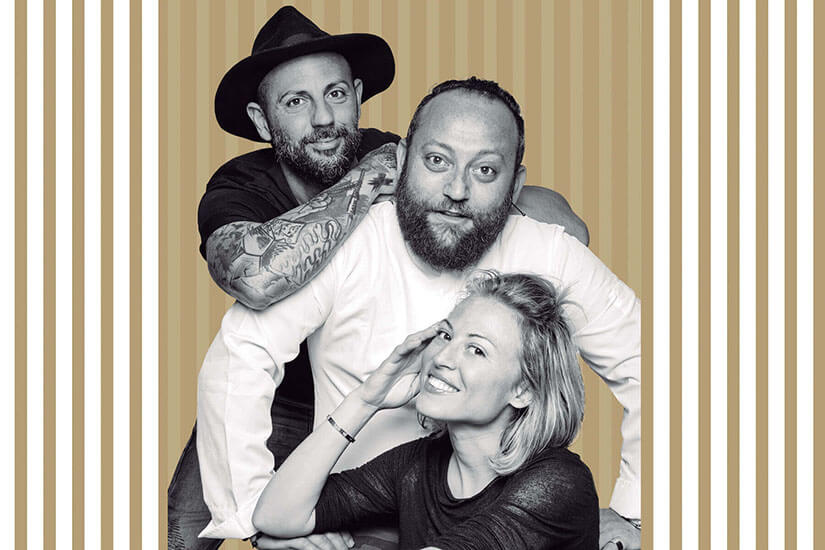 Margaux Morel from France and Piere Paolo from Italy run the new restaurant Bocachula, in Jesús. Margaux has dedicated her life to cooking, running her own catering business and working as a private chef. Piere is a mixologist. He has worked in London for the BBC on TV programmes about cocktails, and he had his own restaurant in Ibiza. With the birth of their son, there were several signs that led them to set out on this great adventure. And at the helm of the stoves is Salvatore Eletto, the Italian chef who, seduced by the world of cuisine, decided to swap his career as a lawyer in Rome for an apron. This team has poured their passion for gastronomy and a job well done into Bocachula.
---
How did the idea of opening the restaurant come about?
We love dining at restaurants. For about two years we went around the island and tried all the restaurants. That was when we realized that Ibiza was missing an easy, comfortable and quality restaurant at an affordable price. Because when a restaurant looks after their décor, they raise their prices. It was not easy to find a good pasta dish and good service at a decent price. We were fed up with that, and when I was pregnant with our son, we visited these premises and it was like a sign. When he was born, we started to breathe life into our dream. We did not have much money. I don't even know how we did it, but we threw ourselves into it. The place was in total shambles: it was horrible and not at all functional, and getting it up and running took us much longer than we expected…
Why Bocachula?
When Piere and I met, we dined at Boca Chica and Boca Grande in Barcelona, and loved the concept. And when we were looking for a name Bocachula came out as a joke. We thought it sounded very Spanish to us, an Italian and a Frenchwoman, but I think it was just what we were after, as the focus of the restaurant was precisely local and national products. Bocachula is our tribute to Spain for giving us so much. Giving it a French or Italian name made no sense. Also, curiously, Rodolphe (the owner of Sa Punta) told us recently that he ran a restaurant on these premises 15 years ago—and it was called 'La Boca'. Another sign!
Octopus carpaccio
National products and an Italian chef… What French influences are there in Bocachula?
The French touch is present in its harmony and elegance, and in its customer service. I have travelled a lot. I haven't lived in France for 30 years, so there's not actually much more that I remember about restaurants in France; I do play French music sometimes, which the whole team says is awful! I think that one thing Italy and France have in common is their passion for a job well done and attention to detail. Hospitality is a career you choose out of passion.
Bocachula is our tribute to Spain for giving us so much
What inspired the restaurant's décor?
Piere decorated the project for me. I lived in Kenya for six years working in a hotel, and I really loved the tropical climate and its colonial style. So now Bocachula relives that a bit. There are also bits of all Piere's travels. There are different spaces: the exterior is designed for the day: it evokes the beach where to have an aperitif, a bit of cured ham, some salad, etc. The colours in the interior are much darker, the space is designed for the evening, and the bar takes centre stage. Piere is a mixologist, so for him it was important that the space revolved around the bar.
What is your gastronomic concept?
We offer market cuisine with an Italian touch (because the chef is Italian). We sometimes fuse, but if we do, we always respect the main product. Sauces and other ornaments play an accompanying role, on the side. We work mainly with local and national products. We try to use recycled paper, use as few plastics as possible… and do everything we can to protect the environment. As for vegetables and fruit, we try to always buy organic produce. The fish comes fresh from Galicia, because fish is scarce in Ibiza… The only thing that we import from the menu are our oysters, which come from France, and our pasta and truffles, from Italy, and they are always fresh.
Truffle pasta
How would you describe a diner's experience at Bocachula?
We have put a lot of love into this project. I think that Ibiza has lost a bit of that pampering that used to go into things. People focus too much on the summer season, and the easy money. We are interested in the customer all year round. We want our customers to be those diners who appreciate our food, those you know well, who have a favourite dish, know the team and value what you do. We try to make you feel at home and want you to enjoy the quality of our dishes, so that you want to come back for more. We want you to relive that feeling of eating your grandmother's food, made with a lot of love. And, above all, leave with fond memories of Bocachula. I think that is what is most important, and it is something we are forgetting. When we eat, we have to share. Turn your phone off, snap out of your angry mood… take a step back in time to recover that joy of being around the table. Our chef, Salvatore Eletto, was a fantastic discovery because he adores his work. He cooks with passion, respect and dedication… and it shows in each of his dishes.
Our chef, Salvatore Eletto, adores his work. He cooks with passion, respect, dedication… and it shows in each of his dishes
Cocktails also play an important role at Bocachula…
We are open until three o'clock in the morning; when people finish their dinner, they usually ask for a drink or a cocktail. Piere can prepare your favourite classic cocktail, or, if you prefer, you can let him surprise you, which is what he most likes.
Bocachula