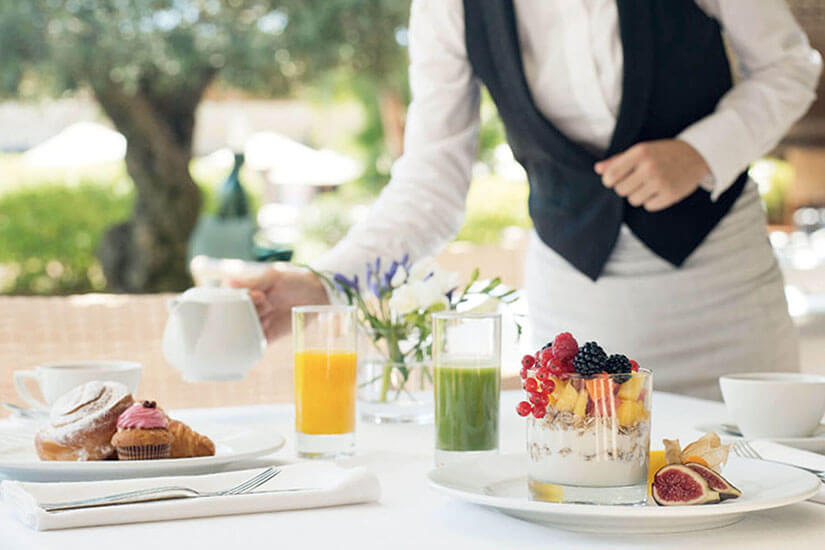 Breakfast like a king, lunch like a lord and dine like a pauper. Do you follow that rule? If you're as fond of breakfast as we are, read on because in this article we reveal the best places to have breakfast in Ibiza, places where the most important meal of the day is a treat for all five senses.
Ibiza Gran Hotel
Every morning at the Ibiza Gran Hotel, the Costa Mara Restaurant serves one of the most amazing breakfasts on the island, accompanied by live Spanish guitar music and champagne. Sounds good, doesn't it? Well, read on: the buffet comprises different serving stations, such as the diet zone, the freshly cut fruit counter, the fresh fruit juice counter, the chocolate fondue with pancakes, another counter serving eggs cooked to guests' requirements, along with cold meats and other delicatessen items, including fresh oysters, home-made yoghurts and freshly made confectionery. The breakfast at the Ibiza Gran Hotel is more like a full brunch!
Paseo Juan Carlos I, 17. Ibiza
Tel: +34 971 806 806
Ushuaïa Beach Hotel
To start the day, Ushuaïa Beach Hotel offers "The unexpected breakfast", a breakfast to be savoured at leisure, and one of the most pleasurable moments of the day. Freshly squeezed exotic fruit juices, platters of cheeses from different designations of origin, locally sourced cold meats, showcooking with eggs cooked to order, a counter serving Italian food, and other novelties, ranging from popcorn to all kinds of sweets. And what is truly impressive about this breakfast is its presentation: the food is displayed on fun carousels. Not to mention the stunning sea views, and who doesn't like to have breakfast feeling the sand beneath their feet? In addition, Ushuaďa Beach Hotel has surprises in store for breakfast guests with shows and musical performances. That really is an unexpected way to start the day!
Playa d'en Bossa 10. Sant Jordi Ses Salines, Ibiza.
Tel: +34 626 38 4378.
e-mail: [email protected]
Nobu Hotel
The dazzling Ibiza Bay Nobu Hotel, located on the beach front at Talamanca, offers both guests and outside visitors a completely free choice of where to have breakfast: either in the restaurant or on the beach where they can feel the sand between their toes. Breakfast includes a "tortilla bar", where tortillas [Spanish omelettes] are made in every version imaginable. A wide range of freshly baked breads, cakes, pastas, salads, cold meats, fresh fruit juices, champagne, teas, coffees, and countless hot dishes make up this breakfast of your dreams, where everyone will find something to their taste. Principio del formulario
Nobu Hotel Ibiza Bay, Camí ses Feixes, 52. Ibiza
Tel: +34 971 192 222
e-mail: [email protected]
Aiyanna Ibiza
How good it feels to start the day with a yoga session overlooking the sea, followed by a healthy breakfast. This is what's on offer at Aiyanna Ibiza (Cala Nova), a beach bar which retains the Bohemian spirit of the Ibiza of yesteryear, but with an added touch of chic. After the yoga class, you can recharge your batteries with a tempting, healthy buffet which includes freshly squeezed juices and, to eat, fresh fruit, eggs, natural yoghurt, cereals, nuts and freshly baked wholemeal breads. Of course, you can simply enjoy the breakfast if the yoga doesn't appeal to you, but if you don't want to miss the yoga class, don't forget to book it in advance.
Avinguda Cala Nova, s/n. Playa de Cala Nova Sant Carles, Ibiza.
Tel: +34 971 330 456
e-mail: [email protected]
Sa Calma
Located in the marina of Ibiza town, this restaurant serves one of the island's most famous breakfasts, and affords amazing views of the port and the Dalt Vila walled quarter. Sa Calma's breakfast offer is as simple as it is delicious, and our favourites, without the shadow of a doubt, are the fruit juices and toasties, including cheese or avocado.
Passeig Joan Carles I. Eivissa.
Tel: +34 971 595 595
Croissant Show Ibiza
If you're looking for somewhere in Ibiza that is 100% authentic, you'll find it at Croissant Show. This is one of Ibiza's most popular snack bars. Located in the iconic La Marina district, close to the old Ibiza market in the centre of the town, Croissant Show serves the most delicious croissants on the island. What is more, its breakfast menu also includes a great variety of French pastries, home-made jams and fresh juices. To sit down to eat on the bustling terrace and to watch life go by in the heart of the town is a real pleasure.
Plaça de la Constitució, 2, Eivissa.
Tel: +34 971 304 126
Rita's Cantina
Opposite the harbour in San Antonio, we find this picturesque eatery which is always packed with residents and tourists alike, making for a thoroughly cosmopolitan atmosphere. The establishment has a pleasant terrace, and inside is decorated in the style of an old-school Mexican cantina. Rita's Cantina serves the most famous crêpes (both sweet and savoury) on the island. In addition, its breakfast (and tea) menu includes all types of teas and coffees, as well as a wide selection of juices and shakes.
Carrer de Madrid, 1. Sant Antoni de Portmany.
Tel: +34 971 343 387
Cappuccino Ibiza
Cappuccino Ibiza enjoys a privileged location within Marina Ibiza, and affords breathtaking views of the harbour and Dalt Vila. Here, time passes at a different pace. The unobtrusive sound track, the décor and the impeccable service provided by the entire team combine together for a unique experience. Eggs cooked to order, toast, freshly baked pastries, and a huge variety of teas, coffees and fresh juices… these are just a few of the delights offered by Cappuccino Ibiza's breakfast menu. This is a place where you can indulge yourself fully in the true serenity of Ibiza in a luxurious ambience.
Passeig Joan Carles I, 20. Eivissa.
Tel: +34 971 312 628
e-mail: [email protected]
What do you think of our selection of the best breakfasts in Ibiza? Have you tried any of them? We will continue from breakfast to breakfast in our quest to keep our particular ratings up-to-date.