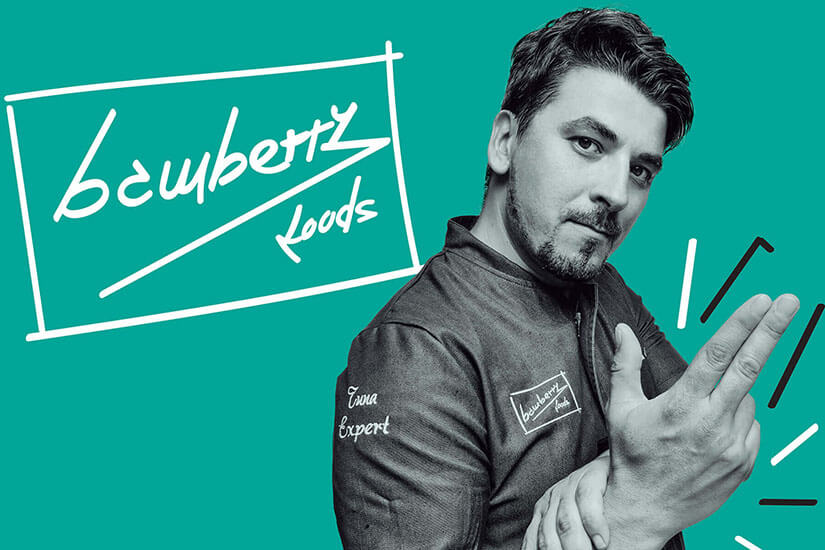 The only thing Portuguese-born Antonio Eduardo Dacosta (1985) is missing is scales because the way he talks about his love of the sea makes him sound like he's part of the marine ecosystem. He defines himself as "part" of Bamberry Foods. Not as its chief commercial officer or any other job title: he insists that, in his company, all important decisions are made together. For the past three years Bamberry Foods has distributed fresh and frozen sea produce in Ibiza and it boasts of having a horizontal business structure and an enviable work environment. Today we're interviewing one of the key links at Bamberry Foods, exclusive distributor of Balfegó tuna on the island.
Why Ibiza?
I came to Ibiza by accident. I was studying architecture in Portugal but I dropped out shortly before I was due to finish my degree. Going to university is much more expensive in Portugal than it is in Spain. I needed a change of scene and came here to work at my uncle's construction company as a topographer. That's when I discovered the island and it made big impression on me. Compared to my home city (Porto) it was huge: in Ibiza the beach and mountains are close by, the people are friendly, no one cares what anyone else is wearing... All that fascinated me. Then I met my wife and now I only go back to Porto on holiday.
What do you most like to do when you finish work for the day?
I'm a huge music fan. I've got a rock band called "Esos Tíos"; I'm the singer and composer and we've got several demos. I also love films and TV series but my main love is being with my six-year-old daughter.
"A very important part of Bamberry Foods' success is our work as food consultants"
How has Bamberry Foods evolved during the past three years in Ibiza?
I've worked at Bamberry Foods since the beginning. Before I had my own company with other partners. Naturally, things weren't easy at the start but Bamberry Foods has made incredible progress over the past three years. It smashed all the statistics. Up until March, of course, now the health crisis has changed the forecasts. I believe an important part of Bamberry Foods' success is our work as food consultants. I personally take great care to find out what each chef needs, I try to understand their cooking and offer advice so that they can reach the level of perfection that they seek. Also, apart from the director, who's from Barcelona, the company is made up of people from the island and I think that inspires our clients to have lots of confidence in us.
What do you like most about Bamberry Foods?
I love the company philosophy. The horizontal business structure, and the fact that no sales representative works on commission. Everyone is amazed by that, and it means that there's no competition between us so we can work as a real unit. Work is so much easier and cooperative. We're a great team. We all work with remarkable passion.
"At Bamberry Foods we're a real unit. We all work with remarkable passion"

What is it that links you to the world of food?
My grandmother is a great cook (my mother is too) and I've always been passionate about food. I'm the sort of person who loves going out, meeting people... A key part of my work is talking to the chefs. That's meant that I've developed great friendships with cooks. I respect all chefs and hotel owners because I think their work is harder than ours. That's why my philosophy is to make sure we don't add to their problems because they've got enough already! I come to listen to them and solve their problems.
Why has Bamberry Foods focused exclusively on seafood produce?
Our team is truly passionate about the sea world. We distribute everything the sea has to offer as fresh and frozen produce. We aren't big fans of multi-product businesses. We're comfortable with this specialisation and, despite still getting offers to distribute other types of products, that's not among our plans.
"I respect all chefs and hotel owners because I think their work is harder than ours"
One of the star products distributed by Bamberry Foods is tuna...
Yes, we have an exclusive deal with Balfegó in Ibiza. I'm a huge fan of tuna and it's meant that I've gradually become a real expert. That's why I always keep a close eye on the conditions when we distribute tuna to our clients and on what each chef needs. People constantly make mistakes with tuna, everyone demands the "best" parts. I'm a loyal devotee of respecting nature. Every part of a tuna can be used. It's one of the things I love about Balfegó: it's succeeded in creating its own tuna farm in Spain. And although we sell all kinds of tuna, if I had to choose, I'd choose Balfegó without hesitation.
Which restaurants in Ibiza do you like to visit for some good tuna?
Nobu definitely. Lots of Ibiza locals don't know it and it's true that it's not suitable for every budget but the Nobu team is run by a woman (an exceptional Japanese master sushi chef) who is a pleasure to watch in the kitchen: the order, her precision and speed. She treats the produce with impressive care. There are other options: at both Sunset Ashram and S'Illa del Bosc you can eat wonderful tuna, and at La Escollera too.
What do you think is behind the current high demand for tuna at restaurants?
Twenty or thirty years ago tuna was considered a second-class item, it was really cheap. That's all changed and I think it's for several reasons. A few years ago almadraba tuna started to earn itself a good reputation. Great chefs such as Martín Berasategui (the face of Balfegó), Dani Garcia and the famous El Campero restaurant (in Barbate) that specialises in tuna all became ambassadors of the product. People started to discover the excellent use that could be made of every part of the fish - and how delicious it is! All these great chefs, the media and social networks have helped give tuna the fame it enjoys today.
Do you like cooking at home?
Yes, I cook occasionally. I sometimes don't have time though because I'm always on the go. So I cook simple things: tuna tataki, smoked salmon, salads, etc.