If you were discussing ambassadors of Portuguese food both in Portugal and beyond, the name Henrique Sá Pessoa would inevitably come up as a prime example. Despite now having several restaurants, including two exciting new openings in Amsterdam and London, Sá Pessoa says that "if his projects were his soul, Alma would be his heart". It has a kitchen bursting with flavour, influenced by his culinary roots and international travel, with his great passion for Asia and Lisbon life being particularly important. Alma (two Michelin stars) is the living image of Sá Pessoa's culinary DNA.

What stage is Alma at now?
Alma is enjoying its best moment since we opened. It's aware. The service is more and more sophisticated, with greater attention to detail; the atmosphere, the cooking is more and more refined, more polished... We've now got a solid team but, at the same time, are always in motion, never static. I think we're at the point where we can do other things.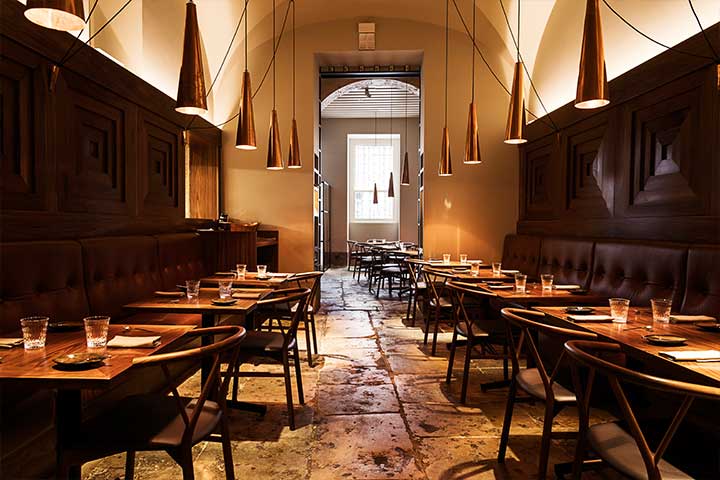 There's a lot of talk about Portuguese food right now, but you've been one of its champions from the beginning. Now that you have two new restaurants abroad (London and Amsterdam), where does Alma fit into all these projects?
If my projects were my body, Alma would be my heart. Alma is where we do R + D for all our projects because, while London and Amsterdam aren't related to Alma, actually, everything has something to do with Alma. The two chefs in the kitchens of those two restaurants were at Alma for five and seven years. That means they don't know how to cook any other way. The DNA of all my projects comes from the Alma kitchen. Then the concept is developed (Asian, Iberian...). But the formula always starts at Alma. Alma is hugely important for training our chefs, evolving Portuguese cooking (from my point of view, of course) and creating other projects, using this DNA. Everything we do at Alma gets transformed into other projects. I think that, now it's established, Alma will carry on evolving. Not stopping is important.
What has your professional evolution at Alma been like?
I'm not at Alma as a chef in the same way that I was five years ago. To let the team evolve, you have to delegate and step out of the way a bit. And that's something I've been doing in the past few years: but I've always been certain that Alma is the heart of all my projects. For me, it's a really important project and I know that, if Alma were to fall, everything would collapse. But I also want Alma to have its own objectives. It's not a case of "now this is going well, everything's done". We have to keep on evolving. When you already have two Michelin stars, international recognition and a two-month waiting list for lunch or dinner, you have to look at it differently. Now our evolution is very slow-paced and must be exactly right. For both the customer and for the team, so that they are always motivated. One thing that we've developed a great deal lately is the service. The things we do at Alma now were unthinkable two years ago. Particularly in terms of the small details; now we have more time to focus on them and we have a team for that too. Of course, five or six years ago we were thinking about other things.
Do you think you'll win a third star?
I always say that we have to do our best each year. Winning the third star is out of our hands. We can show people how we've evolved: more refined cooking, attention to detail, which mean three Michelin stars to me. We're also aware of our limitations and appreciate that it's extremely difficult. But it's not impossible. We have to keep on working. At Alma you can see that the whole team wants more: they want to offer a better experience every day. And that's really important.
Where do you think Portuguese food will take us?
I think that the same will happen to Portuguese food as happened to food from Peru, Mexico, the Nordic countries... We're fashionable right now, but if you ask me about it at an international level, I think there are still very few Portuguese projects. There are leading examples, but we're a long way from other countries like Spain, France and Italy.
Why do you think that is?
Well, on one hand, because we're small. And on the other, I think that our international path, as a country, only began ten years ago. I think that, right now, compared to Spain, our evolution is impressive. But we're still a small country and a small economy. We have to fight against things that other, richer countries don't have to battle. I think that one advantage we have, compared to Spain, is that the next generation here in Portugal travel far more than the Spanish. Spain has always trained in Spain, while only a few of the next generation of Portuguese chefs are training in Portugal. The generation after me is coming with a great deal of training and highly evolved cooking. I think that we're going to have three-star restaurants in Portugal.
What are the next challenges for your restaurants in Portugal?
At the moment I'm not planning to open more restaurants in Portugal. I do want to make changes at Alma: do something to give Alma a new side, because we've been doing more or less the same thing for six or seven years. The only thing that's changed at Alma during this time has been the team, and especially the attention to detail. Portugal is like the basis of everything. Here we create everything for all the other countries. Right now, outside of Portugal, we have London and Amsterdam, but it's possible that there will soon be more. Next year I'd like to mainly focus on the London opening, which is going to be a really important project. And I imagine that, if London goes well, it'll be a huge leap forwards in my career.