A menu of over a hundred first-class champagnes and French and Italian sparkling wines, as well as red and white wines from those countries. An attractive, compact, and exquisitely decorated space. A special, almost family atmosphere and, as its name suggests, there's much more to Aldilàdelvino than wine. It is hard to believe that such a compact space can contain so much glamour. But it's not so difficult if you've met Angela Montemurno, the driving force behind two of Formentera's most characterful businesses.
Aldilàdelvino opened a few years ago, in the image of two other businesses run by its owner in Milan. Her son, who had come to Formentera on holiday, fell in love with the island and suggested that she open another branch of her company here. No sooner said than done. They packed their cases, got on a plane, and arrived in Formentera. Angela immediately fell for the island's charms and for the energy it transmits, and so the pair set about looking for premises where they could set up the business. They found them in Es Pujols. The rest is history.
Aldilàdelvino has now been open for four years, and in those four years it has become quite an institution and the veritable epicentre of the island's social life during the summer season. Four years in which, as Angela puts it, "my customers have become my friends".
Angela Montemurno is the driving force behind two of Formentera's most characterful businesses.
Not just wines and champagnes
Good things come in small packages. That is more or less the case with Aldilàdelvino. Its compact size (there's room for about 50 people) make it a place with something close to a family atmosphere. You will often see customers chatting to those sitting at other tables, and then there's the incombustible Angela, who seems to be everywhere at once, attending to anything required to make her customers happier. The exquisite décor and perfect lighting make for an intimate ambience that somehow transports us back to those films of the sixties and seventies like Breakfast at Tiffany's — a time when glamour still existed. In fact, you wouldn't be surprised to meet Audrey Hepburn and George Peppard raising a glass of good champagne at one of its tables.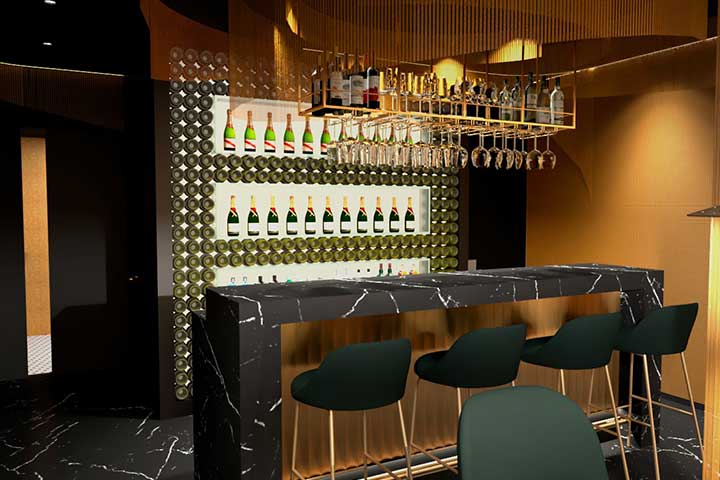 However, one disadvantage for Aldilàdelvino was that it didn't have a kitchen. But now it has. Because they've just opened another establishment, almost next door (there is one other business between the two), where the Milanese entrepreneur will supplement her offer of wines and champagnes with a similarly impressive gastronomic menu. We are talking, obviously, about a selection of fresh, light dishes, based on the finest ingredients. Of course, the menu will include dishes featuring the king crabs and Beluga caviar that pair so well with the champagne. When all's said and done, if we're going to treat ourselves, we might as well do it properly.
Because the Milanese entrepreneur has just opened another establishment to supplement her offer of wines and champagnes with a similarly impressive gastronomic menu.
Angela Montemurno, the driving force behind Aldilàdelvino
Strong, determined, impressive, kind, and a fighter — that sums up Angela Montemurno, the woman behind the success of Aldilàdelvino. Angela was born in Milan; her parents were a pair of homegrown catering entrepreneurs from Naples, in the south of Italy. Angela never liked the catering business, but destiny decreed that one day she felt obliged to open a business, and she finally opted for catering. It was, after all, what she had been brought up with. And it seems that the industry was in her blood, as Aldilàdelvino Milan proved such a success that it now has two branches in the northern Italian city.
Since she decided to open the Formentera business, every summer she packs her suitcase and comes to spend the season here. She says she has never known anywhere with such energy and such a positive vibe as this Pityusic island. "But," I say, "in Italy there must be lots of islands very similar to Formentera." "No," she responds emphatically, "there's nowhere like this island in the whole of the Mediterranean." "Well," she concedes, " maybe Sardinia is a bit like it, but it doesn't have such a good vibe as Formentera." Well, she must be right, because she brings a positive vibe with her every year when she returns. And if you don't believe me, you should give Aldilàdelvino a try.